Hi my darling loves!  So sorry that I have been absent all weekend.  We finally had the blogger meet and greet and it was such a success!  I am SO happy that it all worked out and it was wonderful meeting all of the girls.  I really love them all!
Before I get into all the details, let me quickly go over what I wore.  I decided to do something a little different and went with a school girl look.   I wanted something that was stylish, chic, and somewhat simple.  I fell in love with this faux leather skirt and thought that it would look adorable paired with a top like this.  I love the tie by the neck.  To give it a little bit of edge, I went with booties and a red lip.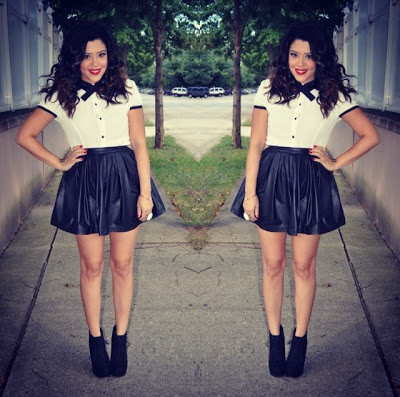 Top & Skirt: Forever21/ Booties: Steve Madden 
To give you a break down of how the night went, it was held at the amazing 230 Fifth Rooftop in NYC.   It's such a beautiful location.  We all exchanged blogging stories and goals, networked, had some drinks & laughs, and raffled off some lovely giveaways courtesy of 
High Class Rebel
, 
Lovely Obsessions
, and 
My Darling Ava
. We also got to enjoy some yummy red velvet cake pops made by fellow food & fashion blogger 
PooLovesBoo
.  Thank you so much to all of the shops who contributed something to this event!
This was the very first event that I hosted and I have to admit that I was a little nervous.  But I teamed up with one of my favorites, 
JohnnyBell
, to do it and it turned out even better than we expected!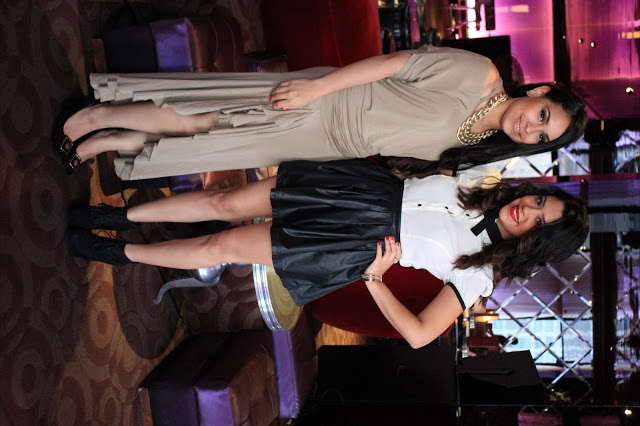 I love these ladies! It was so wonderful meeting them all and hearing their stories on how they started blogging.
With all of my beautiful & stylish bloggers!
Sorry for the overload of photos but I had to share as many possible.  It truly was such an amazing night and being able to surround myself with other ladies who share the same passion is very inspiring. From the bottom of my heart, thank you all SO much for coming and I cannot wait for the next event!