I got them!! I mentioned just a few days ago that I have been looking for a good pair of red skinnies.  I've been searching at the stores & online and couldn't find the right color or fit. I was doing some stocking stuffer shopping today at Target and as soon as I walked in I saw these.  I was kind of surprised to see these there but Target has stepped up their game recently.  If by chance you've been looking for red jeans or other bold & bright colors, that's a good store to go to.  I'll warn you though, they run VERY small.  I literally had to go up 3 sizes just to get them up my thighs haha.  I know colored jeans & pants aren't for everyone.  Some people aren't a huge fan or just don't think that they can pull them off.  But if you're looking for a way to spice up your wardrobe this season, then go get a pair!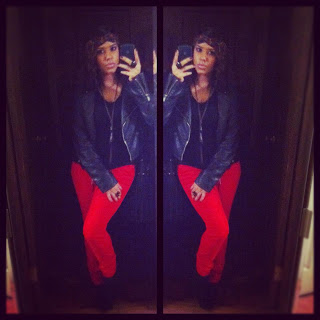 I love this new head wrap I'm wearing.  I got it in the mail today from a girl in Cali who made it.  Since there's so much going on with the color scheme, I just wanted to match the red with my jeans.  I went with a black v-neck, H&M faux leather jacket & my wedges.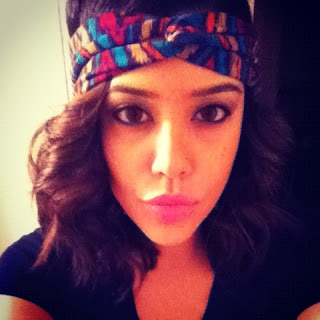 I'm wearing my feather necklace, black flower ring & these earrings that were another birthday gift. (Thanks Jill!) I think the style of the earring goes perfect with this as well as the color.

The next time I wear these red jeans will be completely different, but I'm really happy with the way the outfit turned out 🙂 Hope you all have a great weekend!!
xo Naty.