Hi LOVElies!! So much has been going on that I can't wait to share with you all soon.  I had a big meeting in the city yesterday and I'll just say that there's some great things to come so definitely stay tuned 🙂
I put something together very quickly today… something simple, feminine, colorful and chic! Hope you like!
Top: H&M
Shorts: H&M
Shoes: Target
Clutch: Asos
The past few weeks I hadn't found anything from H&M, so I'm really happy that I got these 2 pieces.  I've been searching for a simple pair of black high waisted shorts and these fit me perfectly.  You can dress these up or down and I love the versatility as well as the material.
I found this floral print top and was really drawn to the colors as well as the black lining.  It's a great summer top and something you could probably wear to work too.  I bet it would also look nice underneath a blazer.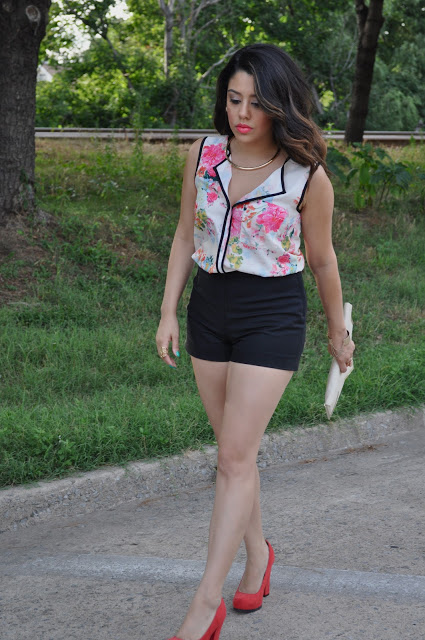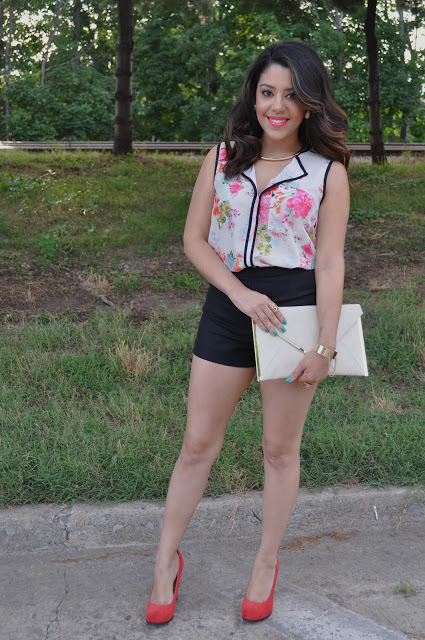 At first I wanted to go with pink shoes, but decided to bring out the coral in the print instead so I went with these simple pumps.  I love the thick chunky heel.  I'm using my white & gold envelope clutch and gold accessories.  Everything is from H&M except these earrings which are from Aldo.  I got this new gold ring and I love it!  I have on MAC Full Speed lipstick for the final touch.
I hope that you all had a wonderful day
<3