I was such a geek in grammar school and I got made fun of a lot, especially because I wore braces and huge glasses. It was definitely my awkward phase! I remember when I got contacts for the first time and I swore off glasses forever. Little did I know back in the 5th grade that the glasses I was wearing would become such a statement piece in fashion today.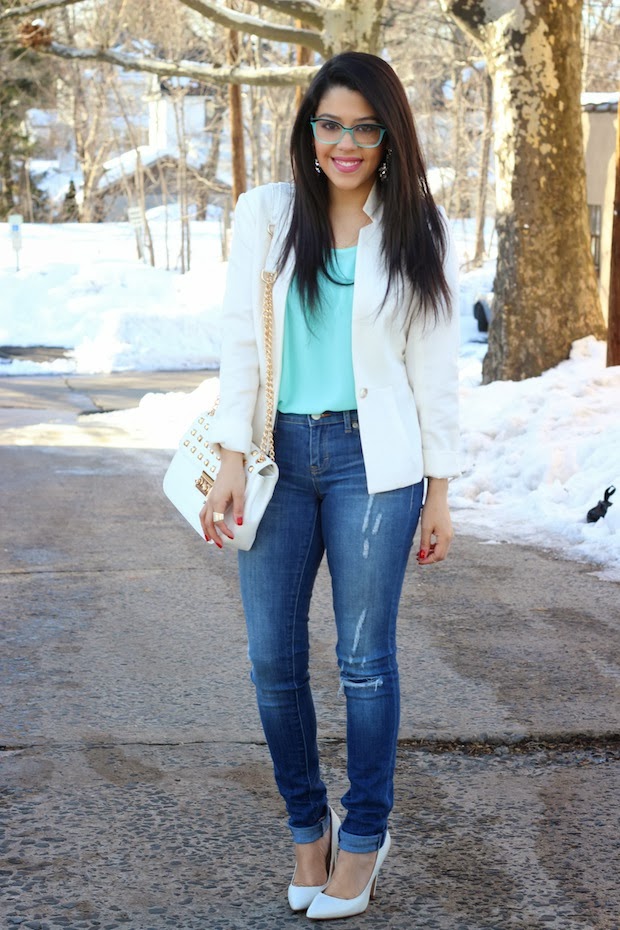 Necklace:
Furor Moda
Have I mentioned that I'm over winter? Probably a ton of times. I am totally channeling the spring season with this look so just pretend that the snow behind me is not there! lol A go to look for me is a pair of distressed denim with a blazer, two of my staple items. I actually like when I lose count of how many times I've worn something, like these jeans. They've really helped me get through this winter. I decided to pair them with this blazer that I got back in September and I think only wore once before. I love the cut of it and of course the fact that it's white since it can be styled with numerous things. I decided to play up on the winter whites a bit more with these pumps and this studded bag that I adore. It's a great statement piece and helps make this simple look stand out.
To be completely honest, I never thought that I would wear frames like these. I have always stuck to the typical black and neutral colors so this was a little out of my comfort zone. But just as I have learned to experiment with my outfits, I am trying to do the same with my accessories. I think that adding a pair of glasses, whether optical or sunnies, is the best way to complete any look and these definitely sealed the deal! They surprisingly matched perfectly with this top too. I'll be going into more detail about these next week along with more frames from Rivet & Sway!
I hope your day is a stylish one!