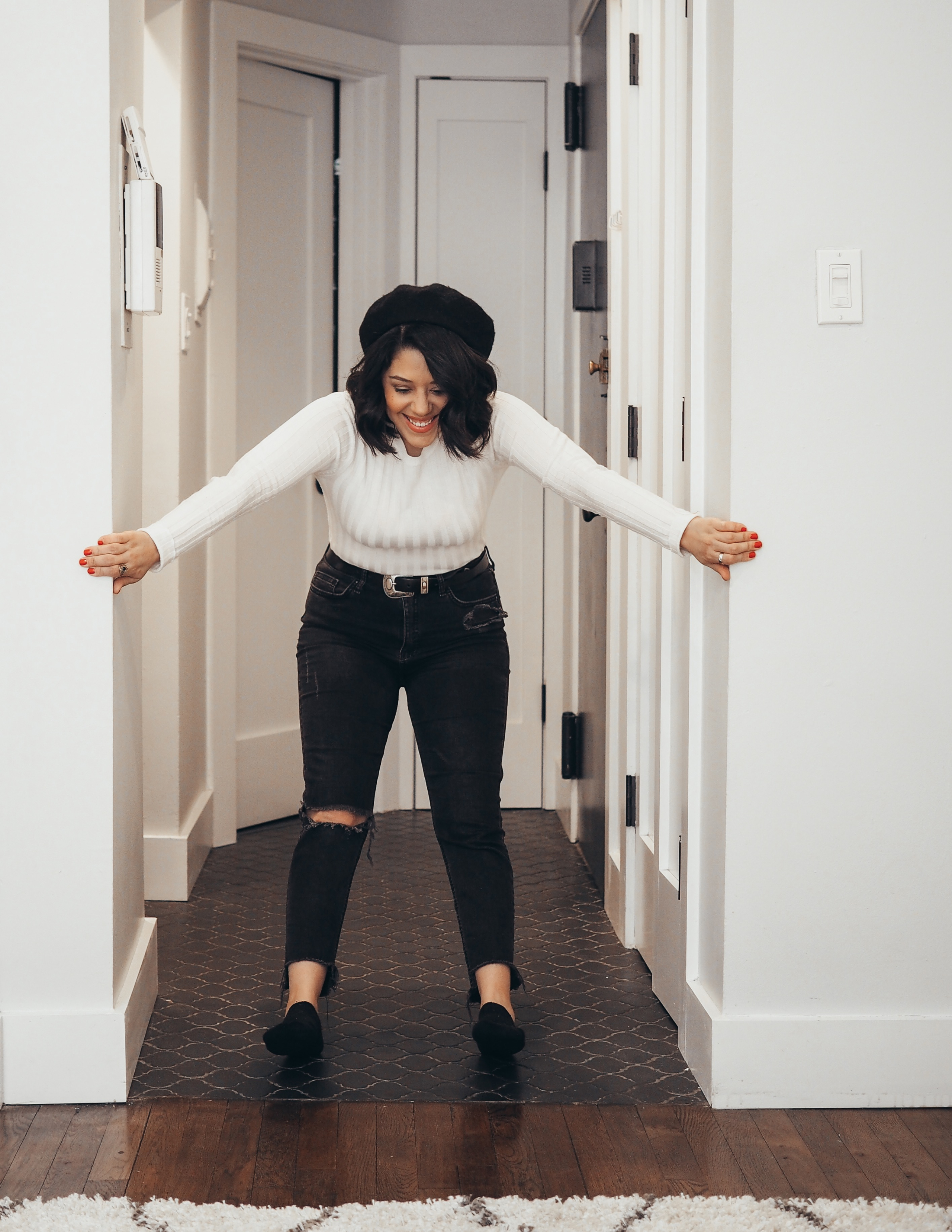 Welcome to my NYC studio apartment! Come on in for a little tour of the space before the whole decorating process begins! My official move-in date is next week, which is when I will be bringing the rest of my things, but for now I wanted to share the empty place.
This honestly still feels so surreal. Every time I walk into the apartment I have to keep reminding myself that this is my new home. It's as if part of me doesn't believe it's actually happening. Since I lived with my mom for so long, I never really got to decorate the way I wanted to. This is all new to me. I think that's part of the reason why I am just trying to take my time so that I can find the pieces I truly love and can afford.
One of the scariest things about moving to NYC is knowing that my monthly expenses are about to double. I've been super anxious about it these last several weeks just wondering if I can truly do this. I know that I can, but sometimes I let that inner voice get the best of me. I've wanted this for so long and now that it's officially happening, I have to embrace and enjoy every moment of this transition.
So without further adieu, here's a peek inside my NYC home.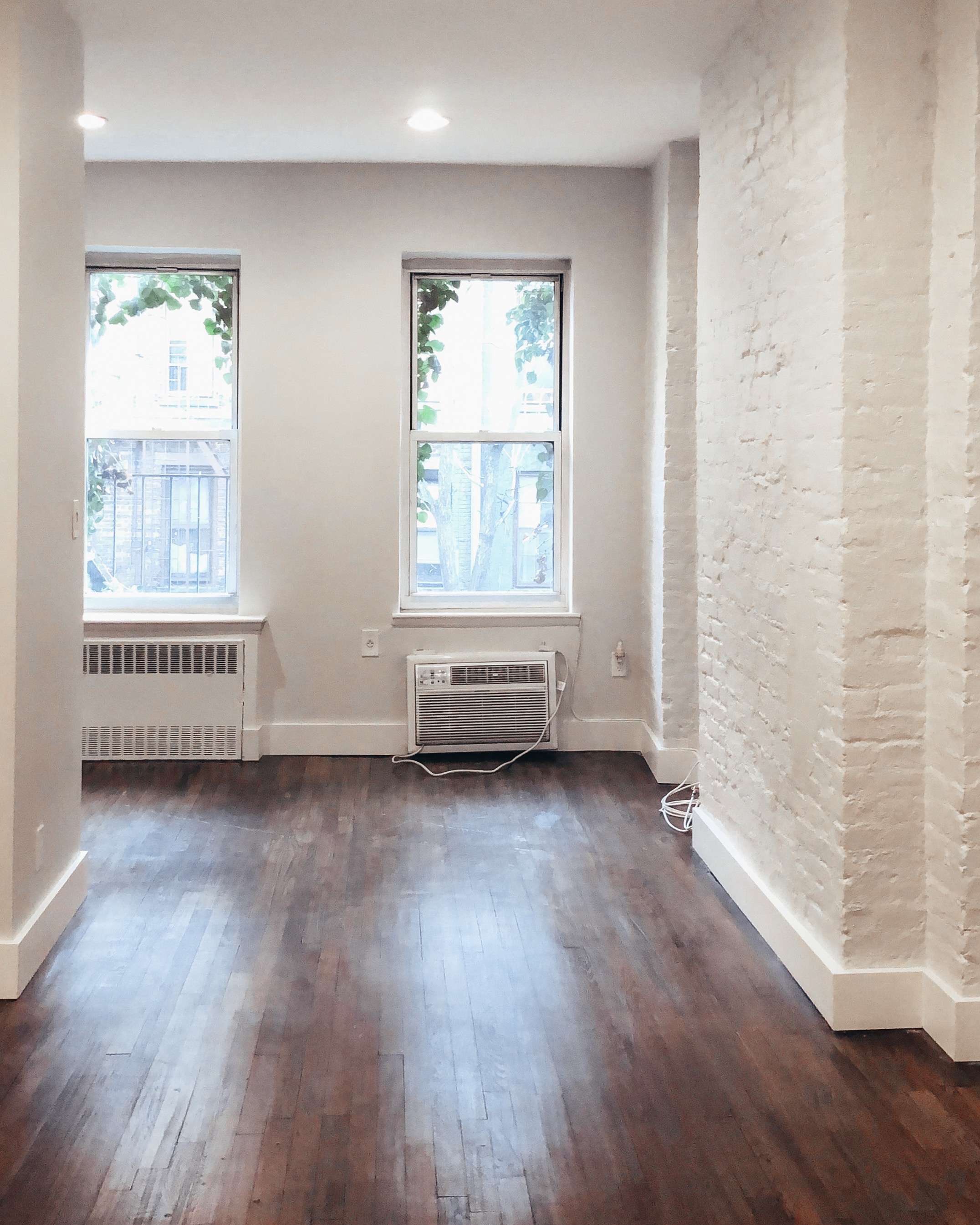 The kitchen is small, but it's the perfect size for me with everything that I need. The main challenge is that I have to get used to climbing up a step stool every time I need to grab something from the cabinets. There's always going to be something that you have to sacrifice with an apartment though, right?
I love the open window concept looking into the rest of the apartment because it definitely opens up the space so much more. As you can see from the photos, my friend cut off the overhang when she lived here. She created a little dinette area with benches and a small table. It was super cozy! I prefer to have the extra space with stools, so the countertop is being completely redone. Instead of black, it's going to be white quartz. The faucet is getting replaced too, so it will be lower than what you see here. I think this will be done within the next week or 2 and I can't wait!
My counter stools already came in, but I won't be able to put them together until after the move next week. These are the ones that I bought. I initially found them online at Target, but after a little internet searching I realized that Overstock had the same ones for $150 less. By the time I bought them, they were on sale for an extra 15% off. Woohoo! I specifically wanted transparent chairs to continue with the theme of opening up the space. Here's hoping all goes well with them.
Since I don't have a whole lot of counter space, I had no idea where to put a microwave. My friend first had hers on top of the refrigerator (blocking the cabinet) and then she put it inside one of the high cabinets, but the problem for me was that I really need the cabinets for storage. I also didn't want to get on a step stool every single time I had to use the microwave.
I did some internet stalking and found the perfect solution. There is a microwave that's made specifically for small countertops because of its shape. It got great reviews, so I decided to buy it. I brought it yesterday and it literally fits perfectly on the counter in-between the stove and fridge. So if you live in a small place with limited kitchen space, I highly recommend looking into this microwave!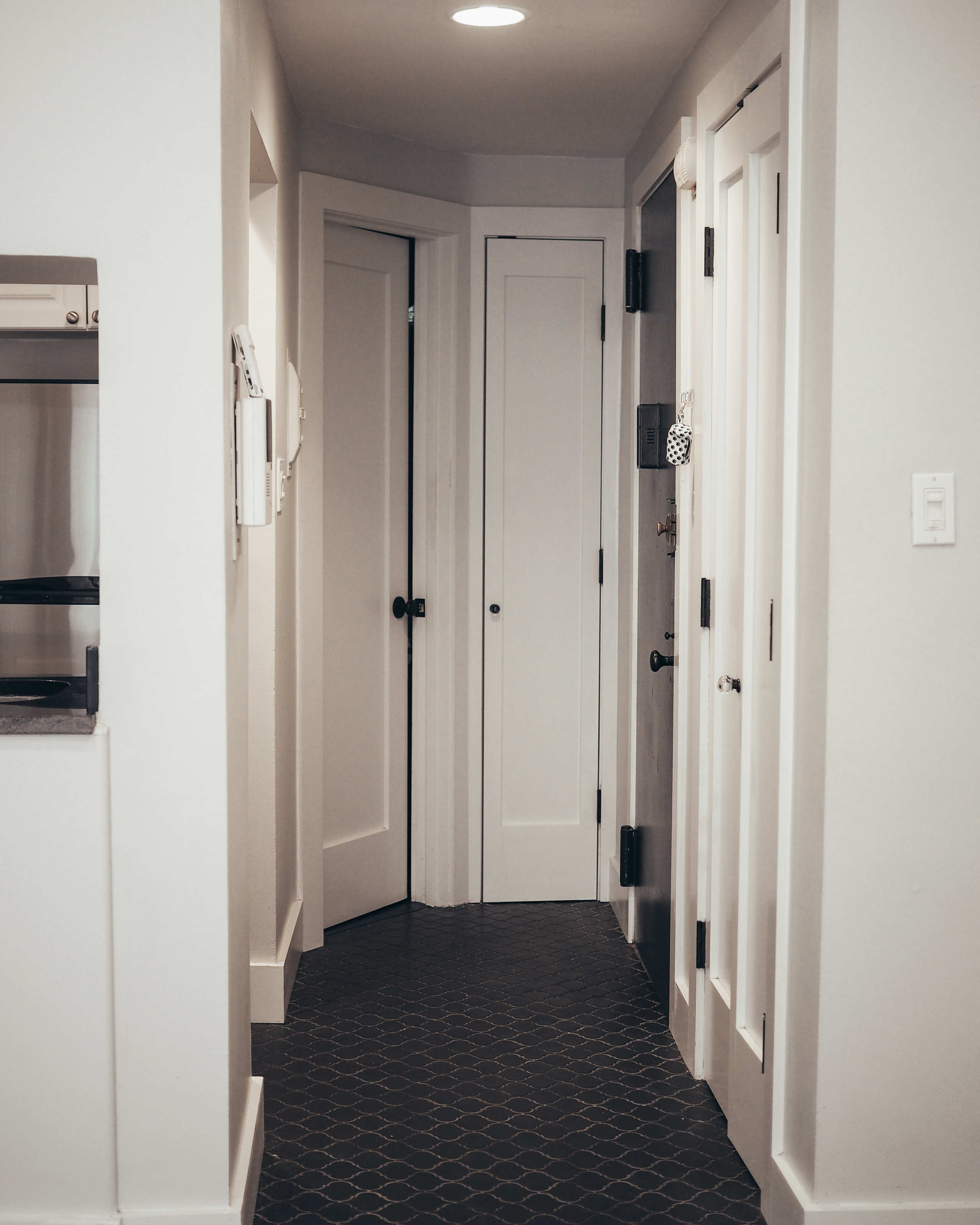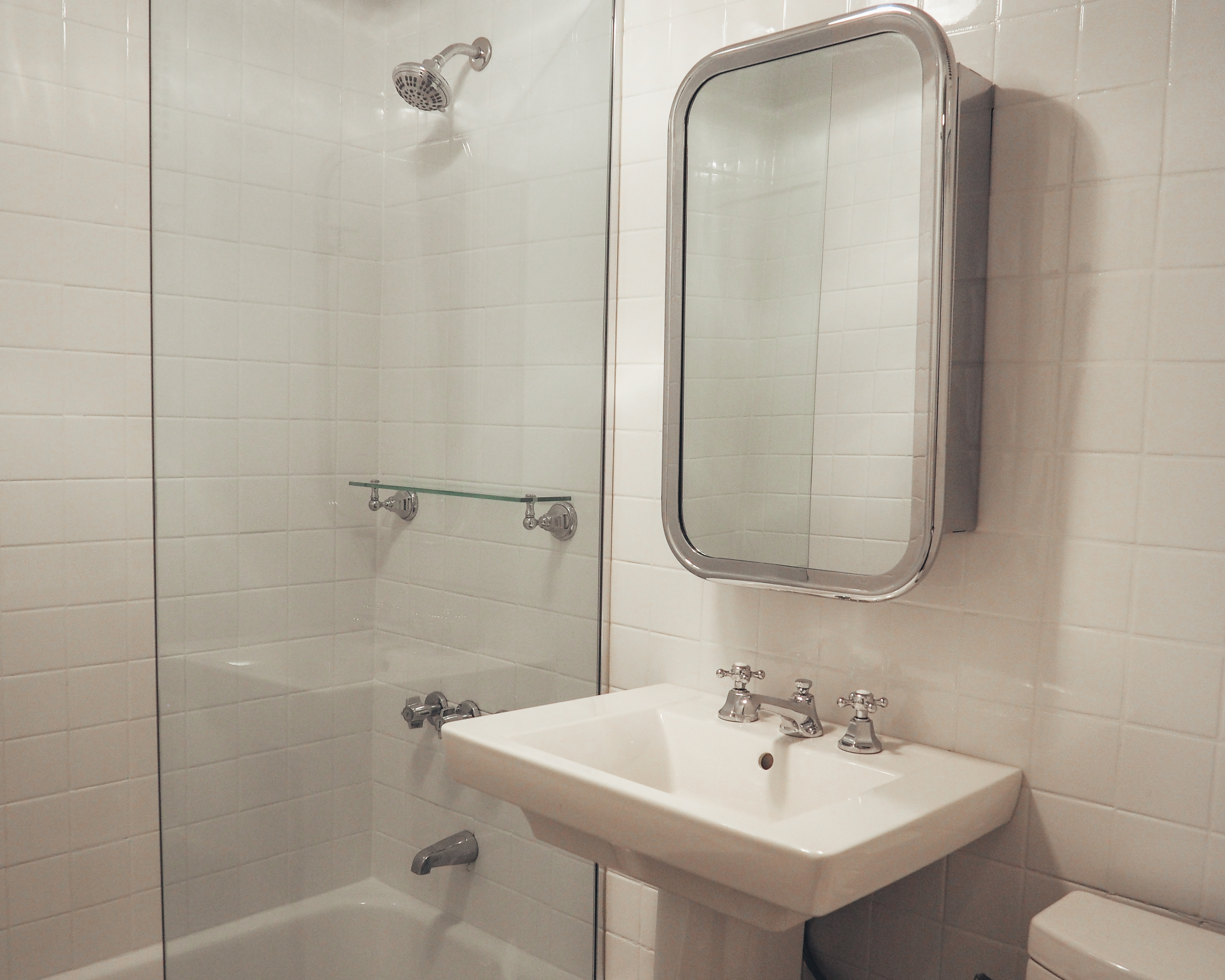 I don't particularly love the black tile, but I do love my little hallway area. This extra section helps to elongate the studio. As soon as you enter the apartment, the first thing you see in front of you is the kitchen. To the right is a small storage closet and the bathroom and to the left – the coat closet. They added in extra rods and a shoe rack, so I can actually convert this into a regular closet for extra clothing and storage. I also added transparent hooks next to the door so I can hang my keys, Kiko's leash and whatever else.
The bathroom is very small, but it's all fairly new as it got redone back in 2015 thanks to my friend! The white tile definitely makes the room feel a little bigger. There are some things that I have to get used to in here. Nothing major, I just need to break habits!
I've been spoiled with a large bathroom with two sinks and cabinet space my whole life, so I need to adjust to not having that anymore. An odd thing is that there is no outlet in here, so I'll have to use an extension cord or do my hair someplace else in the apartment. I also need to get used to having the half glass door as I've only ever had a shower curtain. I'm sure that after the first few weeks of getting into a routine in my new place, those things won't bother me anymore!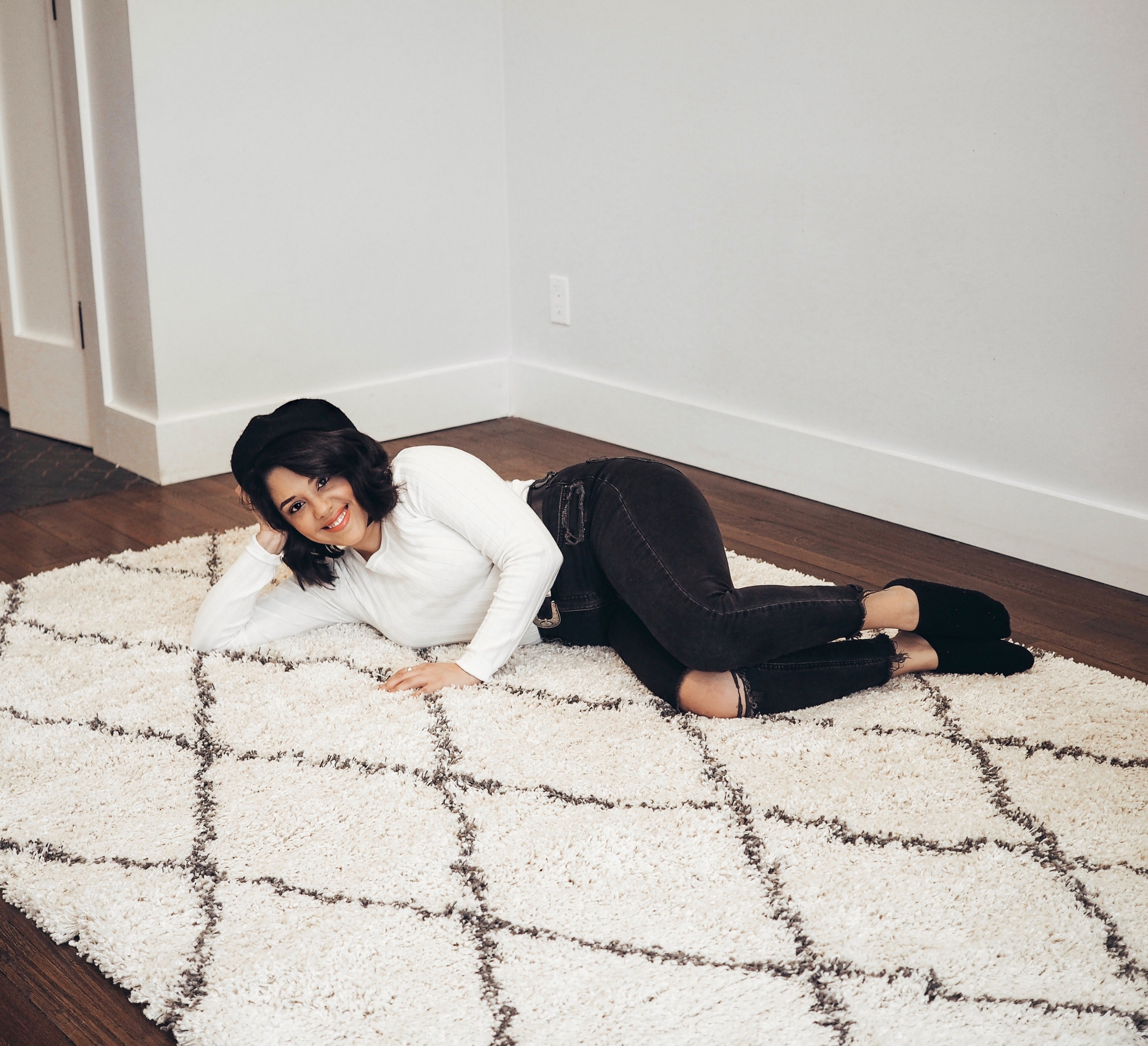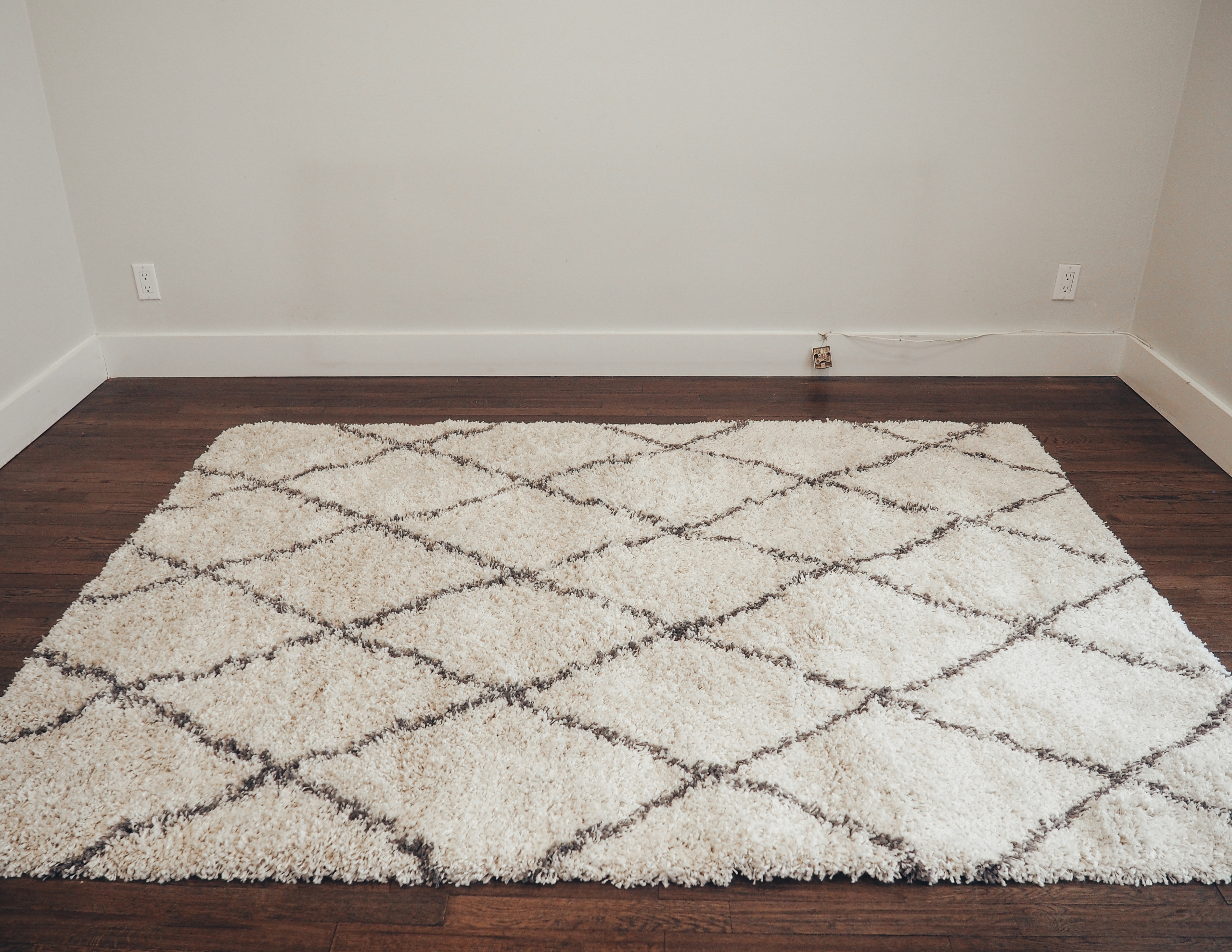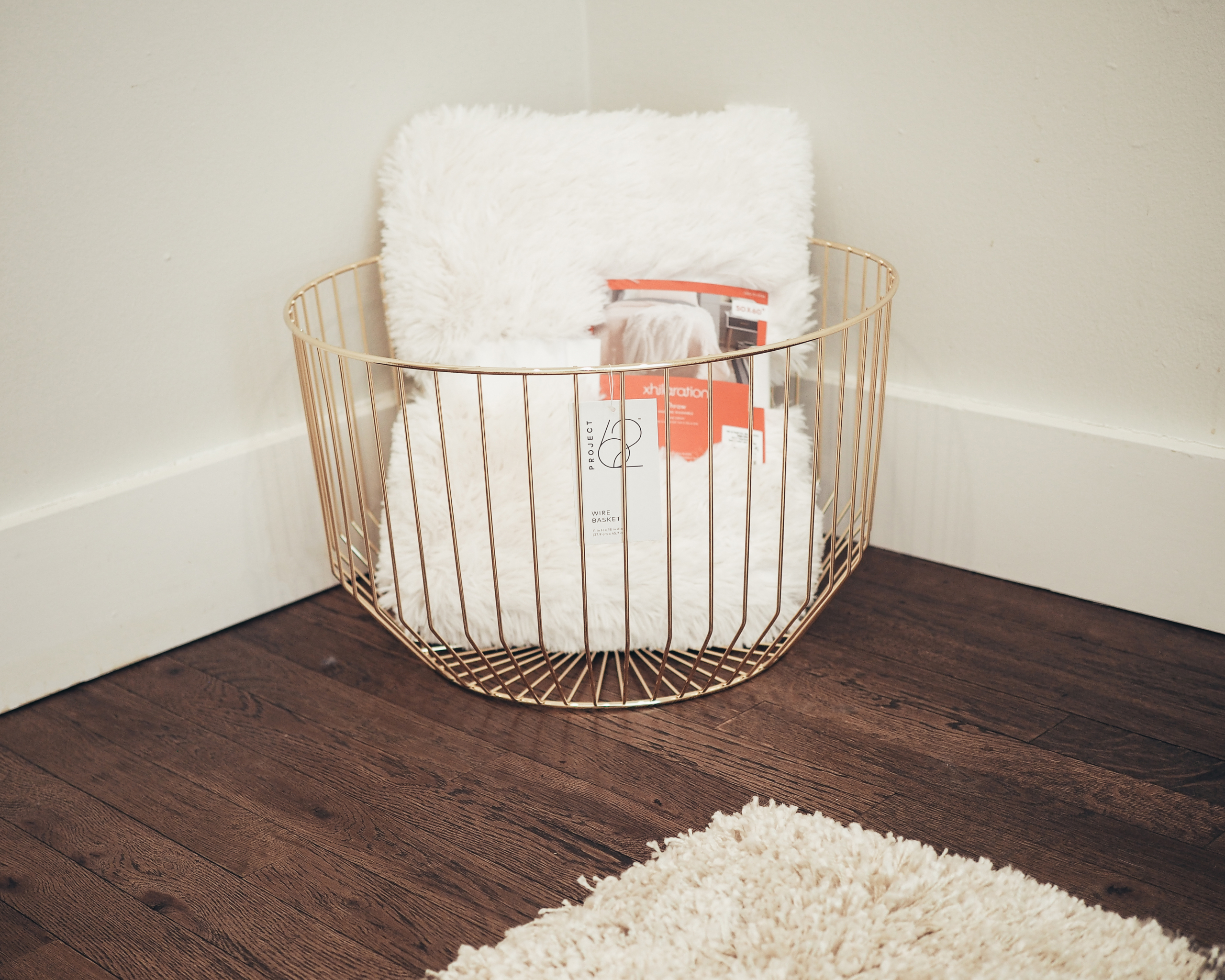 The only piece I've put out so far is my area rug. After stalking Pinterest for home decor inspo for the past year, I fell in love with this style a little more each time I saw it. Several weeks ago, I went into Home Goods to see what gems I could stumble upon and sure enough, there was my rug – literally waiting for me.
It was the last one in a 5×7 (the size I needed) AND on sale for only $89. Such a steal! Don't you just love when that happens?  The original price was $130 and I've seen it sold elsewhere for over $200. This was the first thing that I purchased for the apartment. It was such a great feeling! I actually had gift cards saved from Christmas, so thanks to my sis!
I've already ordered my sofa, which should be arriving within the next week. I'll wait till that comes in to show you! I also got this gold wire basket for throw pillows and a throw blanket. Love this as a decorative piece for the living room area. I'm still searching for a coffee table and plan to only have one end table. I'm gravitating towards the idea of a plant or floor lamp on the other side of the sofa. I definitely want to hang some artwork above the couch and/or a decorative mirror to open the space up more. Maybe some corner shelving?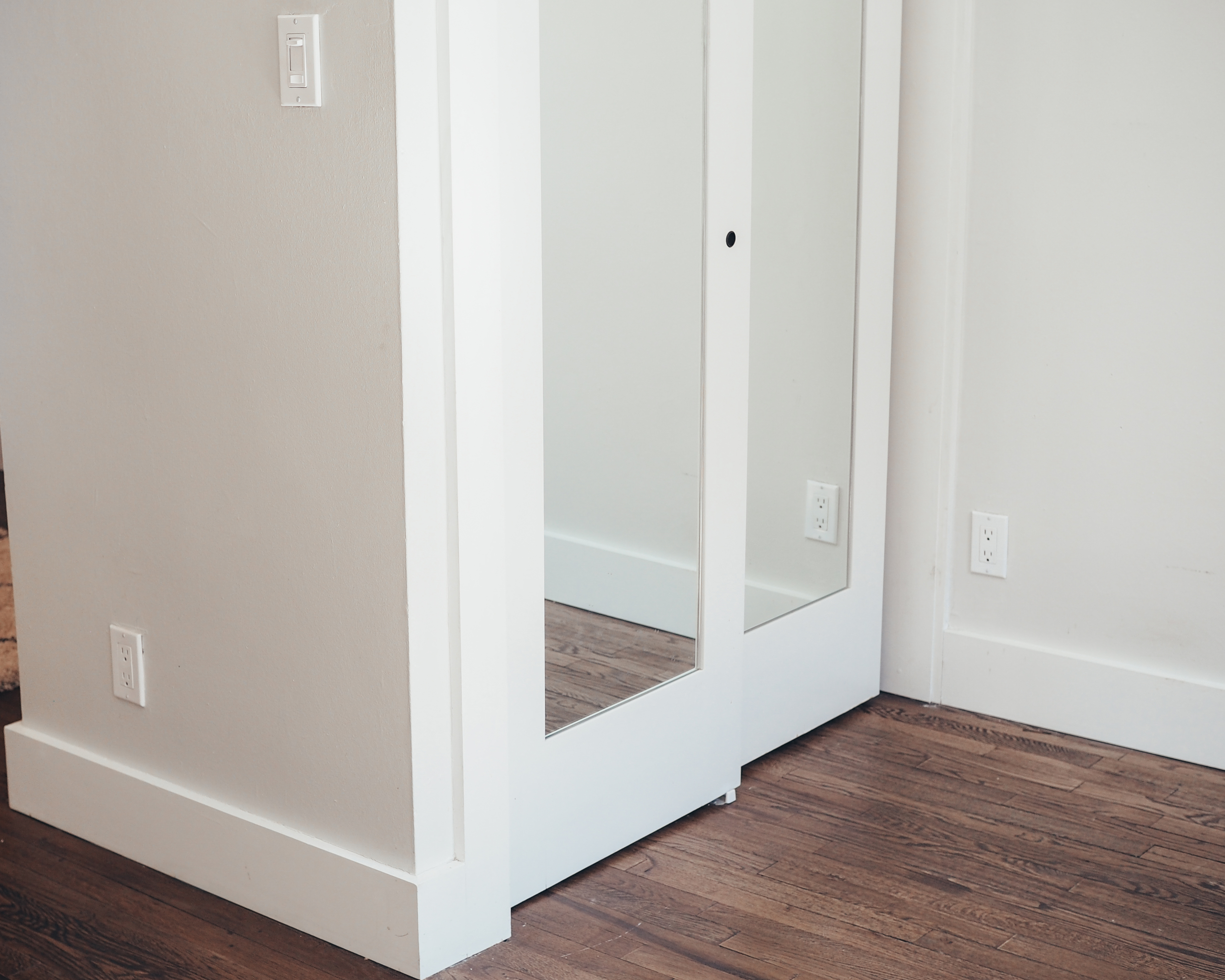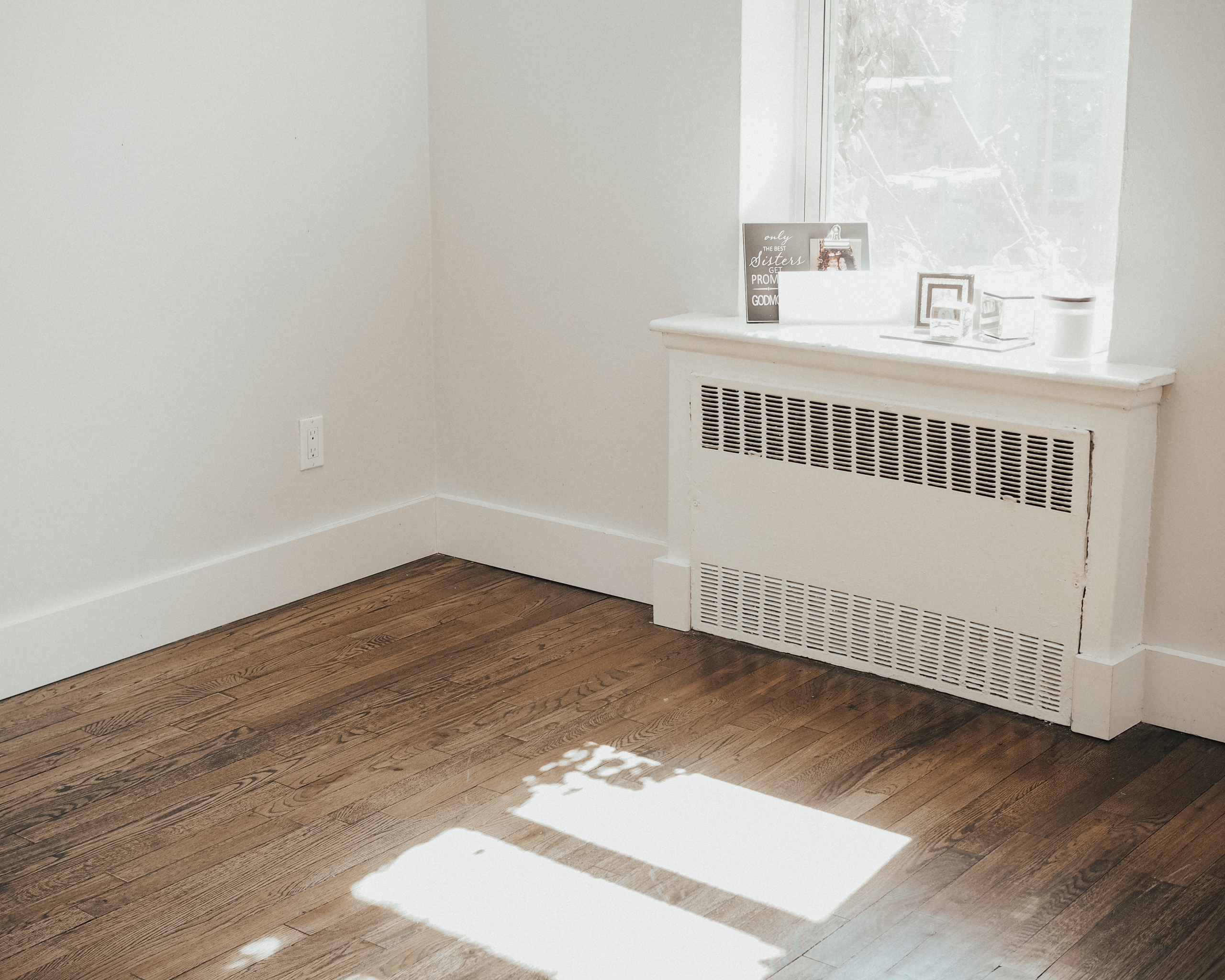 The main closet acts as the divider between my "bedroom" and the living room creating an alcove. My bed will basically fit right in this space next to the closet. Luckily, I can have a full size. Even though it's going to be a tight fit and the end of the bed will be hanging out past the half wall, I love that there will still be some privacy from the living room and kitchen area. Establishing a layout in a studio apartment can be difficult, but since mine already has an alcove, it makes it easier for me to separate each section.
I won't have any room for an end table, so I'm going to decorate the windowsills and use them as extra storage space for little things. This section gets a ton of natural light since it's right by both windows. My apartment faces the back of the building, so it's very quiet and cozy!
I still have to find a new desk, but it will most likely go into this indention here by the window so that it's closer to the bed area and out of the living room. I've been thinking a lot about using it as a dual purpose – both a desk and a vanity. So much to still figure out and buy!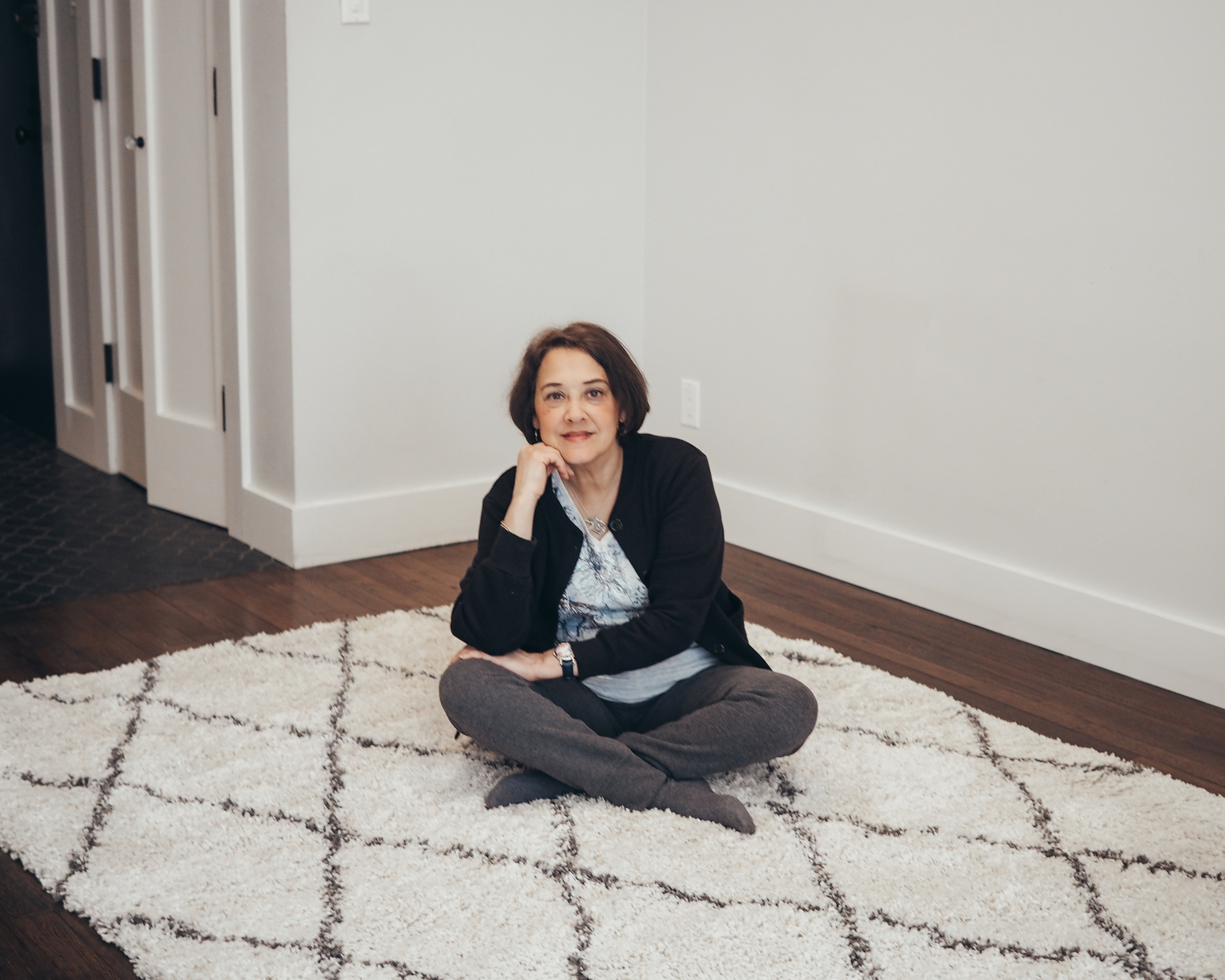 Now let me get a little sappy and emotional for a minute. It's been extremely difficult not having my father here for this new chapter of my life. He would have been nervous for me to live in NYC alone, but he also would have been so proud of me and super supportive. I know that he would want to help me out with the whole moving process. He was the number one man in my life and I hate that he can't be here to experience this with me.
I am extra grateful to still have my mother in my life. She has gone back and forth to the apartment with me to help me clean, bring my belongings and set things up. She's gone furniture shopping with me and has basically been here every step of the way. I know that this is such a difficult time for her. In many ways, she's letting me go. But at the same time she's so excited for me and continues to show her support. Thank you mom, for all that you do for me. I would truly be lost without you.
This was my fist time doing a post like this, so I hope you liked this little tour of my studio apartment! I can't wait for everything to come together soon. I'll definitely share more of this whole process, especially when I start diving into the decorating. If you have any tips for small spaces or living in NYC, please do share with me below! By the way, I'm trying to come up with a hashtag for all things apartment on Instagram. So far a few suggestions that I liked are #NatysNook and #NatyAndTheCity. What do you guys think? Let me know if you have any hashtag name ideas! Thanks for reading!