Happy Monday! I had such a great weekend and hope that you all did too! I did a quick shoot in the park before heading into the city on Saturday for lunch at Isabella's with fellow fashion blogger, Daniela from NanysKlozet.  I am so happy that I finally got to meet her because she's super sweet and inspiring!  We had lunch and hung out in the city for a bit, such a great time!  This is what I wore 🙂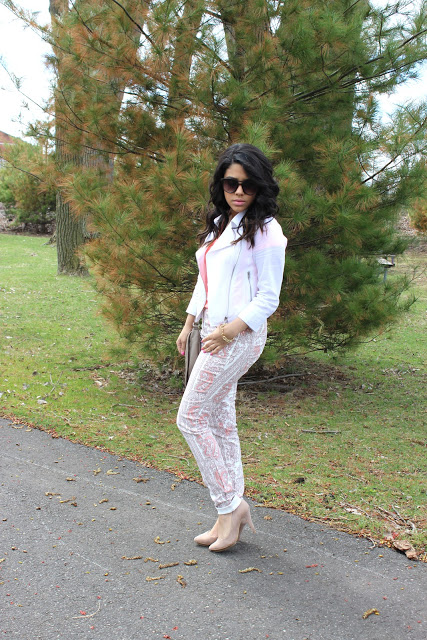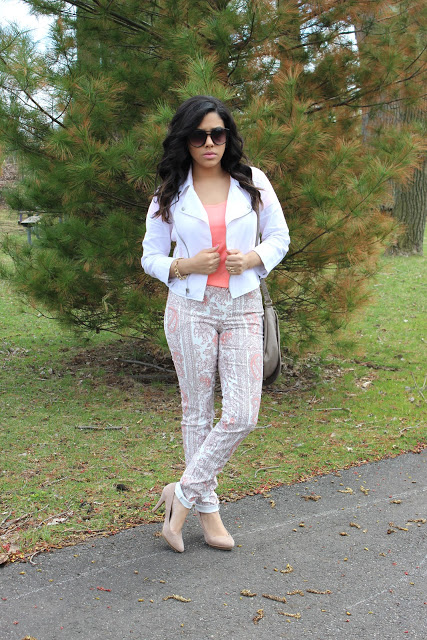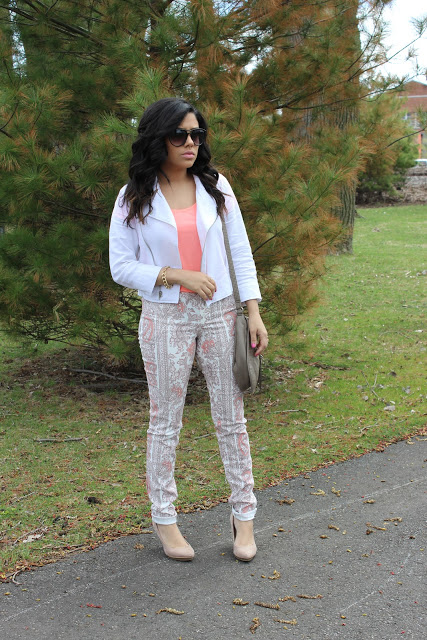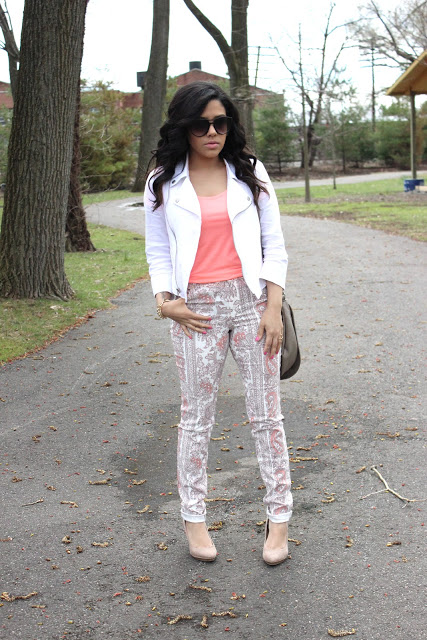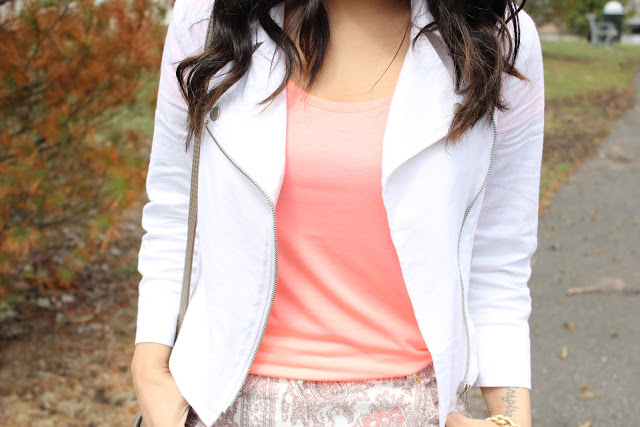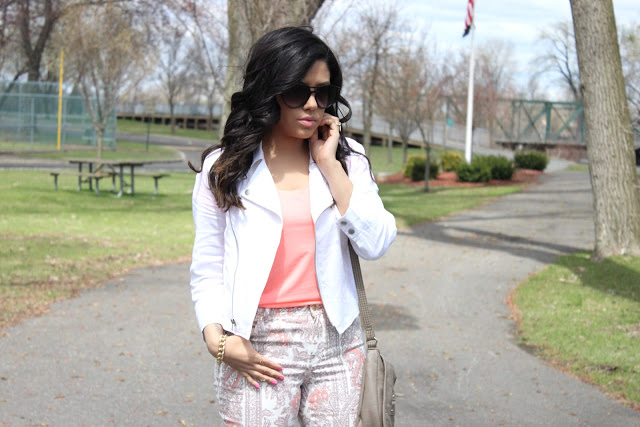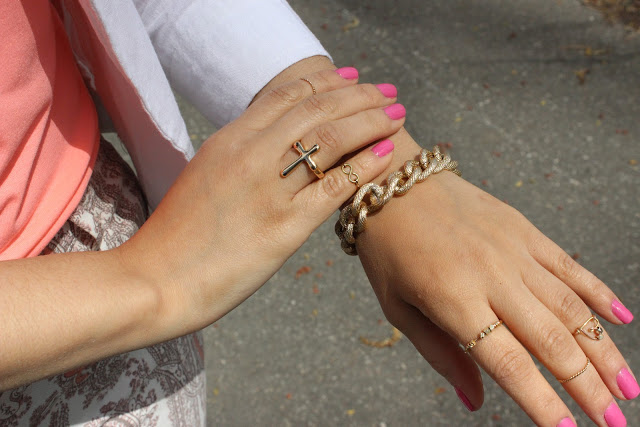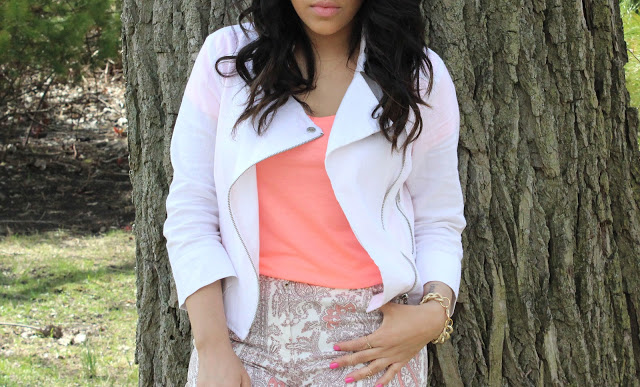 and here's me being silly lol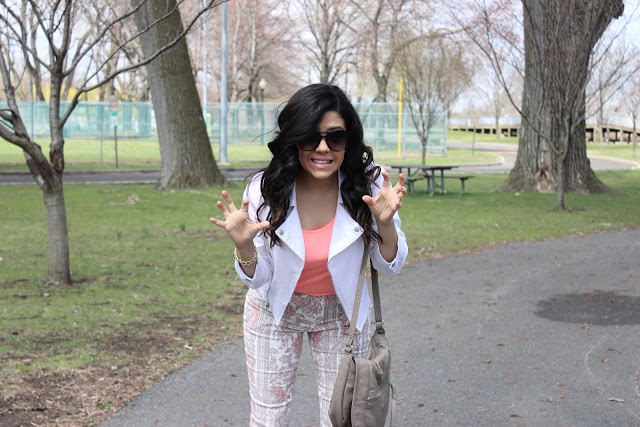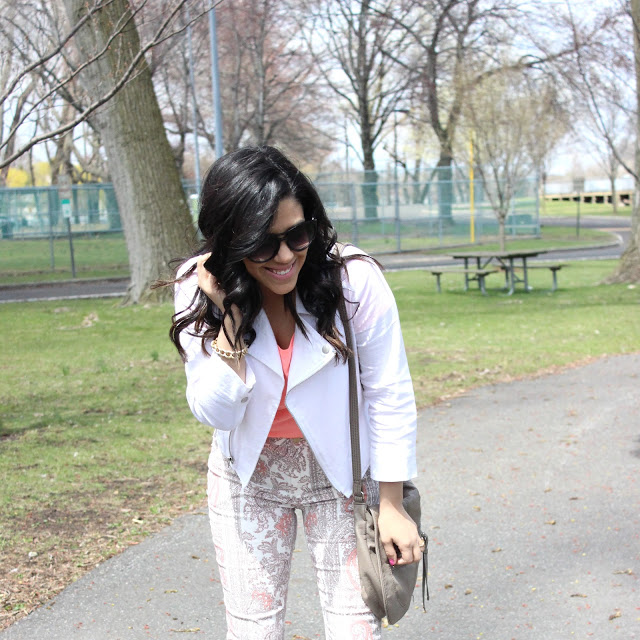 This is one of those outfits that came together quickly without me giving it much thought.  Each piece seemed to compliment each other in the right way.  I went to H&M to return a dress that I never wore and instantly fell in love with these printed jeans.  I'm all for prints, and they're all the rage right now.  Printed pieces are a great way to spice up your look.  When shopping for them, try different styles and see what works best for you.  I instantly knew that I wanted to bring out the coral color in the design and literally as I turned around there was a table with a bunch of different colored shirts including this one.  It was meant to be. This one was $5.95 and I love the fit.  I need to go back and get them in more colors.  Stocking up on solid tees is a good idea since you can get so much use out of them.
I know I just wore this white linen moto jacket 2 posts ago, but it was the perfect way to complete this look.  I will probably wear this a bunch more times this spring and summer.  I think it might have replaced my faux leather one for this season!  I highly suggest getting some type of moto style jacket as it's extremely versatile, perfect for layering, and a great way to add a bit of edge to any look.
Here's a pic with Dany!  It ended up being a printed pants & white jacket kind of day (unplanned) lol You're probably already following her amazing
blog
, but in case you aren't make sure to check it out!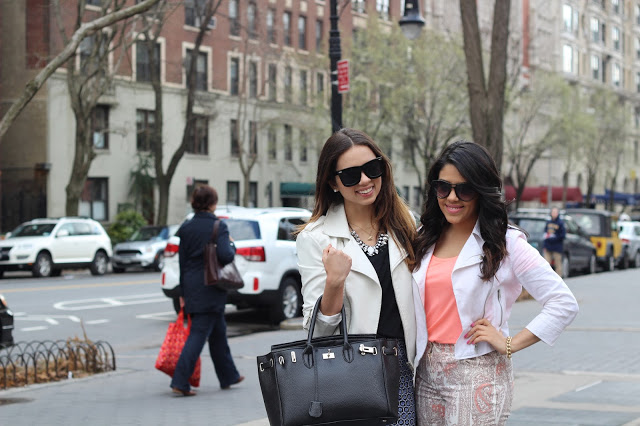 I try and do 3-5 looks per week on my blog, but I'm thinking of adding a new addition to my weekly posts that is separate from my outfits. A few ideas that come to mind:  anything beauty related, a round up of my week in photos (not instagram pics), or any fashion related topics.  I'm open to suggestions so if there's anything in particular you would like to see on here let me know!
<3