I love the recycle program at MAC makeup!  In case you don't know about it, make sure to save your used containers (eye shadows, lip gloss, blush, etc.) Once you have 6, you bring them in and you get a free lip gloss or lip stick of your choice depending which MAC you go to.  So I got Ruby Woo! It's similar to Russian Red because it's a matte blue based red.  It's a little more dry though so if you get this color I suggest putting a little bit of clear gloss on top.  I have a deep admiration for red lipstick. It can change your entire look instantly.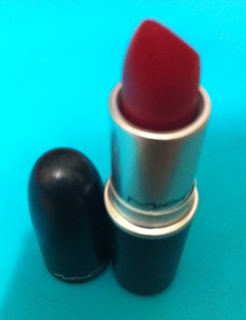 I have a pair of navy blue skinny trousers from H&M that I haven't worn in awhile so I decided to bring them out of the closet today.  They fit like a glove.  I really do suggest getting jeans & pants in other colors.  There's so many different styles & they can be very flattering.
I went with another white button down that I have from H&M.  As you can see through out my blog, I'm big on button downs.  Then I went with these light grey pumps I have from Mandee & matched it with this handbag from Metro Park. This is one of my favorite bags.  Since it's such a neutral color, it goes with almost anything.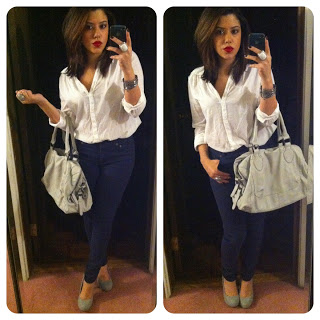 I went with silver accessories, including this bracelet & earrings from Aldo, 2 rings that I've posted on here before & of course Ruby Woo! I've always loved navy blue & red together. I think they compliment each other very well.  The lipstick was a perfect touch for this outfit to add a pop of color, since everything else is neutral & toned down.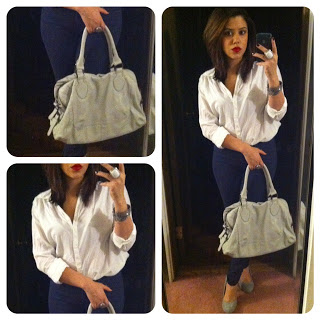 This is similar to what I wore yesterday, but I switched it up a little 🙂 The weekend is almost here & I might be going to a holiday party!  Can't wait to post pics if I do!
<3