I've been really addicted to putting different looks together since I learned how to do it.  I wasn't lying when I said I could do it all day! I saw this photo of Kourtney Kardashian and I got inspired to create something similar, but making it my own. What do you think?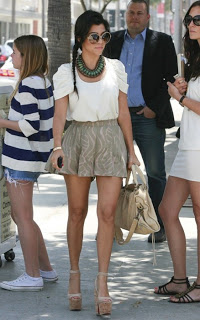 [Kourtney Kardashian]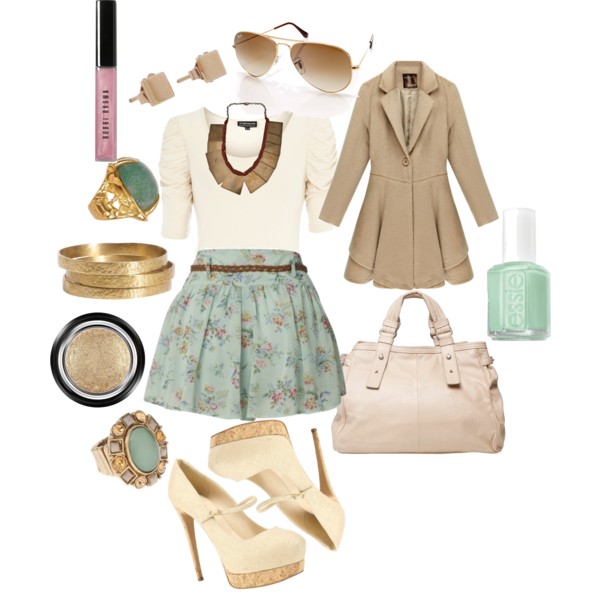 [Skirt: LIPSY/ Top: WAREHOUSE/ Coat: ROMWE/ Shoes: ALEXANDRE BIRMAN/ Bag: MARC JACOBS/ Sunglasses: RAY-BAN/ Necklace: GIADA FORTE/ Rings: YSL & TALLULAH TU/ Bangles: HAMMERED/ Earrings: JENNIFER MEYER/ Nail Polish: ESSIE MINT CANDY APPLE/ Lip gloss: BOBBI BROWN/ Eye Shadow: ARMANI BEAUTY]
I love this mint green color and tan/gold combo. This has more of a summery type vibe but I would still wear it now. I also created these other outfits.
[Blouse: HALSTON HERITAGE/ Skinny Jeans: VICTORIA BECKHAM/ Blazer: ALEXANDER MCQUEEN/ Shoes: CHRISTIAN LOUBOUTIN/ Sunglasses: REED KRAKOFF/ Clutch: HEAVEN SENT/ Watch: MARC JACOBS/ Bracelet: MARC JACOBS/ Earrings: HAUTE COUTURE SWAROVSKI/ Ring: WITCHERY]
Love this!  It's a really fun outfit.  I like how the hot pink stands out amongst the grey/silver tones.  It's sort of like what I did in my post "A Splash of RED" only taking it a little further with the pink blazer.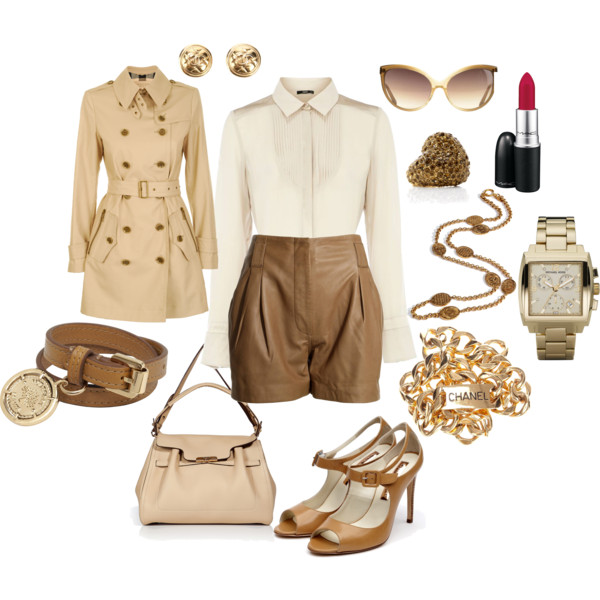 [Blouse: OASIS/ Shorts: REISS/ Coat: BURBERRY BRIT/ Shoes: RUPERT SANDERSON/ Bag: SALVATORE FERRAGAMO/ Sunglasses: LINDA FARROW LUXE/ Chain Belt: CHANEL VINTAGE/ Necklace: CHANEL VINTAGE/ Earrings: CHANEL VINTAGE/ Ring: MARC JACOBS/ Watch: MICHAEL KORS/ Bracelet: MULBERRY]
I'm really big on gold, cream, & dark tan shades. The red lipstick here is a nice touch to bring in another color in a subtle way.  The earrings, necklace & belt are Vintage Chanel <3  This ensemble has a classic/sophisticated feel to it.
Hope you liked these outfits!  🙂