Happy Thursday my LOVElies!  I hope that this week has been good to you so far.  I am soaking up the last days of summer and taking advantage of the warm weather.  This is an outfit that I have envisioned all summer and finally I was able to put it together!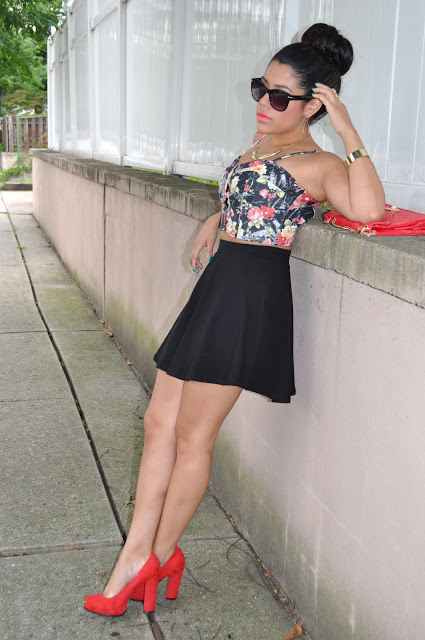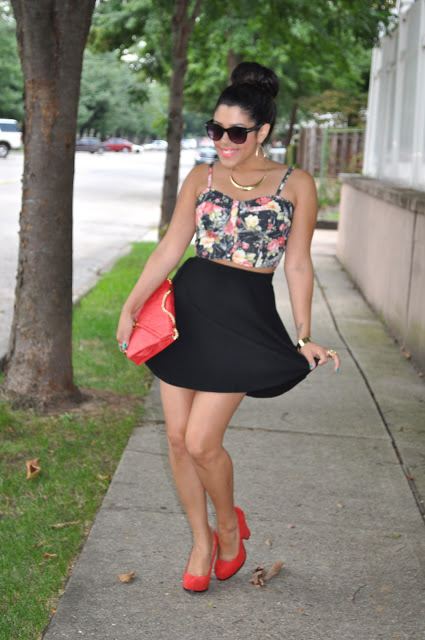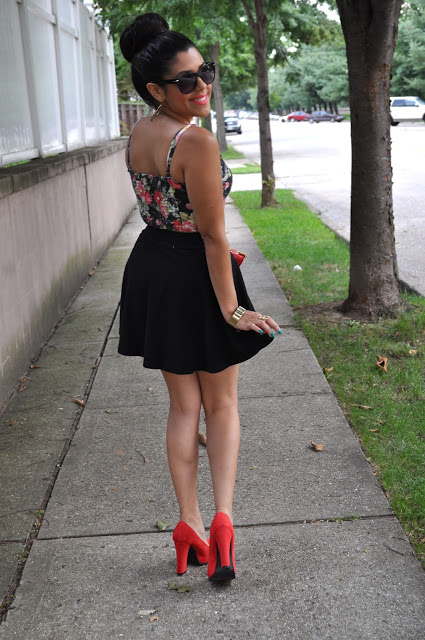 Floral Bustier: Charlotte Russe
Skater Skirt: Charlotte Russe
Shoes: Target
Bag: C/O PLNDR
Sunnies: H&M
I haven't been to Charlotte Russe in such a long time.  I was passing by the store and saw this floral bustier/crop top in the window.  I literally ran to it.  I fell in love instantly!  I really like the print & colors and the little buttons going down the front.  These tops were such a big hit this summer and they can still be worn in the fall with some layering!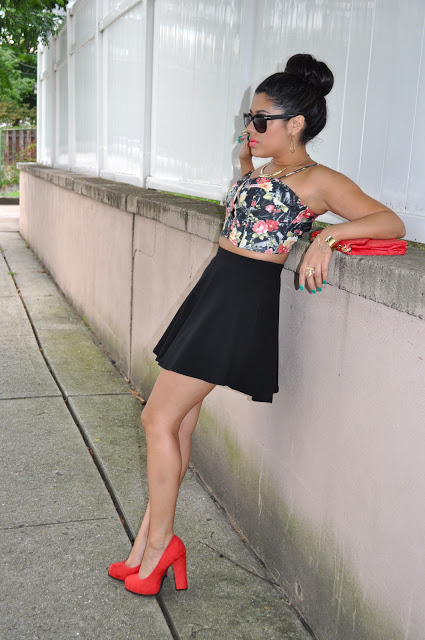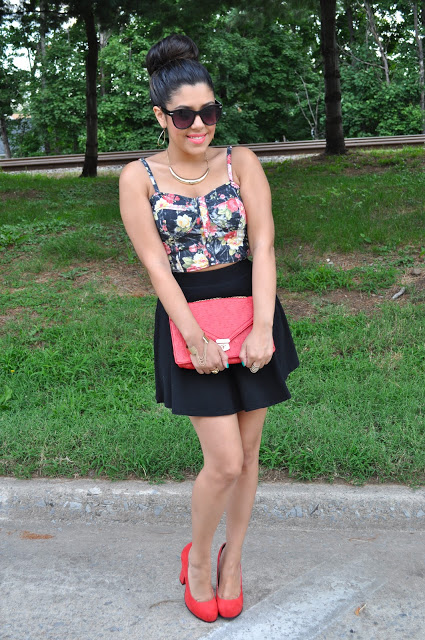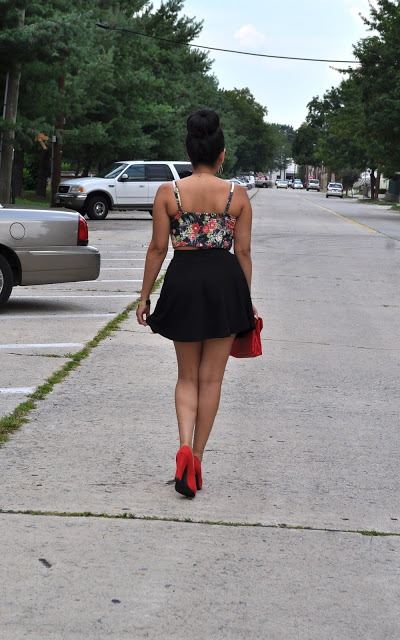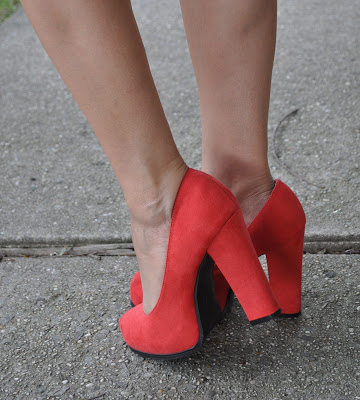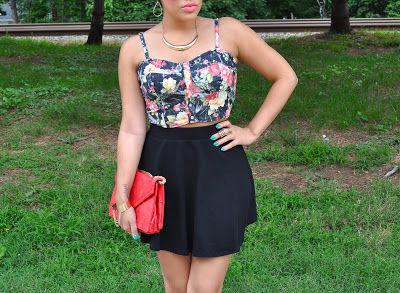 This skater skirt is adorable!  I've been wanting a skirt like this for the longest time and I'm so happy that I found it.  It was on sale for $10.  I knew that it would be a perfect match with this top.  It's girly and chic!  I went with my chunky heels from Target and this bag from PLNDR that I used as a clutch today.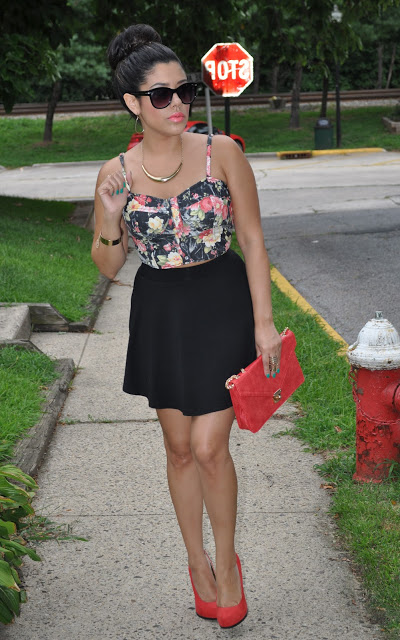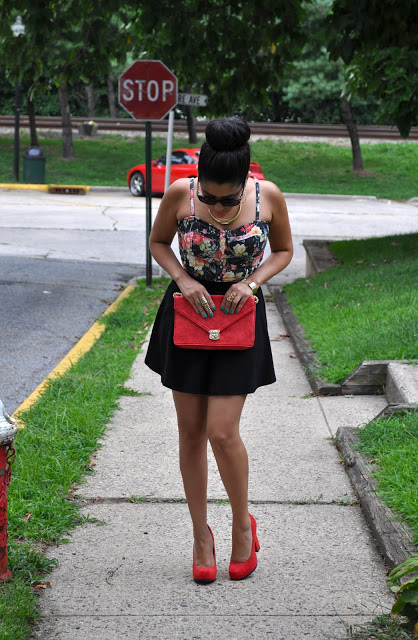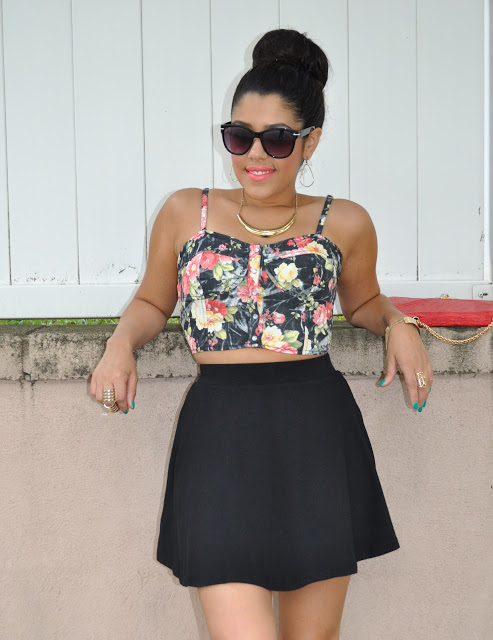 I can't seem to get enough of this Forever21 necklace.  It just literally goes with everything.  And I have been obsessed with these rings lately which is why I have them on all the time!  I'm wearing MAC Costa Chic lipstick and my H&M sunnies to complete this look.  I think it's super summery, feminine, and flirty.  I really love switching up my outfits!
On another note, check out my Donut/Sock Bun Tutorial!
And lastly, I have the blogger meet & greet details!  It will be on
Saturday September 8th
.  I emailed a bunch of you back to let you know the time & location.  Please let me know if you are coming 🙂  You can still email me if you are a blogger in the NJ/NY area and would like to come! (
aloveaffairwithfashion@gmail.com)
I have invited a few of the shops/businesses that I have collaborated with on my blog so it will be great networking for all of you. There will be some giveaways that we are raffling off too 🙂
<3