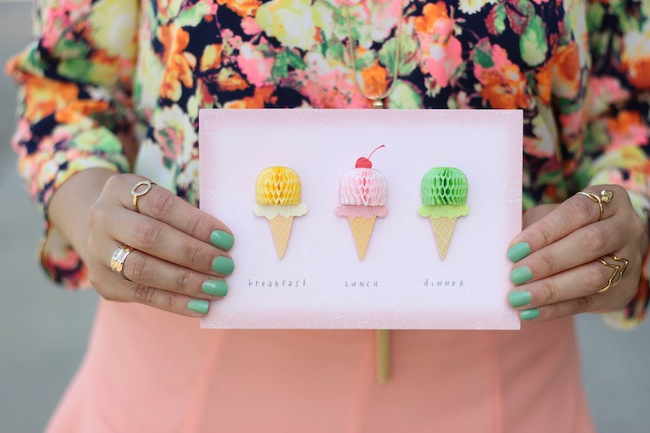 Disclosure: This post was sponsored by Hallmark
through their partnership with POPSUGAR Select.
While I was compensated to write a post about Hallmark Signature, all
opinions are my own.


With summer officially here,
there are plenty of fun activities and reasons to celebrate.  From BBQ's to beach parties and all things in
between, this season always reminds me to indulge a little bit more and to
treat myself.  I teamed up with Hallmark
to pick out a card from
Hallmark Signature
and give it to one of my
friends.  There were so many to choose
from, but as soon as I saw these adorable ice cream cones, I could not
resist!  It says "
Happy eat-whatever-you-want Day
!"  Apparently, this is an actual day sometime in
May, but I figured it would serve as the perfect reminder for one of my friends
to give themselves a well deserved break this summer and enjoy whatever they
want with no regrets.  My plan is to give
this card to my friend and follow it up with a no-guilt dinner and of course,
ice cream for dessert. Now if that is not summer indulgence then I don't know
what is!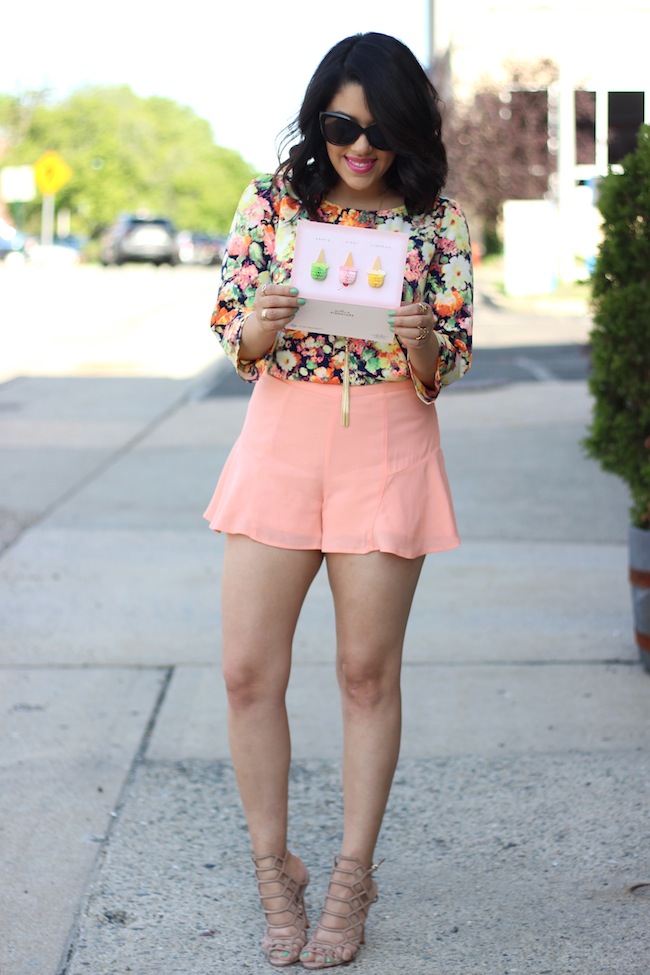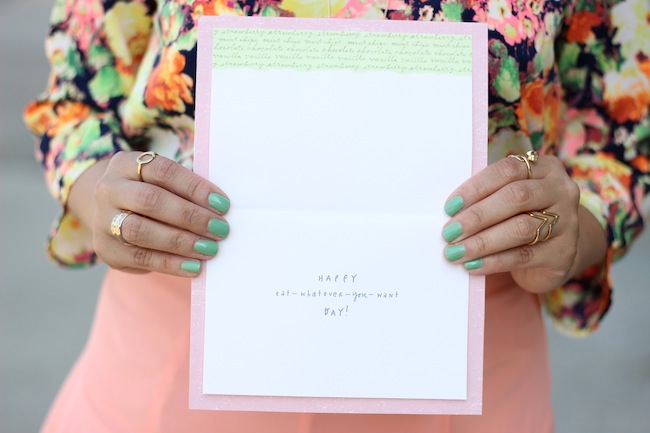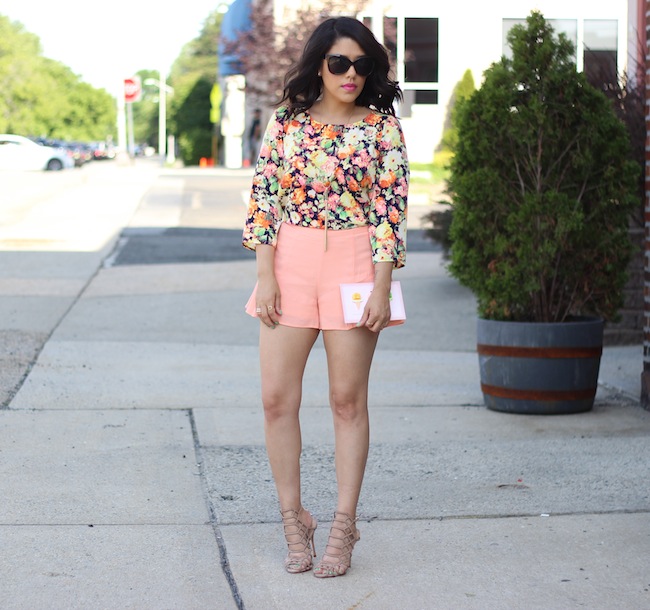 Top: Lush (old, love this) / Shorts: Lovers + Friends / Shoes: Schutz
As part of this collaboration, I was also
challenged to create a look inspired by the card I chose from Hallmark Signature.  The
color combination on the ice cream is the perfect palette for summer.  It is so bright and bold!  It definitely inspired me to wear all of
these colors together.  Initially, I was
planning to do some color blocking.  I
quickly changed my mind after rummaging through my closet and came across this
floral print top that I have had for awhile.
It has all three of these colors in the print so I thought that it would
be perfect.  I decided to pair it with
these light pink/coral shorts, which also matched the ice cream.  These two pieces together created a fun and
flirty look for summer.  I finished off
the outfit with my nude caged heels because they sort of reminded me of the
sugar cones on the card. Haha! It even inspired me to paint my nails mint and
of course get some ice cream for myself too.
I was hoping to get one cone with 3 scoops of ice cream that were all
the same colors as in the card, but that did not end up working out so
well.  I could only fit two scoops on the
cone and they literally melted in 5 seconds.  Oops!  I
love style challenges when we have to pull inspiration from the things that we
would least expect.  Who knew that an ice
cream cone would help to create this look?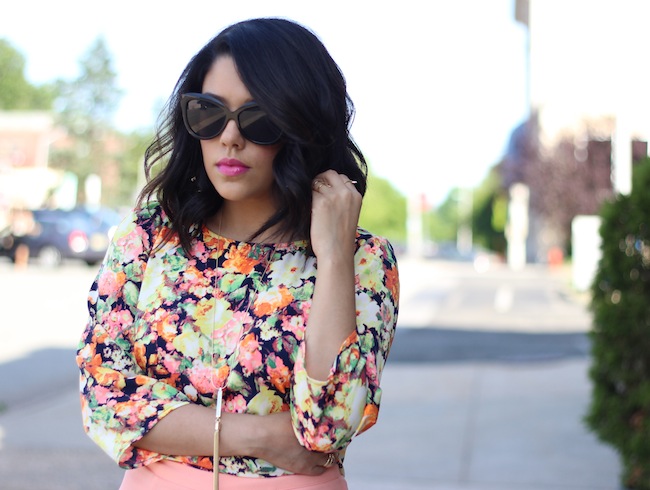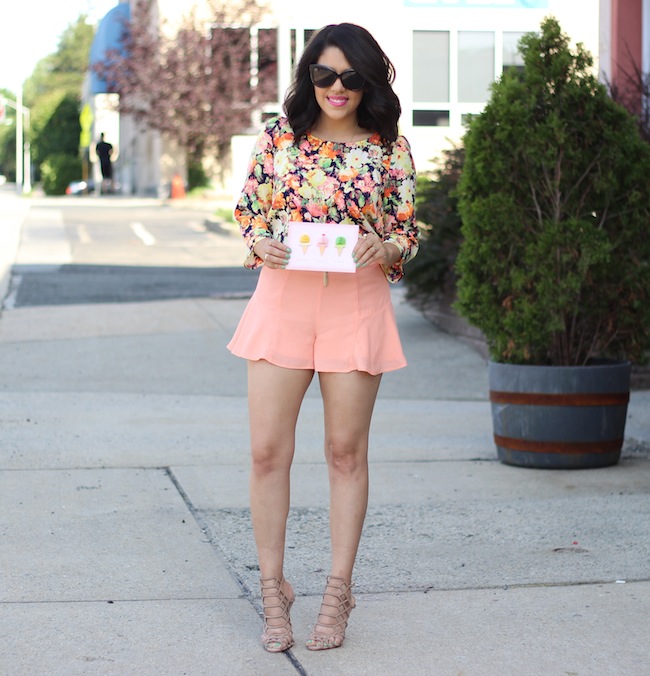 This was a great reminder for
me that we do not have to wait for a specific holiday to give a loved one a
card and surprise them with a sweet gesture.
That is what I love so much about
Hallmark Signature
. Their cards are so creative
and unique, making them that much more special and there is something for
everyone. You can see more from them on instagram
@hallmarksignature
, so make sure to follow!