A Love Affair With Fashion turns 2 today! I can't even believe that it has already been 2 years since I first created this blog. It all started with outfit selfies in front of the mirror after a baby shower and has evolved into what it is today. I never imagined that anything would come from this. When I started ALAWF, I was at a point in my life where I had no idea what I wanted. I didn't know what the next step was going to be. I wasn't sure what I was supposed to be doing. I just needed this creative outlet to not have to think about all of those pressing questions. All I knew was that I had this love for fashion for so long and it was just time for me to try and share it with others.
Initially, I did not think that anyone would care enough to read my posts or visit my blog each day. I didn't even really know what I was doing, I just went with it. When I see the following that I have gained during these past 2 years and when I read all of your amazing comments every day, it truly humbles me and means more to me than you will ever know. It's been so amazing to connect with so many people in many different parts of the world. My blog wouldn't be anything if it weren't for you guys and I thank you so much for following me along on this journey of mine and for allowing me to share not only my personal style, but bits and pieces of my life with all of you. This has been the therapy that I needed to deal with the loss of my father. I can't explain it, but when you put 100% of yourself into something, it helps ease the pain from any struggles that you are facing. I am so passionate about the things that I love, and I hope that shines through on this blog and with everything that I do. I am so thankful for all of the amazing opportunities that I've had and all of the wonderful people that I have met during these past 2 years. I'm also so thankful to have such a super supportive mother who takes my photos every day. It's definitely created a much closer bond between us than ever before.
Both my style and myself have evolved so much during this time and I am looking forward to all that is still to come. As I always say, there is still a long way to go and I hope you all keep traveling along with me! From the bottom of my heart, thank you so much for your continued support! As a token of my appreciation, I am going to plan a special giveaway coming soon. I love you guys!!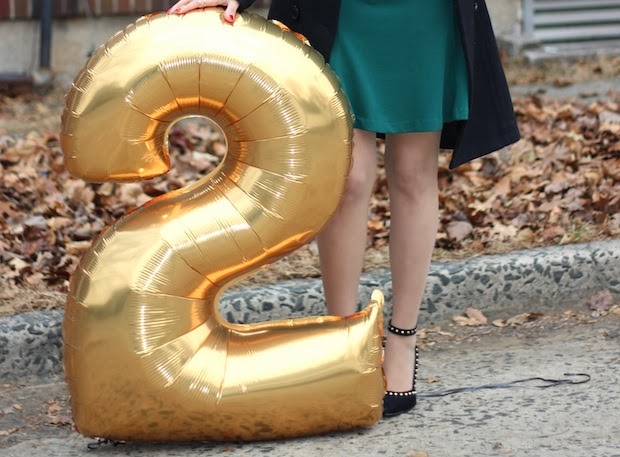 Happy 2 years to A love Affair With Fashion and many more to come!
<3
XOXO