I was looking through my photos from this past year & decided to create a post with some of my favorite looks.  With the new year approaching this weekend, I thought it was the perfect time.  Since I've already posted a lot of my outfits from the past few months, a lot of these are from going out in the warmer weather or on vacation in LA & Miami.  It really makes me miss the summer!! But before we know it, winter fashion will turn into spring/summer 2012! 🙂
Geek Chic!  Loved this outfit.  So simple, but it still made a statement.  I wore it out to a bar in the city. I have on high waisted wool shorts from Forever 21, plain white tank from Target, peep toe sling backs from Forever21, thrifted necklace and of course, my glasses!
I wore this out for a friend's birthday.  Here I am wearing a tight fitted pink dress from H&M with Shoedazzle pumps. You can't really see it in this photo, but the heels have little rhinestones all over them.  I absolutely adore these but I can't lie, they hurt my feet! I have on a statement necklace from Forever21 and I used one of my favorite clutch/bags that I think I found at Mandee.
RAWR!  I actually wore this in November a few days before my birthday.  I know that printed pants are not for everyone, but I love these.  I have on animal printed harem style pants from Forever21, this top with embellished sleeves from H&M, my Bakers wedges, feather necklace from Forever21, H&M bag, and my ray-bans!
Unfortunately I do not have a better pic of me in this outfit.  But you still get the idea. I wore this out in the city for my g-hub's birthday. I have on printed harem style pants from H&M, Target tank, Zara shoes, belt & clutch that were great finds at Charlotte Russe, and Forever21 statement necklace.
I wore this out in Miami.  I completely forgot about this skirt.  I only wore it once.  It's from Metro Park. I'm not sure where this tank is from, I have on open toe sparkle shoes from Guess, and I'm wearing an earlace from LacebyTanaya.
This is one of my favorite outfits!  I love these colors.  I actually wore this twice, but with different shoes.  Here I wore it out in LA.  The skirt is from forever21 and this top is Madison Marcus.  I actually won this on ebay from Kim Kardashian.  It was brand new with tags for $225 and I got it for only $65 🙂 These shoes are from Zara and the first time I wore this I put on my peep toe sling backs from Forever21.
I love this!  I wore it on Rodeo drive in LA.  This floral skirt is from Forever21 & tank is from Target.  I have on gold Michael Kors watch, Louis Vuitton Tivoli PM bag, ray-bans & I can't remember which sandals.  It's a very simple summer outfit but it was fun to wear.
I don't have a better pic in this outfit either, but I wore it during the day in Miami when it was a little cooler out.  These are high waisted trousers from H&M & this tank is H&M as well. I have on my oversized Marc Jacobs shades and flats from Target. It was simple, comfortable, & I forgot I had these pants!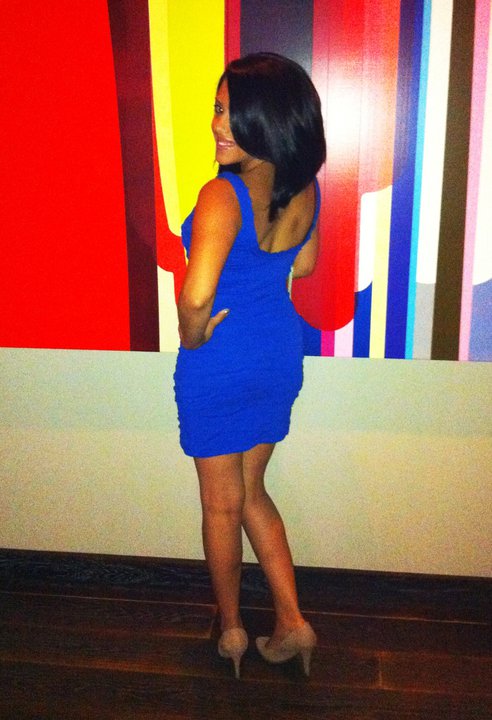 These are two outfits that I wore out in LA.  The first is a dress from Zara.  I just love this shade of blue. I know you can't see the front of it, but it was a very simple dress.  I'm wearing my Zara shoes again. The second is a Forever21 dress, same shoes, (the most comfortable heels I own!), Aldo clutch bag, and statement necklace from Forever21.  I don't wear my hair up a lot, but I think it went well with this dress.
There's of course many more, but I think I had the most fun wearing these and that's what fashion is all about; being creative and having fun with what you wear.  I am looking forward to this new year with new fashion trends!  But more importantly, new opportunities 🙂 I will try to get in one or two more posts before the new year, but if not please be safe this weekend & bring in the new year the right way!! Much love <3 Naty