I am so in love with this gorgeous Fall weather that we have been getting over here lately.  This is my favorite time of year filled with pumpkin spice lattes, upcoming holidays and my birthday, which is in 3 weeks!  I haven't had much time to go shopping for myself lately, so like I always mention in my posts I have been trying to get creative with new ways to wear older pieces.  My love for this safari vest runs deep because of it's versatility, so for me this is such a staple piece this Fall!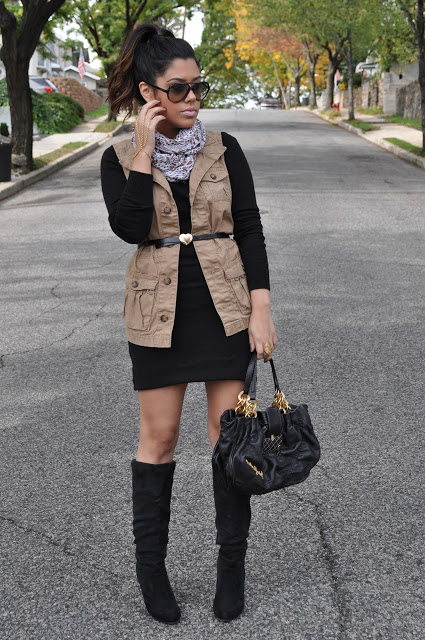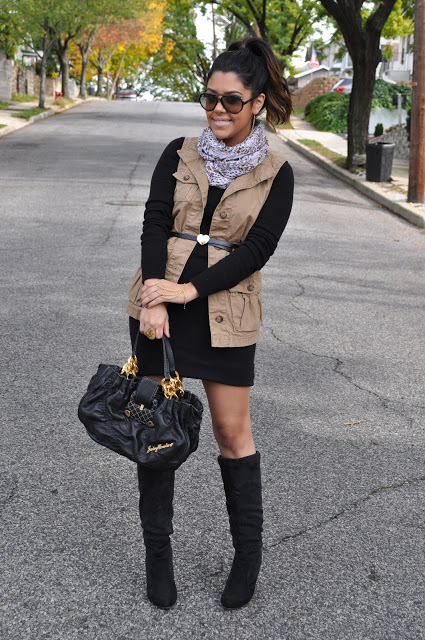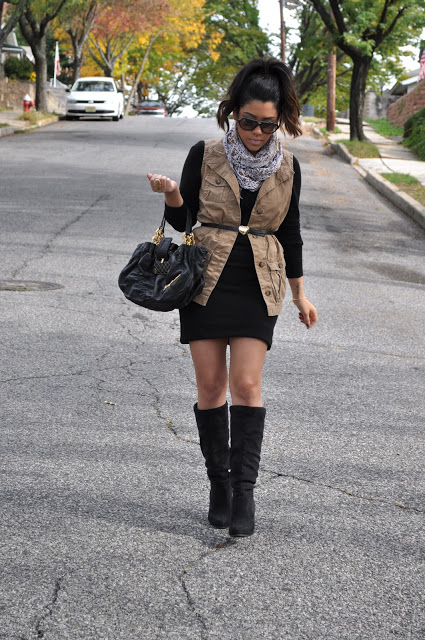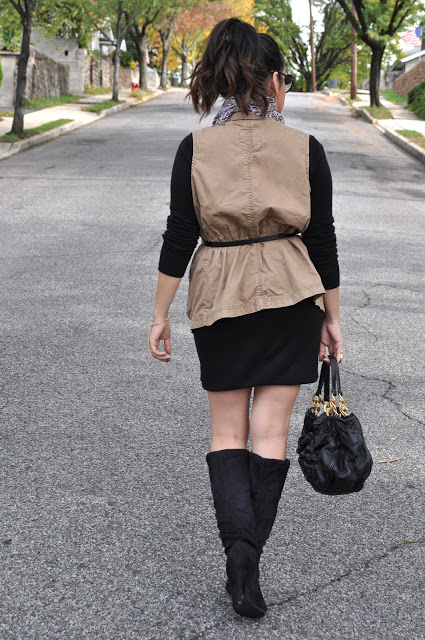 Sweater Dress: H&M
Safari Vest: Old Navy
Belt: Forever21
Scarf: Gifted
Boots: ShoeDazzle
Sunnies: Ray-Ban
I got this sweater dress last year and only wore it once and in a completely different way.  It's kind of long so I actually pinned it under to make it shorter.  I've been envisioning this outfit for awhile now and finally got around to wearing it.  I just really like the way it looks layered with the vest and heart belt.  It's perfect for this weather and looks super stylish too.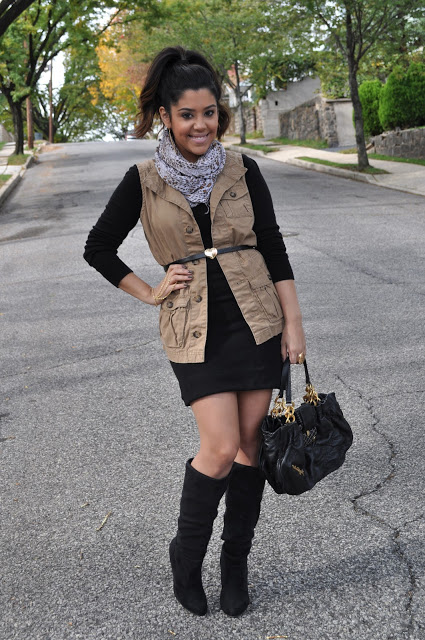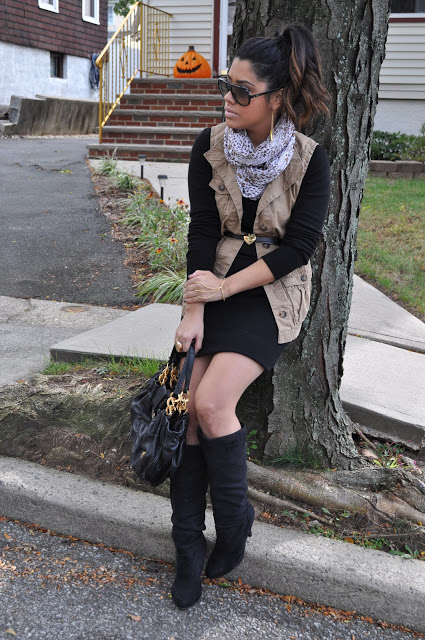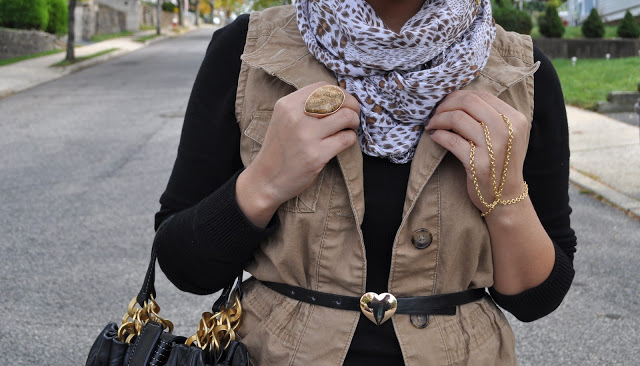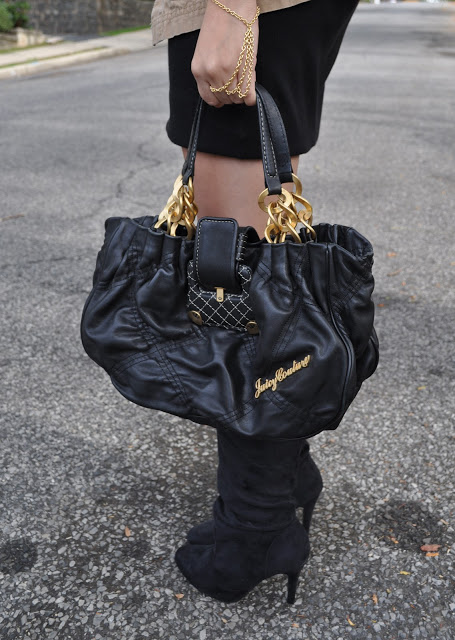 Bag: Juicy Couture
To throw in a pop of print I went with this scarf that I got last year as a gift from one of my friends.  I think that it's from Mandee.  Printed scarves are a great accessory for this season and a perfect way to bring your outfit together.  I went with these knee high boots and my Juicy Couture handbag that I completely forgot I had!  I got this a few years back and it was hiding in my closet.  I also recently found my Ray-Bans that I lost for awhile.  Yay!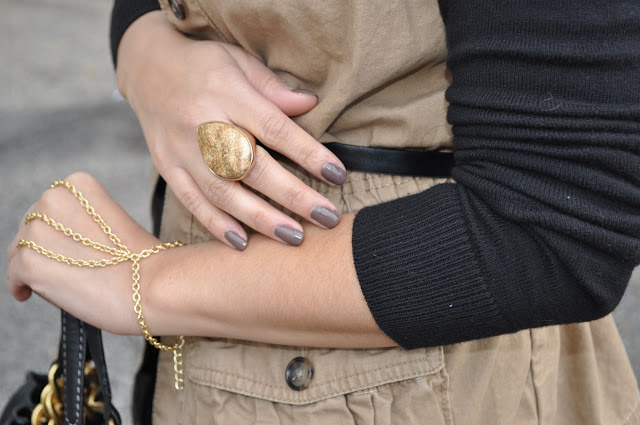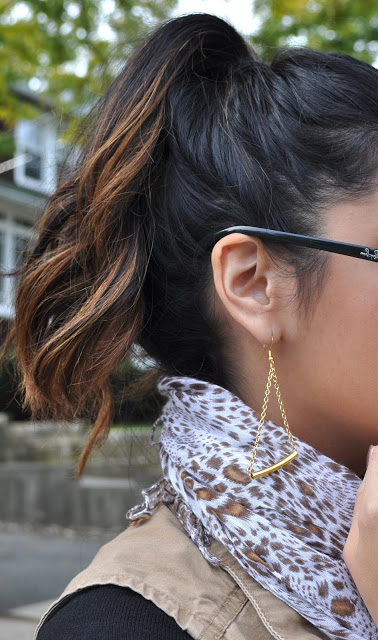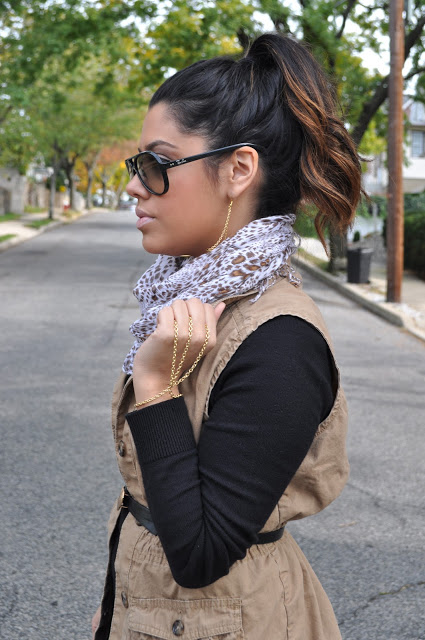 I am loving my new accessories today courtesy of
Brielle Belle
!  How cute is this chain slave bracelet?  I picked it because I have nothing like this in my jewelry collection.  She's super sweet and also included these gold tube triangle earrings.  I was saying to myself the other day that I needed to get some new earrings, so I am really happy about these!   She also makes and sells head chains, ear cuffs and more so make sure to check out her shop and enter code
Naty10
to receive 10% off your oder!
I saw a comment on the internet the other day and it said something along the lines of wearing black and tan or brown together is a fashion don't.  Well as you can clearly see in today's outfit post, I highly disagree.  There's no rules.  It's all a matter of opinion.  Wear what you like and do it confidently.  We all have our own styles and that is the beauty of fashion!
<3