It's a beautiful Thursday and I really feel like a goddess in my ensemble.  I had a bunch of errands to run and I'm heading out for dinner soon.  I definitely turned a few heads while I was out 🙂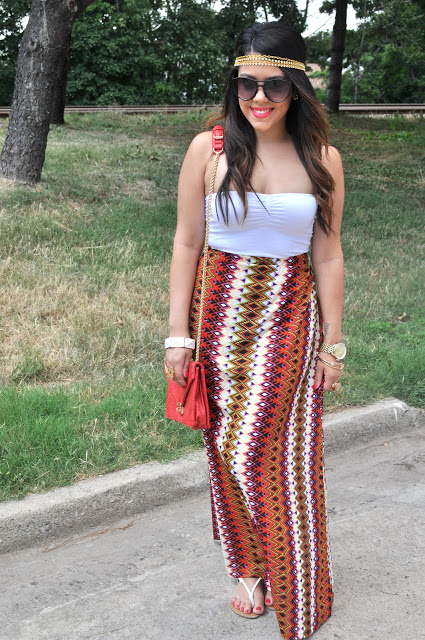 Top: Garage
Sandals: Forever21
Sunglasses: Target
I fell in love with this colorful aztec print maxi from Gypsy Warrior.  This is the other lovely piece that I snagged with my gift card from them.  It's such an amazing skirt for the summer time and it even comes with pockets which I love.  The length is perfect for my height as well.  I paired it with this long white bandeau top from Garage.  It's the same top I wore in my previous post just in white.
Originally I was going to use a white bag, BUT this amazing red bag, courtesy of PLNDR, came to my doorsteps today and I knew it was perfect! The girl I have been working with is such a sweetheart and she picked this out for me because she knew I'd love it.  Thanks so much Abi! Remember you only have a few more days to enter my contest to win the $50 gift card from them!
 I got this beautiful headpiece yesterday from
BeFreaksApparel
 and it was the finishing touch for today's outfit.  I think it just goes perfectly with this skirt and it's why I feel like such a goddess today.  Since all of these items came at different times I really didn't get to plan this outfit out at all.  And it all came together so perfectly!  I also scored these great sunnies for $16 at Target.  Love them! I went with MAC Full Speed on my lips too and that completes today's look!
Enjoy the rest of your day my lovelies!
<3