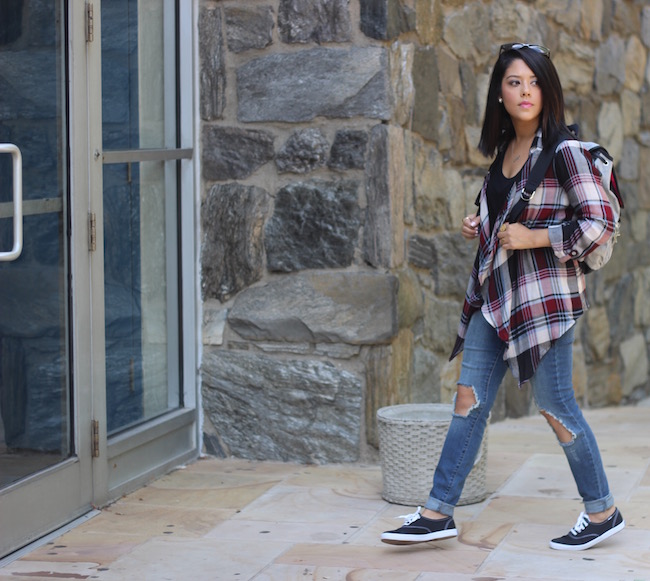 I'm going back to
school! Ok, not really, but I did have a
lot of fun with today's post! I know
that it has been years since I walked the high school halls and hung out on a
college campus. This actually brought
back so many memories and it definitely gave me a nostalgic feeling. I secretly miss school and have often
contemplated on going back. I've
realized that some of my readers are still in school though and I've had some
questions before about outfits to wear for the first day back or trendy casual
looks to wear for classes. I thought
that this collaboration with
Kohl's
would be the perfect opportunity to do
something a little bit different and address those questions!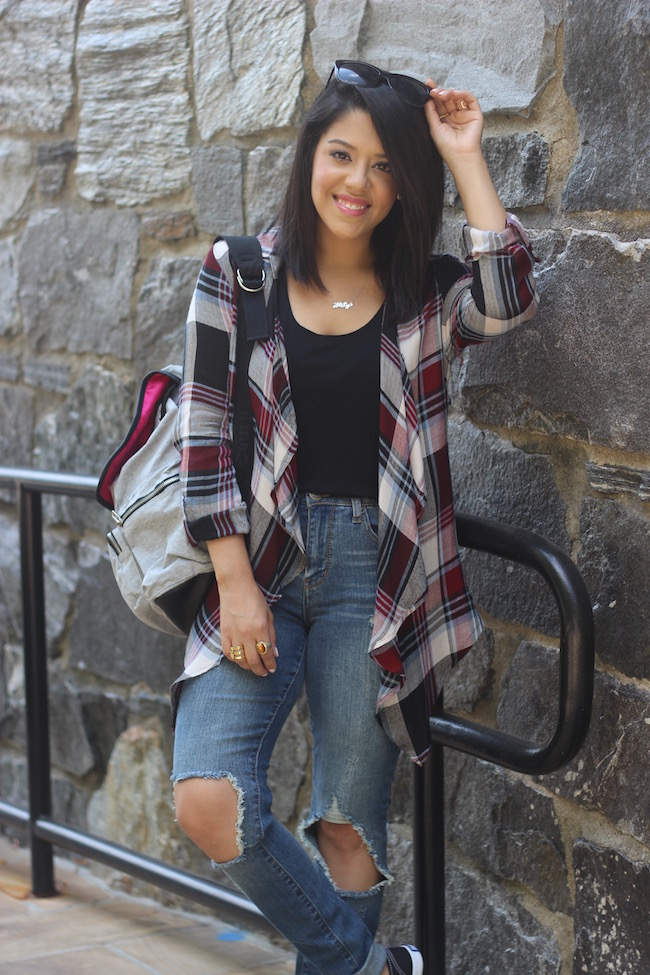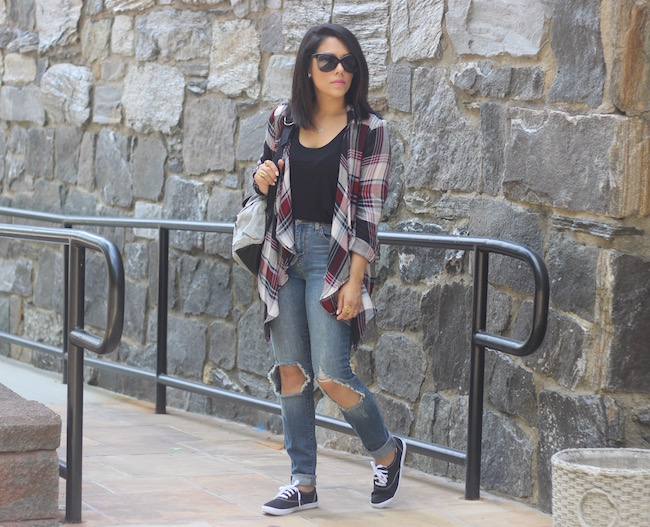 My favorite part about
heading back to school was obviously shopping for new clothes. I
mean, am I right? I remember my mom
would always take me on a shopping spree and my dad would take me to buy a new
coat. It was literally the best end to
my summers. My school style varied quite
often, but I definitely always loved to be both comfortable and stay on top of
the latest trends. I was brought back
to those memories this past weekend as Kohl's challenged me to create a compete
outfit by shopping the pieces in their
Juniors
department. I admit that I had no idea what to expect and
initially I had no outfit ideas in my mind, but once I hit the store it all
came together perfectly!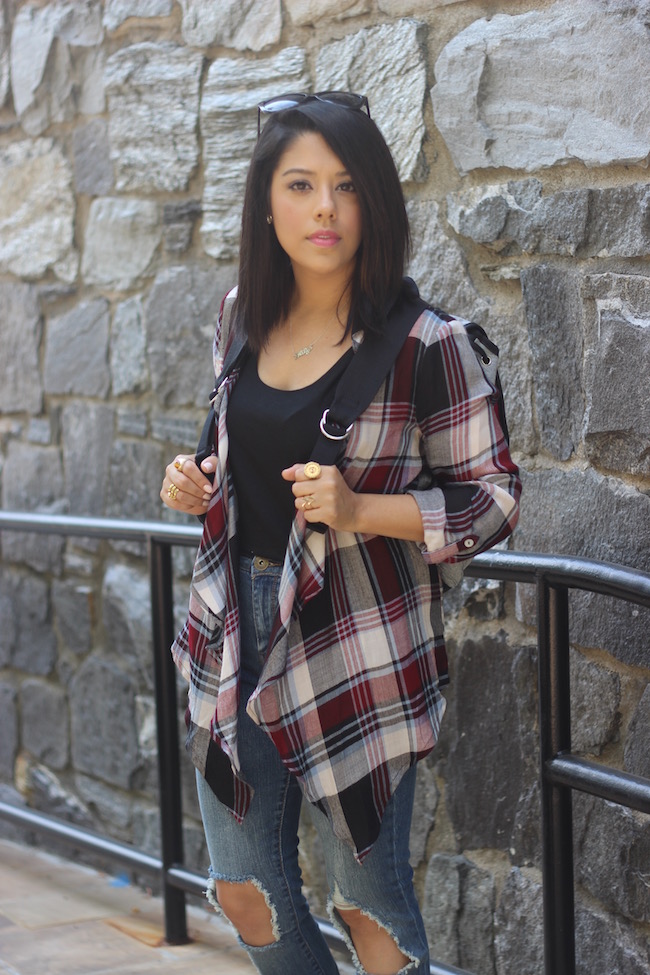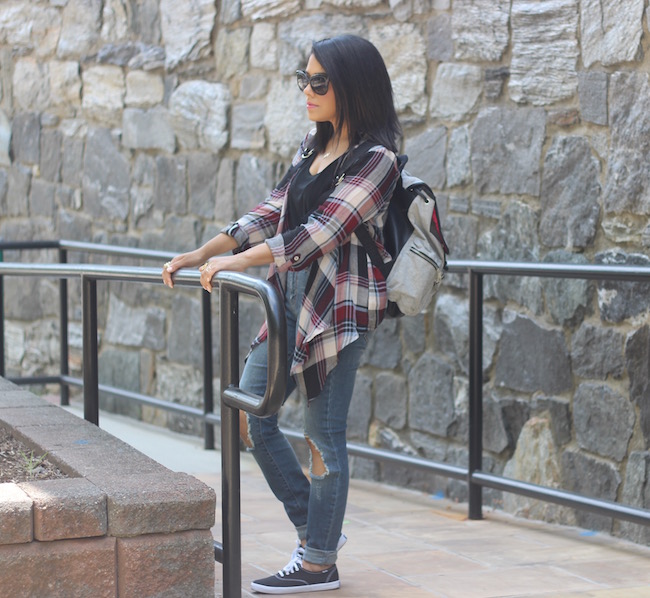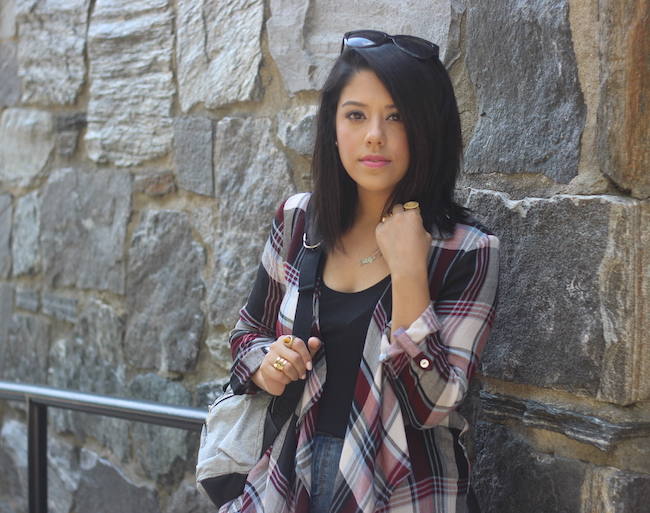 I instantly gravitated
towards the denim section and fell in love with this pair. I love the holes in the knees because for me,
the more rips the better. Denim like
this becomes more of a statement piece for your look. It's casual, but edgy. Mudd had a ton of different styles, but these
were my top pick. There were so many
cardigans and tops, but as soon as I saw this plaid open front jacket from
About A Girl, I had to have it. I think
it's such a fun twist on the traditional plaid button down shirt. There were a few other color options
too. You honestly cannot go wrong with
paid, especially for school. I also ended up getting a regular plaid button
down from
SO
that I
will wear separately. It was extremely
soft! I paired a loose fitted black tank
underneath the open front jacket. I
definitely prefer tanks with a looser and more relaxed fit.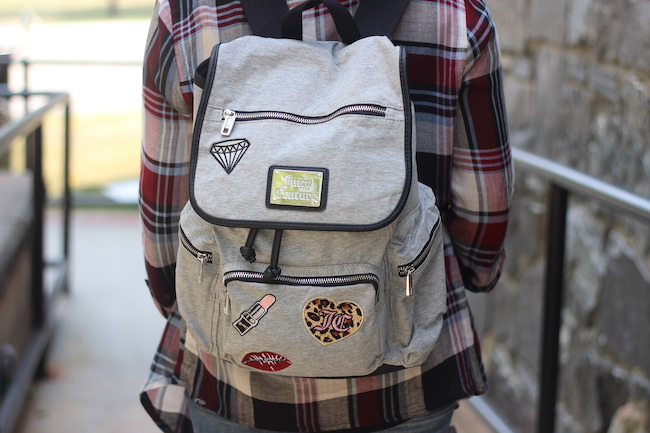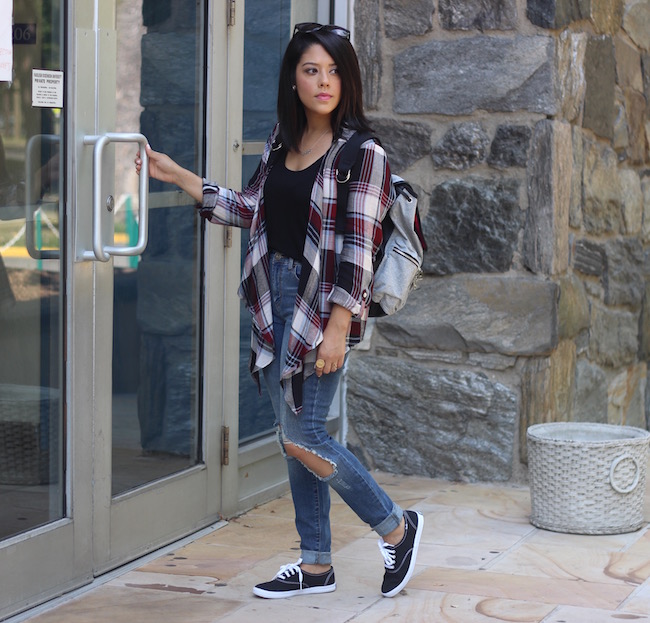 I knew that I needed a fun
statement backpack and thought this one from Juicy Couture was the perfect way
to compete this outfit. Backpacks have
become such a fashion trend even separate from school. When it came to the shoes, I initially though
of booties, but I decided to go with these black Keds instead. They are so comfortable and perfect for a day
full of classes. I think they worked really well with this whole outfit.
So, how'd I do?! Would you wear something like this to head
back to school? There's seriously a
great selection at Kohl's for you to choose from and the best part is that
everything is affordable. Hope you
enjoyed this post!
Disclosure: This post was sponsored by Kohls. All opinions expressed are my own. This was not edited by any third parties. Thank you for supporting the brands that support A Love Affair With Fashion!