Happy Thuuuuursday! I love bright colors, especially during the summer time, but lately I have been so drawn to the black & white combo.  There's something very classic and chic about it that I love.  Not to mention I have been seeing this combo every where lately.  Today was the perfect day weather wise to wear this ensemble.
Bodysuit: C/O Closet Piece (
Here
)
Pants: Forever21
Shoes: Forever21 (old)
Clutch: Vintage
I mentioned in my last outfit post that Closet Piece sent me 3 items.  This bodysuit was the 3rd piece! I love how it's completely covered in the front and then when you turn around… BAM!  It's all open.  Bodysuits or as I like to call them, the adult onesies, are perfect to pair with high waisted anything.  I was happy to add this to my wardrobe.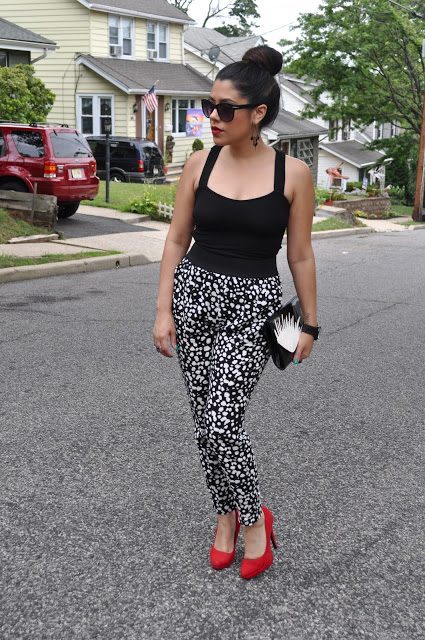 I was looking for the perfect bottom to pair with this onesie, so I hit up Forever21 this morning and was super excited when I found these pants.  I love the print and the fact that they're high waisted.  They are super comfortable & loose fitting too which is definitely a plus.  I didn't want to go with the obvious white or black shoe again so I opted for this older pair of red pumps and matched it with MAC Russian Red lipstick.  I like throwing in color when it's not always expected.
I'm using this vintage clutch again and I really love it.  Vintage pieces always make me wonder where they have been before and who they belonged to.  I have on my Michael Kors watch which I have been trying to wear more of again and my Juicy Couture ring that I adore.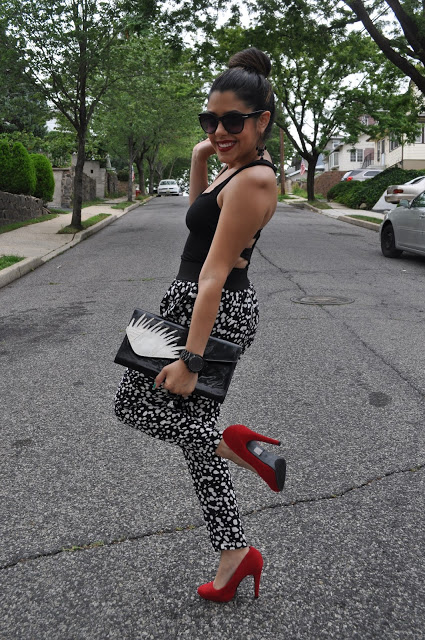 I tried the sock bun for the first time today.  I love the way I do my bun but now that my hair is getting longer, it takes awhile to get it right.  This sock bun took literally 2 minutes!  I am trying to master the upside down french braid bun so when I do you know I'll post the pics!
Hope that you like today's look and don't forget to check out
Closet Piece
!