Hey loves! This is the perfect weather when it's not hot and it's not cold, just somewhere in between.  I always dress according to my moods and how I'm feeling that particular day, so today I went with something edgy.  I've been trying to get creative with my wardrobe and wear some older pieces in new ways.  This is great to do when you don't have the time or the money to buy new pieces.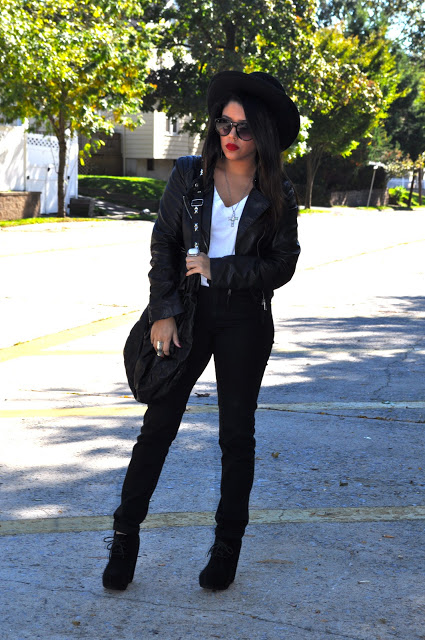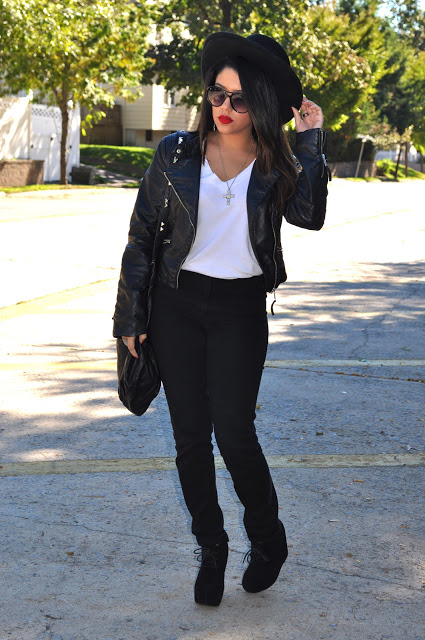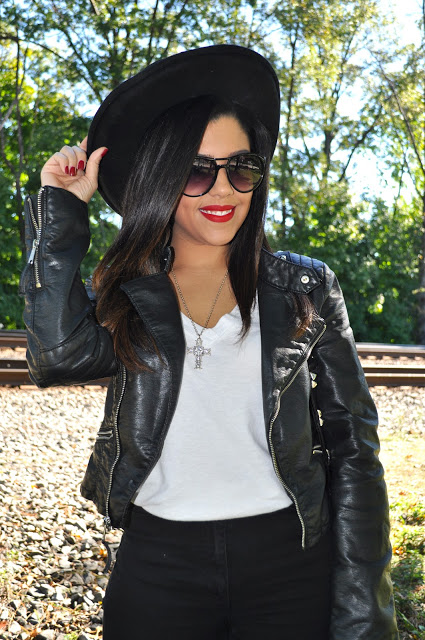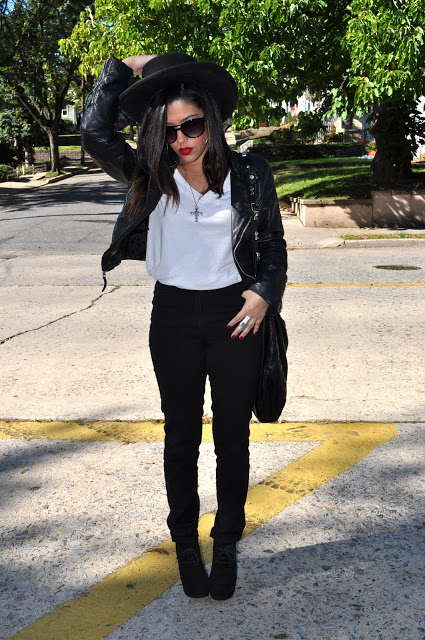 Jacket & Pants: H&M
Shirt & Sunnies: Target
Wedges: Bakers
Hat: Nasty Gal
Bag: H&M (DIY Studs)
I think that white v-necks should be a staple piece in every girl's closet!  I'm obsessed with the boyfriend tee's from Target.  They're great to wear with a blazer, a jacket like this one, or simply tucked into a pair of jeans.   I decided to wear mine tucked into these black skinnies!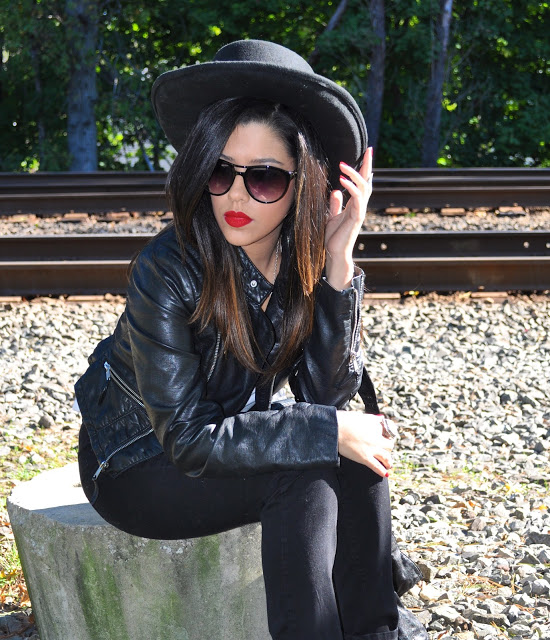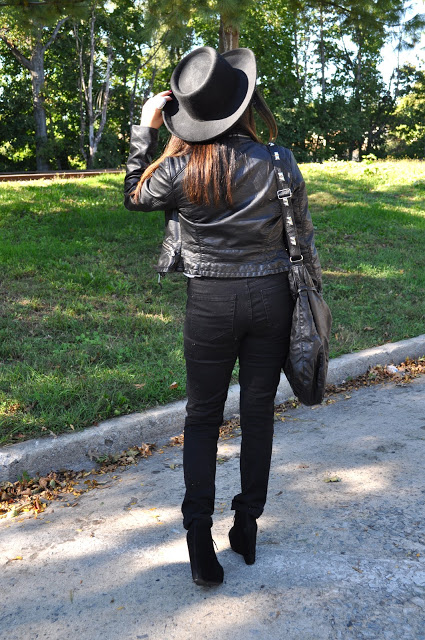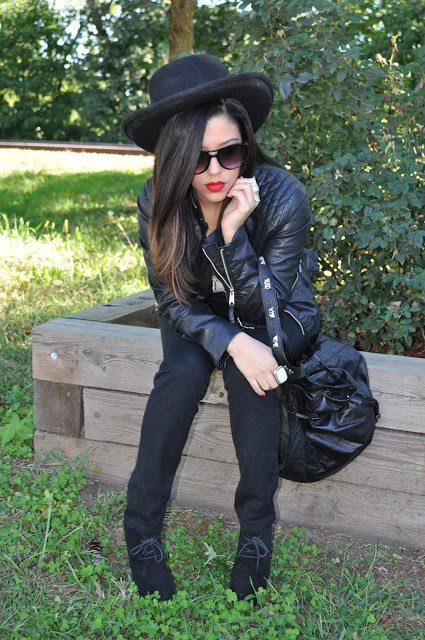 I layered on my favorite biker/moto jacket that I got last year from H&M.  I love these style jackets and their edgy vibe!  The next time I wear this one I want to pair it with a skirt to get that feminine/edgy mix that I love so much!  I wasn't in the mood to wear regular heels, so I went with my wedge booties.  These are super comfy!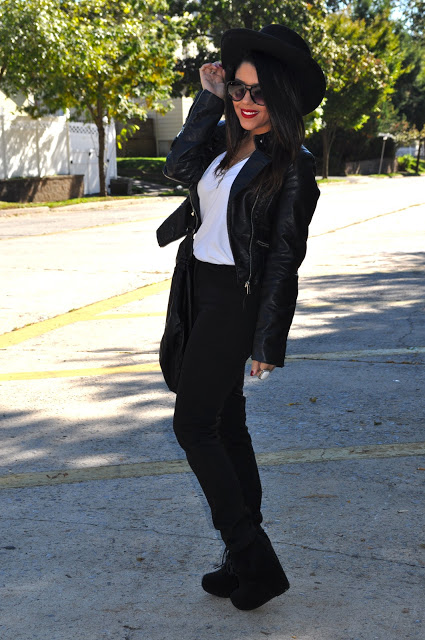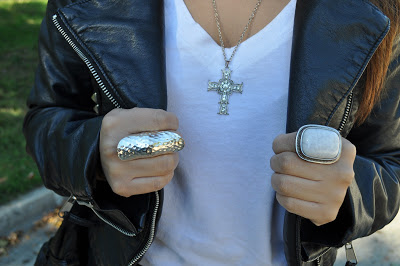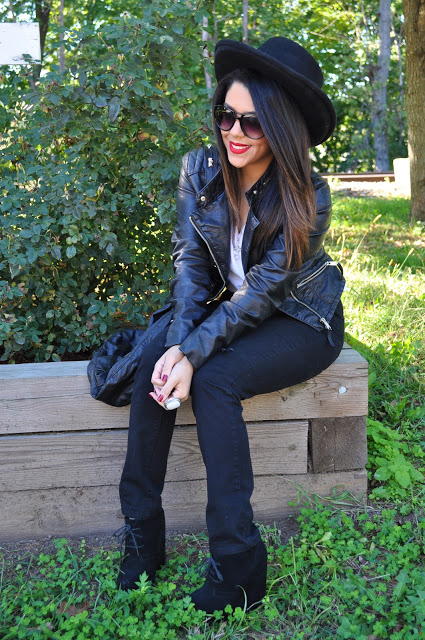 For the perfect final touch I wore my Nasty Gal hat and went with a red lip, MAC Ruby Woo.  I think that it tied the look together.  I just have on simple silver accessories including this cross necklace and hanging cross earrings that unfortunately I forgot to take a close up of!  Also using this shoulder bag that I studded last year.  I haven't done a DIY project in awhile so maybe it's time to try something new.
I've been debating on keeping my ombre or dying it back to black.  What do you dolls think?  I hope that you all have a wonderful night!
XOXO