I love shopping for my birthday outfits!  Every year, I usually celebrate the entire weekend and go out for dinner, drinks & dancing.  3 of my favorite D words 🙂  This year I decided to party at the W hotel at night and go for a birthday brunch at Calle Ocho (amazing food by the way) the next afternoon on my actual birthday.  For the W hotel, I wanted something classy that would still make a statement.
I found this beautiful lace Pink & Nude toned dress at BEBE. (I almost always find a great birthday dress there each year) It's a sexy dress that fits perfectly & shows off my figure, but it still has an elegance and sophistication to it, which I love. Very flattering!  I think the color goes well with my complexion and I definitely made my presence known in this 🙂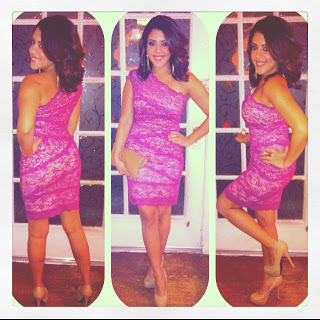 I found these great gold hanging earrings and this amazing ring at Aldo acessories.  I love that the ring is white because it added an extra splash of color. I also wore a gold ring (from post below) on my other hand.  I got these nude pumps & clutch from Mandee.  I'm not a huge fan of their clothes, but I almost always find great shoes and accessories there.
For brunch, I found this fab grey shimmered romper at H&M.  Usually rompers don't fit me, but this one worked out great 🙂 I paired it with my favorite "go to" H&M blazer, black stockings from H&M (sidenote: H&M is one of my FAV stores), and these black wedges that I die for from Bakers.  Originally I tried to get the ones from Steve Madden but couldn't find my size.  They look the same & the ones from Bakers were actually cheaper.  So I got a better deal 🙂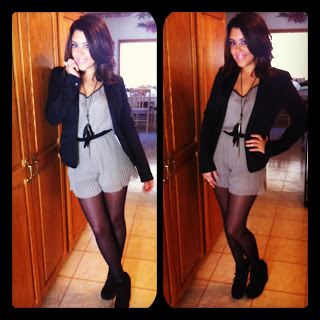 I found this feather necklace & flower ring at Forever21.  Love them!
And this was my AMAZING birthday cake made by my good friend Jenn.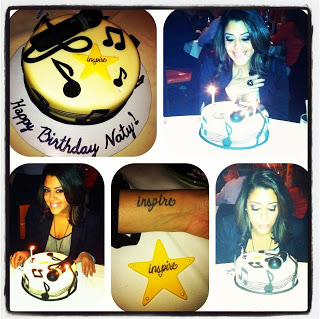 Birthday celebrations are the best & a great time to show off a special outfit or 2.  All eyes on you!
xx Naty