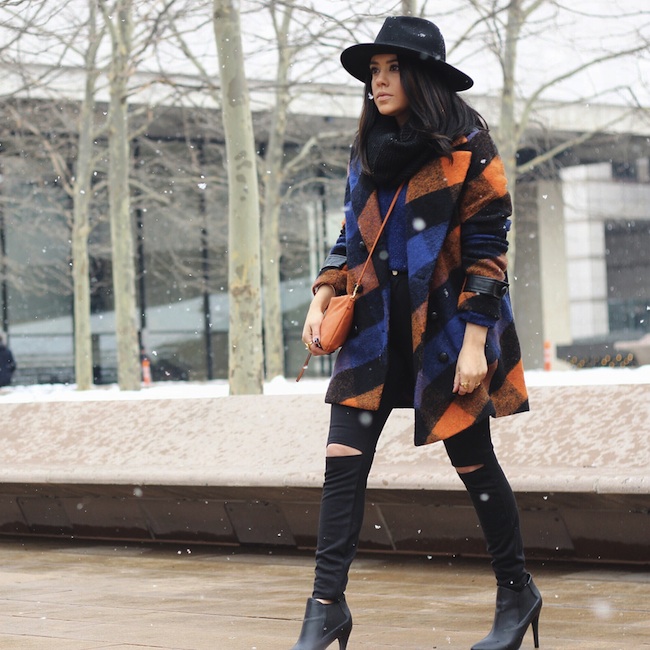 Hi loves, I'm back! I was staying in the city from last Thursday until yesterday for fashion week and the wifi at the hotel was down. I went over my phone's data plan 3 times in the span of one week. Yikes! I did so much back and forth these last 7 days and would just love to sleep for 24 hours straight. I've got a lot to catch up on, especially last week's episode of Scandal. I'm obsessed! So I somehow survived this fashion week season. New York was oh so cold and half the time I just wanted to stay inside in my pajamas eating cheeseburgers. No lie, I did that for two nights in a row and it was amazing. There's proof on my insta if you don't believe me. lol As great as it is to attend the shows and see all of the fabulous fashion, my favorite part is spending time with friends who are coming in from out of state. For most of them, this is the only time that I get to see them and it's always nice to connect again. It's also a great time to meet new people as well. I shared as much as I could on instagram and hopefully some of you were able to check out my posts!
This was the first season that I did not stress my outfits. My main focus was to just be comfortable and warm and to not over think. I remember stressing over my outfits so much the first season and I look back at myself like, "Dude, you need to relax." For the most part, I layered up a lot. Underneath my sweaters was another shirt or two. This definitely helped! I wore a lot of tights and practically lived in hats and scarves too. Even though I live here, it was still a bit of challenge, but I think it all worked out just fine.
Here is what I wore for day one!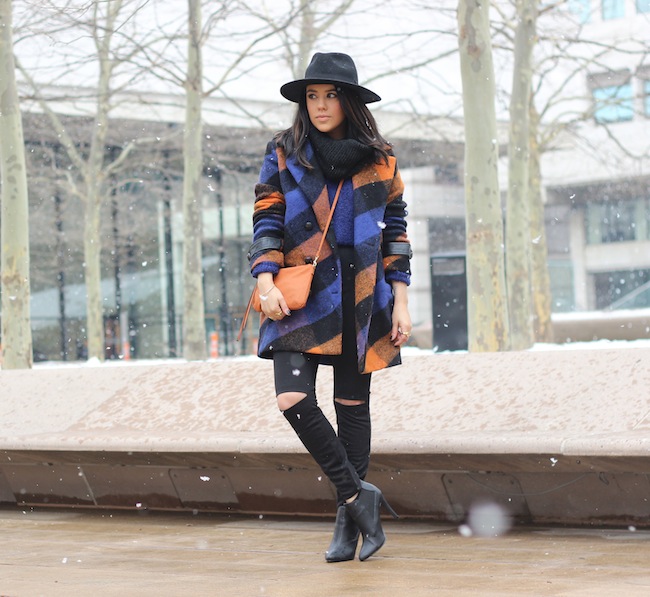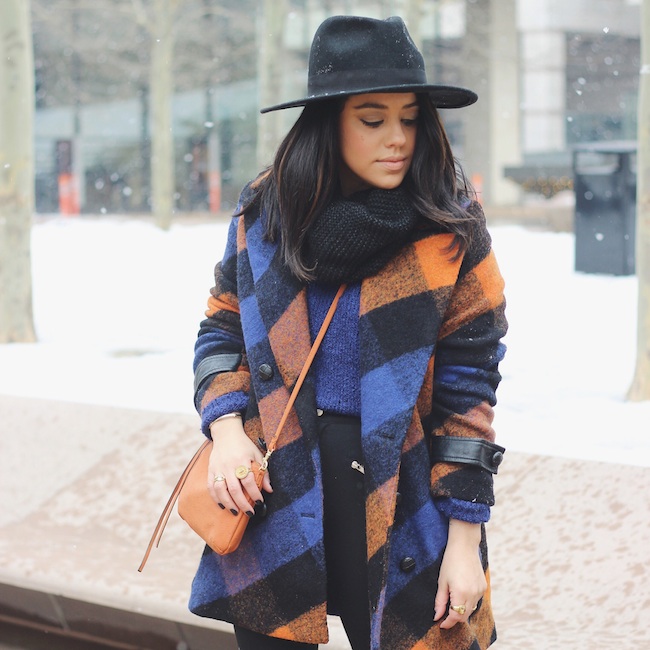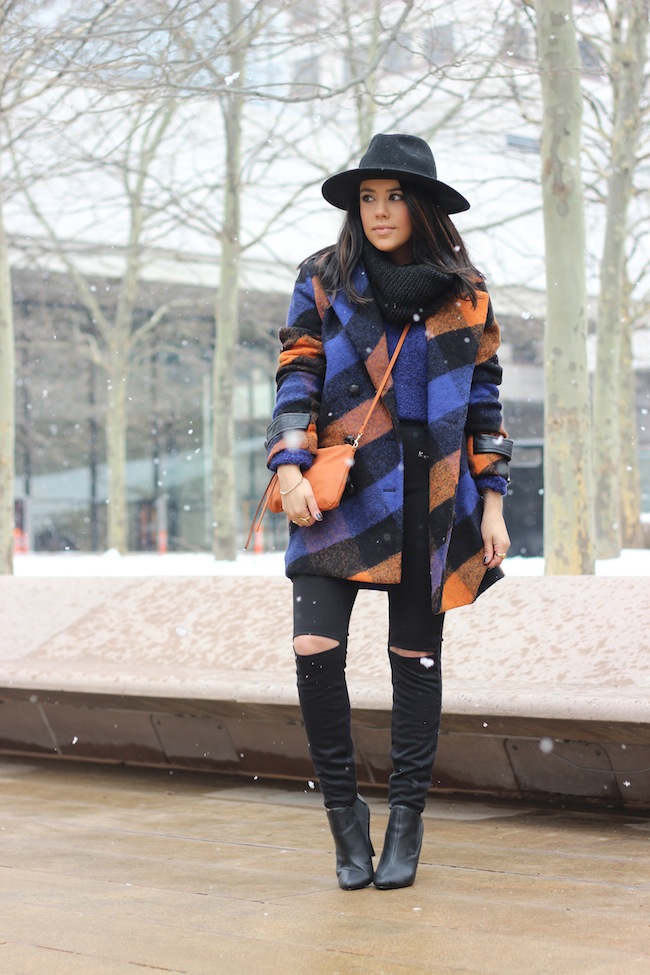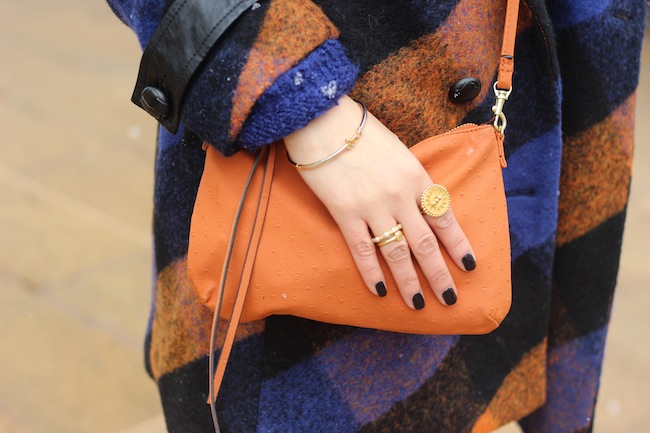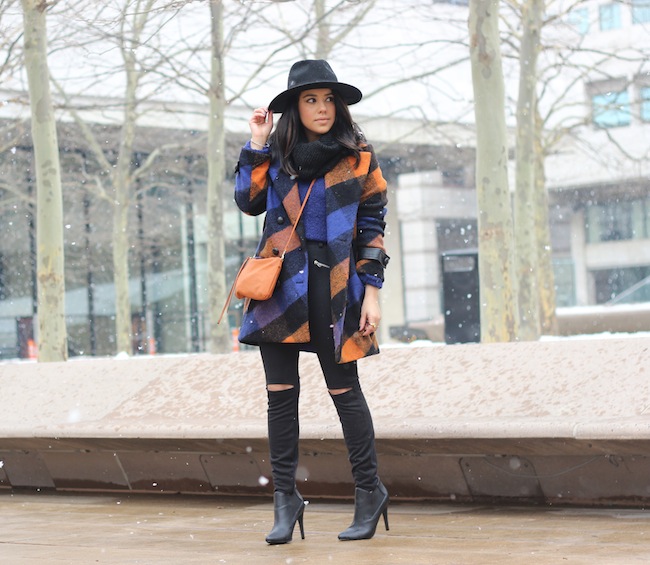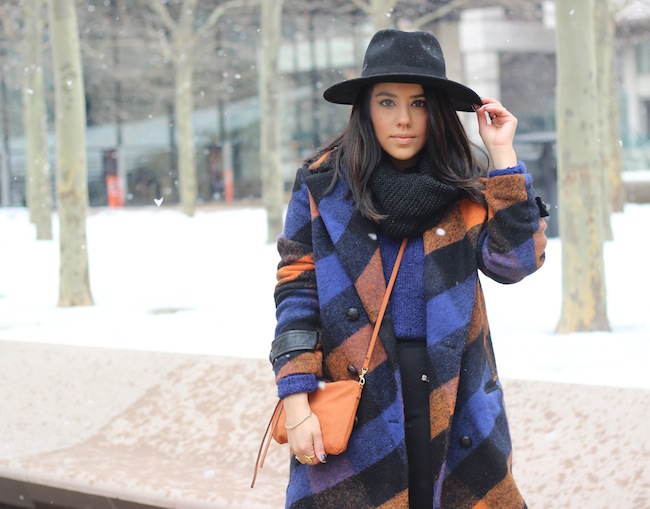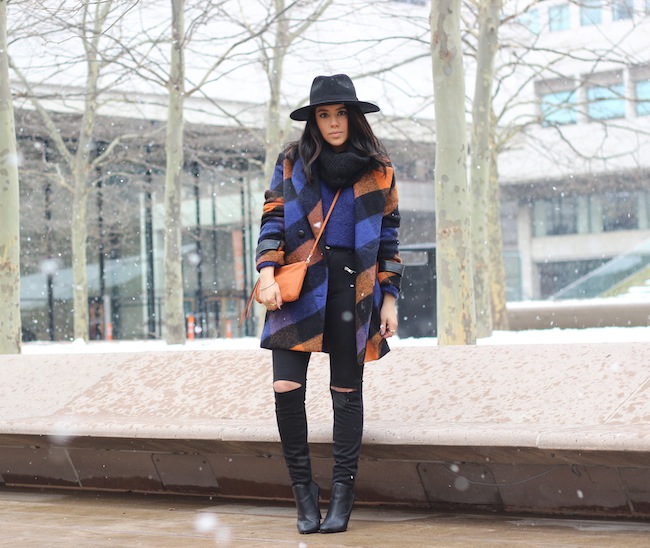 Photos: Daniela
Outfit Details
Coat: Desigual / Sweater: H&M (similar) / Pants: Tobi
Booties: Prima Donna / Bag: H&M (love this) / Infinity Scarf: H&M (similar) / Hat: H&M (similar)
My only show on Thursday was Desigual and of course, it snowed. After that I had dinner and drinks with friends at The Smith. So much fun and such good food. This outfit literally came together the night before and it was probably my favorite one from the whole week. This coat is so vibrant and I think the blue/orange/black color combo is amazing. I decided to keep this look on more of a casual/edgy side by pairing it with these knee ripped skinnies. Pants like this have been such a big trend lately and I'm sure you have been seeing them everywhere. The day before I hit up my local H&M and found this blue sweater and orange crossbody bag. How perfect?! I completed the outfit with my hat, a pair of booties and a nude lip. I was warm. I was comfortable. It was a win-win. Check out my street style feature on Latina!
Here are a few photos from backstage at Desigual. I snapped a photo of my girl crush, Adriana Lima. She's so gorgeous! I'd like to think that she was waving at me, but then again there were so many people standing there and I am so short she probably didn't even see me. lol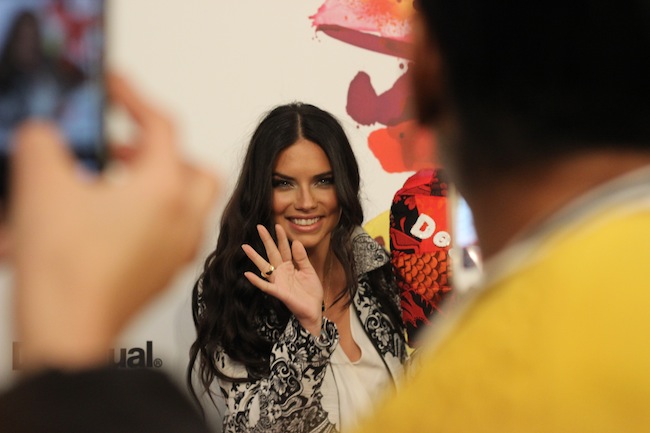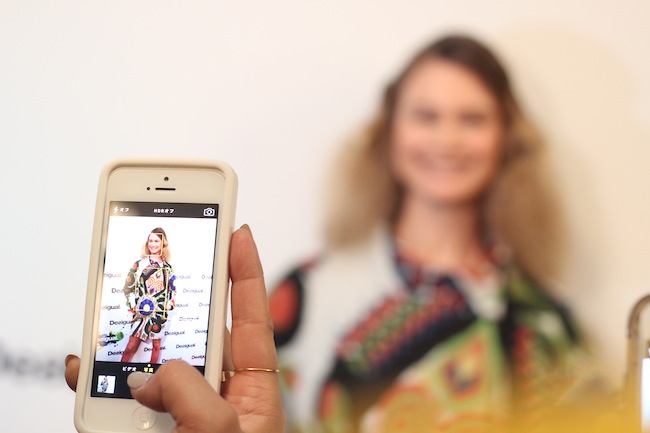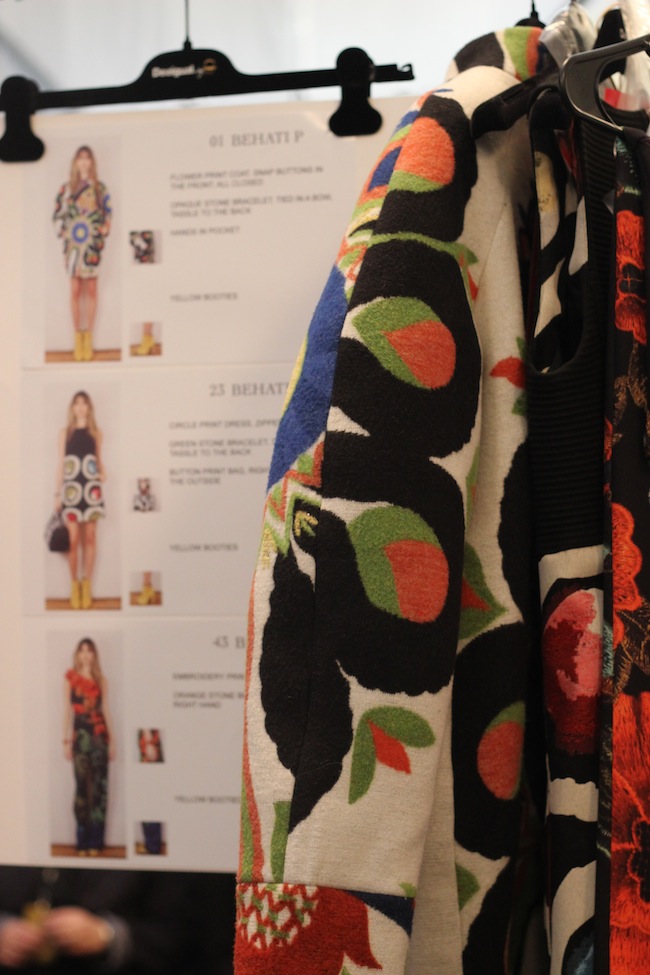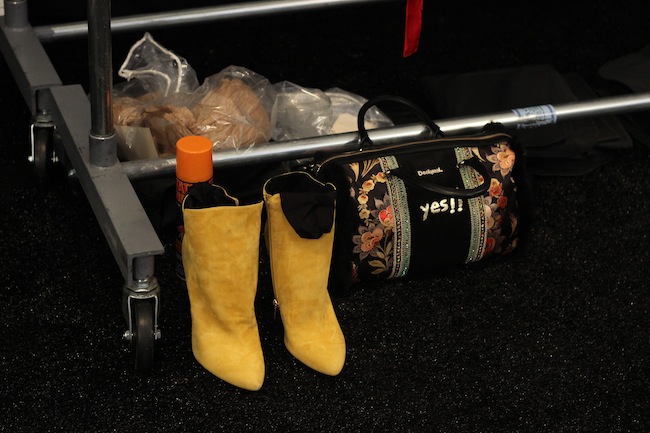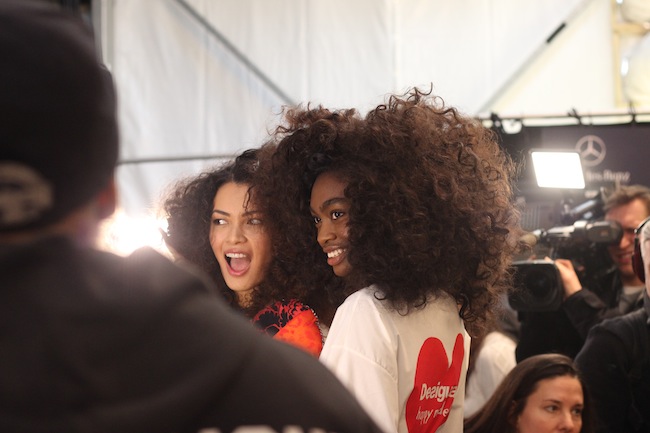 Here are a few pics from the show. Their show is always so vibrant and fun!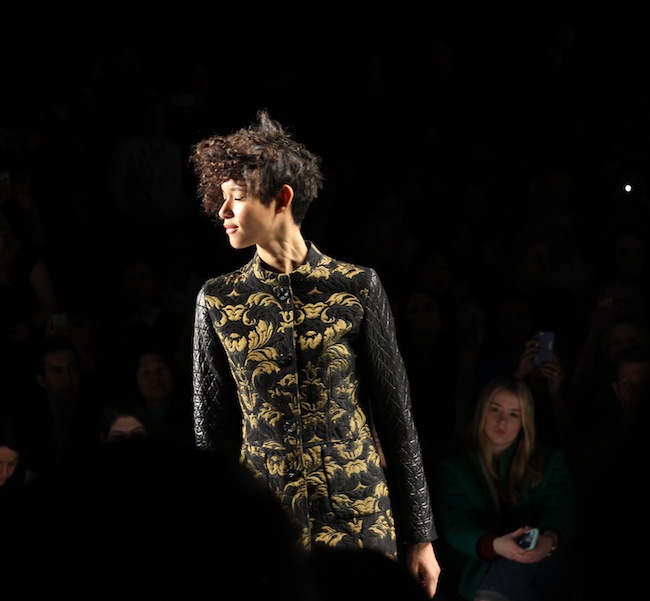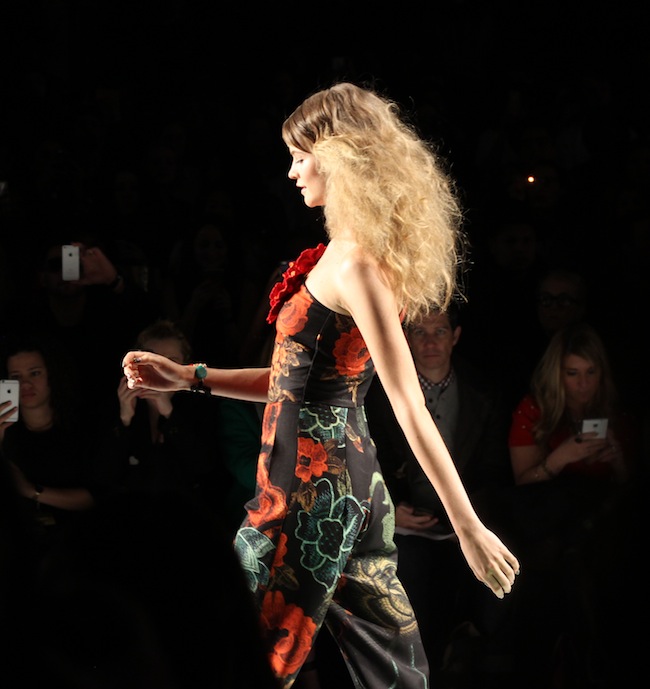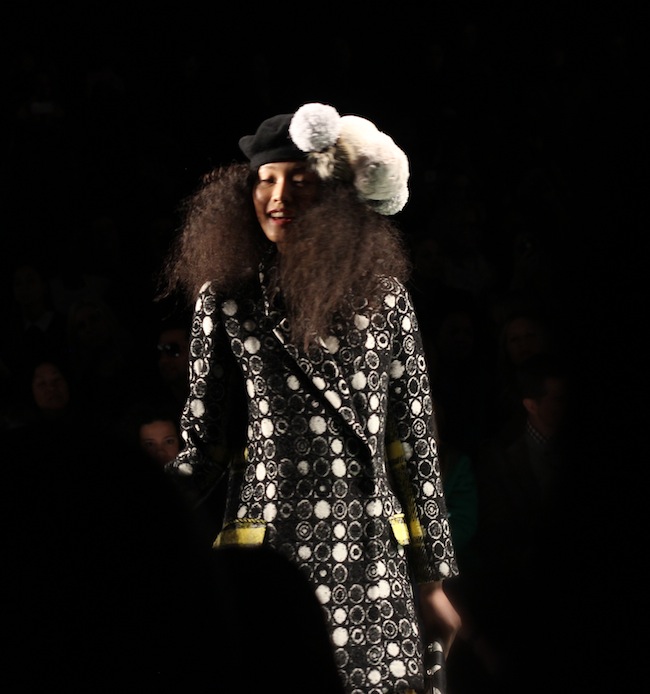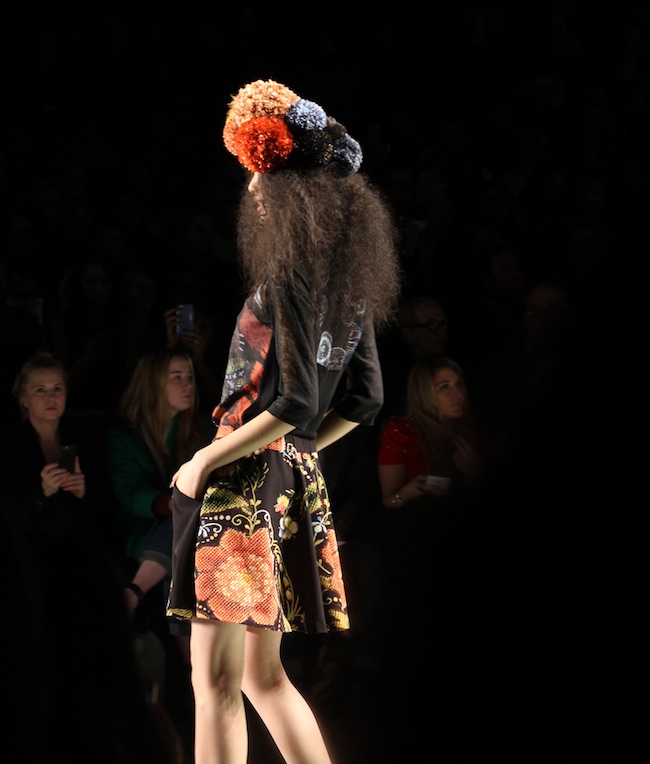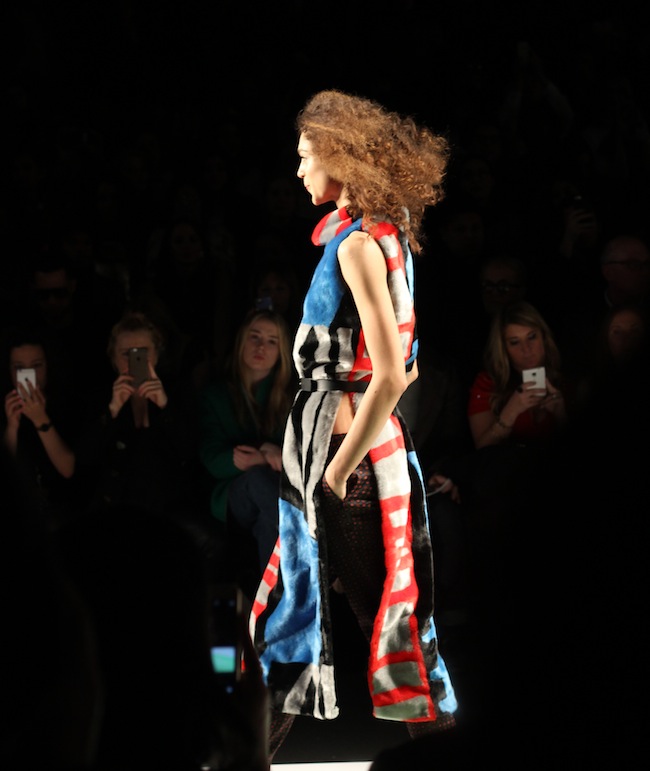 Thanks for checking out today's post! I will be back tomorrow with more. 🙂