Military inspired pieces are such a big trend this season and it's one that I absolutely love!  I've mentioned before that I have been searching high and low for the perfect camo jacket and finally found one courtesy of
SXVintage
.  All of the army jackets they sell were donated by military personnel and half the sales are donated to helping soup kitchens and veterans in their area.
This jacket is so versatile and can be styled in many different ways.  I know that it's not for everyone, but it's for me! This is just the first way that I will be wearing it this Fall.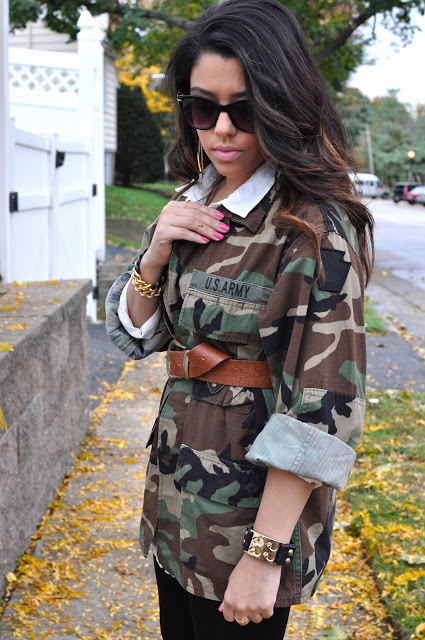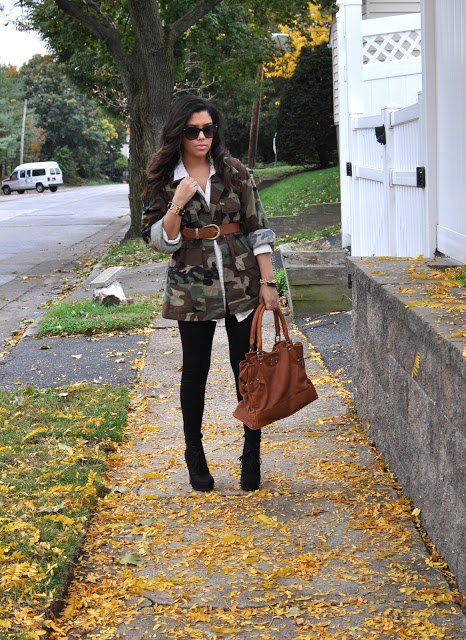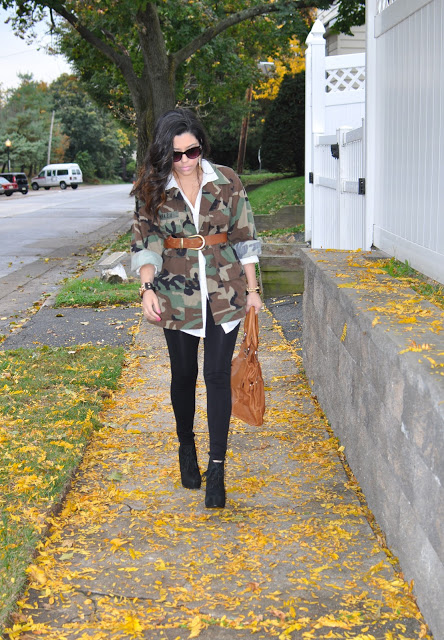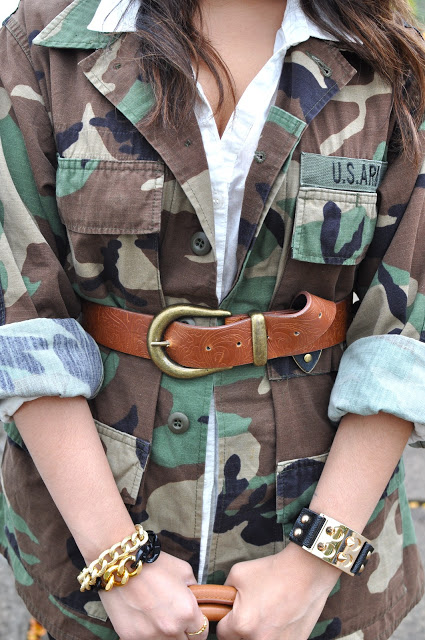 Camo Jacket: C/O
SXVintage
 / Shirt: H&M  /Leggings: Forever21
Booties: Steve Madden / Bag: C/O
F&WStyle
 /Belt: Charlotte Russe
To me, fashion is all about having a vision and bringing it to life.  It's such a great way to get creative, think outside the box and step out of your comfort zone.  I am realizing lately that not everyone will always see my vision, but in the end as long as I do, that's all that matters.  So this was
my
vision with the camo trend.  I just wanted to try something different.  This is a great way to turn a masculine piece into something feminine.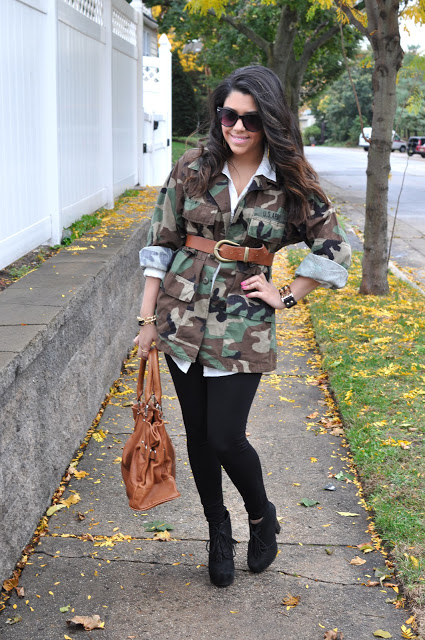 I went with simple leggings and a white button down.  Button downs by the way are another great staple piece.  I decided to leave the shirt loose and pair the jacket on top by belting it with one of my favorite belts.  It also adds another color in the mix which I love. As you probably noticed by now I love belting jackets!  I'm excited about this new handbag because I don't have many and this color goes with just about anything.  You must check out all the bags over at F&W Style.  They launched in 2009 and are a luxury handbag brand for the fashionable woman! They have a great collection!
Spike Cuff: C/O Lov3BugJwlz / Heart Rings: C/O KokoroDesign / Bracelets: TheWayWeAre
I'm loving my new accessories! Spike leather cuffs are perfect for adding some edge to your outfit.  You can get them from Lov3BugJwlz along with other cute pieces! And how adorable are these heart rings?!  You can get yours from KokoroDesign.  She has other ones too!
How's this Fall season treating you all so far? November is going to be super busy for me!  Have an amazing day loves.
"STYLE IS KNOWING WHO YOU ARE, WHAT YOU WANT TO SAY, AND NOT GIVING A DAMN." – GORE VIDAL
XX
Naty