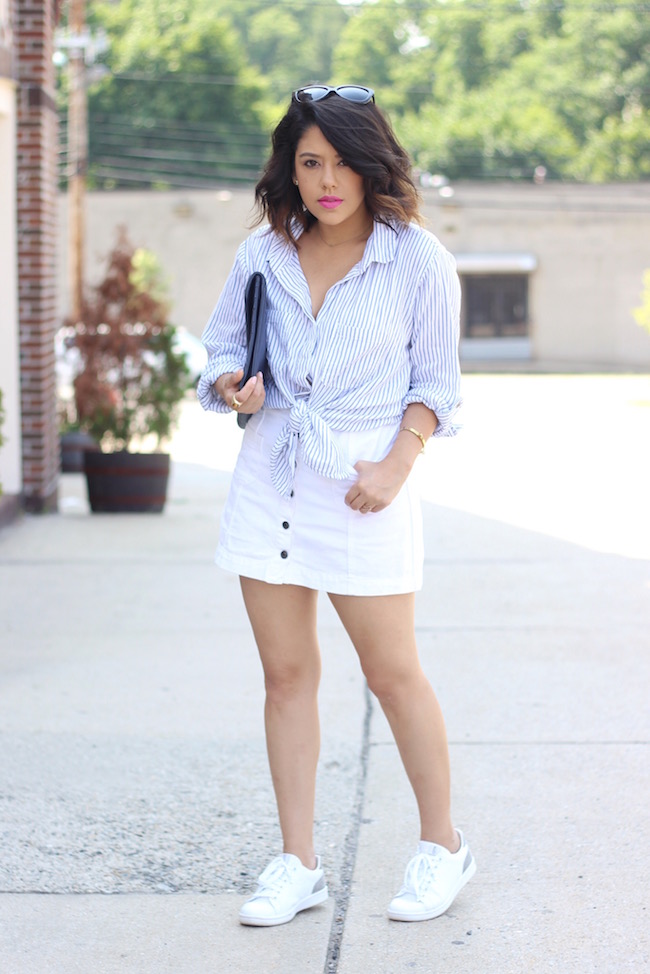 I've heard people say that most bloggers only wear things once and then never again and while this might be true for some, it's definitely not for me.  Lately, more than ever, I have been re-wearing and restyling so many of the same things.  I've said it once and I will say it again, this really is the best way to get the MOST out of your wardrobe and show love to all of the pieces that have been hanging in your closet for months or even years.  Even if not always shown on the blog, I have worn this skirt and top over a handful of times already in the short few months that I've had them.  The same goes for these sneakers.  To say I am obsessed with them would be an understatement.  They're such a great travel shoe too and I will more than likely pack them with me to Europe next month.
What I'm Wearing 
Shirt: Cotton On [love this one] | Skirt: Forever21 | Sneakers: Ed by Ellen
This was one of those outfits that thankfully came together within a few minutes because let's face it, that does not always happen.  I wish you guys could see me on the days when I am trying on 10 things at once and throwing them all across the room because I hate everything. lol You feel me on this struggle, right?  I wore this two days ago and was in the mood to be super casual and comfortable.  The skirt and top were fresh out of the laundry so I decided to pair them together. This top is hands down one of the most coziest boyfriend button downs that I own.  It's fairly long though, so I solved that problem by tying it in the front.  This is something that I have been doing with a lot of my tees lately.  I love knotting them! 😉
 Hope that you are all have a great week so far.  Only two more days to the weekend!