Hi my loves!  I'm in the fashion district working again and I wanted to do a post.  I'm not wearing anything new but I still wanted to share outfit photos with you.  I've worn this blazer twice before in different ways, and today I have more of a casual vibe going on. Blazers are really a staple for me. These pics were all taken from my iPhone, but pretty soon I'll be bringing my mom's Nikon here so I can do outfit posts in the city.  So excited about that, so hope you like!
Blazer: Zara
Tank: Target
Jeans: Forever21
Shoes: Zara
Clutch: H&M
I decided to pair these ripped boyfriend jeans with heels and a blazer for a casual but still feminine look.  I love doing things like this, taking menswear inspired pieces and adding a girly touch.   I can't stress enough how I think that every girl should own at least one blazer.  I promise you won't regret it!
This tank is really loose fitted but I like the laid back feel that it brings this outfit.
Here I am checking out different fabrics in the showroom….. 😉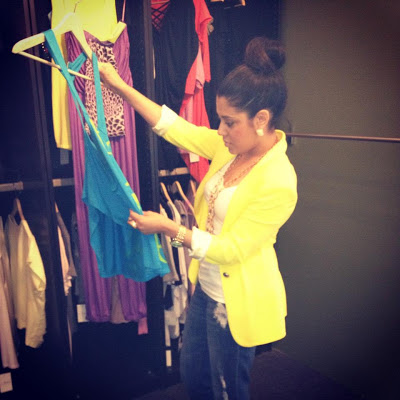 Hoping to do another outfit post tomorrow and then I leave for Miami on Thursday.  I will definitely be taking photos and sharing on here!
xo Lots of Love <3