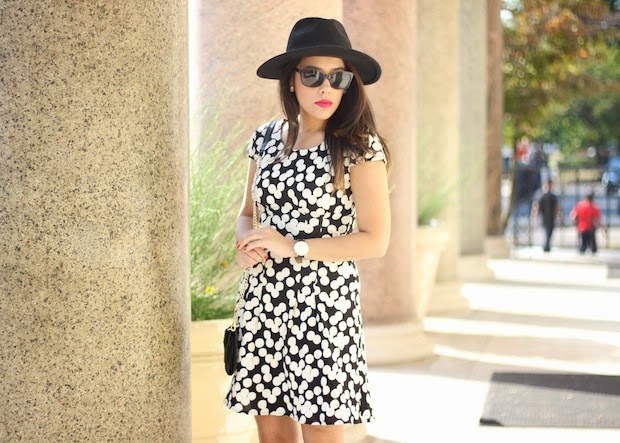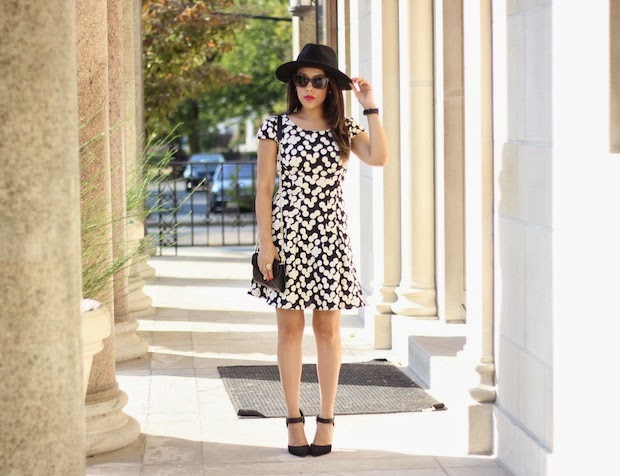 Outfit Details
Happy Friday loves!
I went with another classic black & white look for today's post. Even though I love color so much, I think I could wear this combination every day. I don't ever get tired of it. Do you? It's been awhile since I have worn polka dots. I'm not sure why, but they make me happy. It instantly takes me back to years ago when I wore this print on a constant basis. I wanted to do something a little different with this look, so I wore my favorite hat which added a fun element. It also makes this look a bit more casual, but still chic. By the way,
Julie Vos
just recently revamped their entire website and to celebrate with my readers, they have given a special
20% off
discount code "
aloveaffair
." They have gorgeous statement jewelry and every day pieces!
Here's a little story about this bag. At my Nordstrom Rack event two weeks ago, I had the pleasure of meeting Amanda. She has been reading my blog for awhile and we have both been following each other on instagram for awhile too. We connected instantly as she has been through a very similar experience with her father. We emailed about it in the past and I tried my best to give her some words of encouragement, in terms of dealing with that difficult moment in her life. I didn't realize at the time how much I was actually helping her and she expressed that to me when I met her at the event. We shared a beautiful and emotional moment together and as a sign of gratitude, she surprised me with this bag. It's not about the gift itself, but the meaning behind it that touched me so much and I will always cherish that moment with her. To me, my blog is way more than just the clothes that I wear. I love being able to connect with others on a deeper level, and as difficult as it has been to open up and share my story, I realize how important it is to do so. So many of us are fighting our own battles and it's nice to know that we are not in it alone. I am so happy that I got to meet you Amanda. Thank you for that amazing gesture and for being so genuine. So much love for you! <3
Cheers to the weekend.