Before I started blogging, I actually helped girls clean out their closets.  Basically it's a great way to edit your wardrobe and see which pieces to keep and which ones to toss.  Sometimes you just need that extra push and someone to help put you in the right direction of reaching your style goals.  I love the feeling I get knowing that I have helped someone enhance their style.  I just started doing this again, and yesterday was my first client in awhile.  Here's some pics of what I did, and a brief shot of my outfit!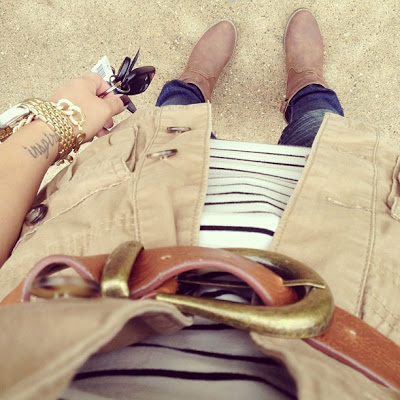 Boots: Target/Top & Jeans: Forever21/Vest: Old Navy/Belt: Charlotte Russe
I posted this on instagram before I left in the morning.  Tried something a little different but I really like how my outfit came out.  I turned my striped dress into a tunic.  Oh, and these boots were only $9 on clearance at Target!
And here's after a very long but productive day of cleaning, shopping and styling 🙂
My client Laura in the beginning..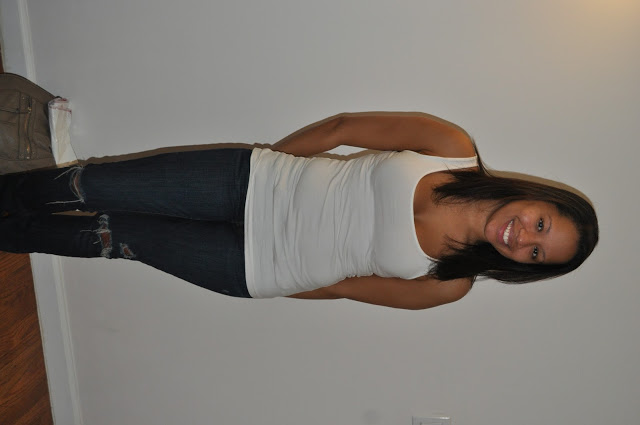 Her closets..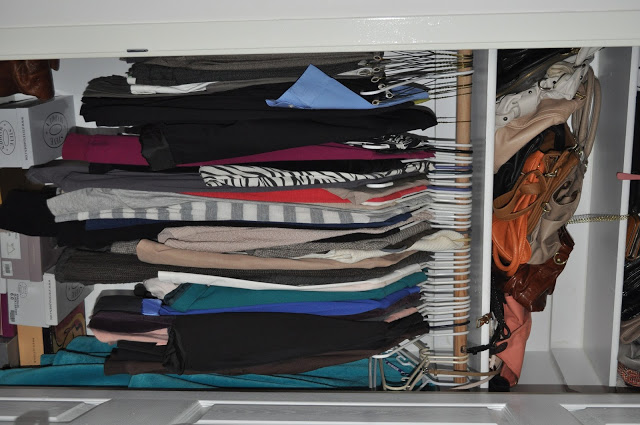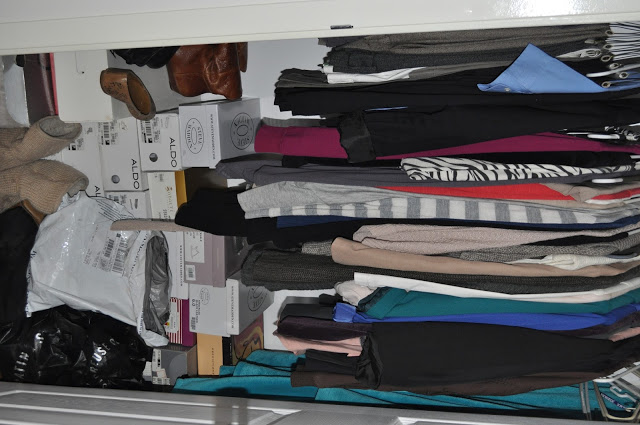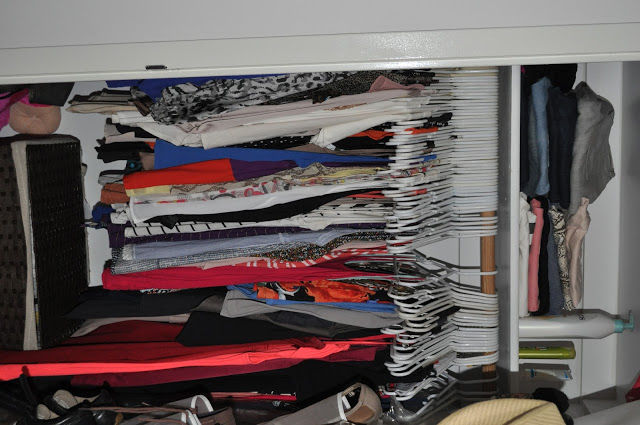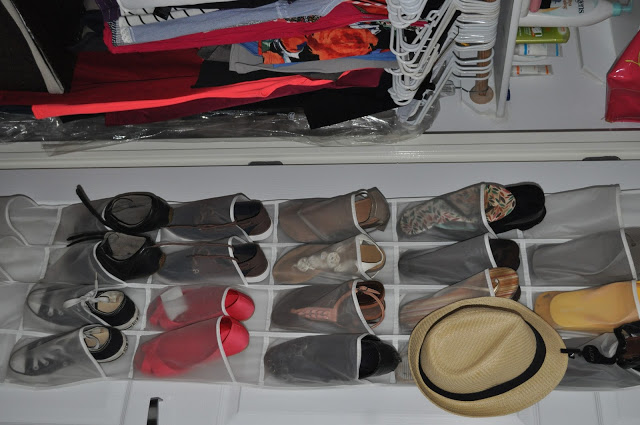 I literally took out everything and helped her sort through each piece.  I gave my opinions on what I thought was good to keep and what to get rid of.. but in the end the final decision was hers.  Laura had a lot of the same pieces that she would wear in the same ways.  I helped give her ideas of different ways to style those pieces and ideas of new things to incorporate into her wardrobe.
This is what she got rid of and will be giving to charity.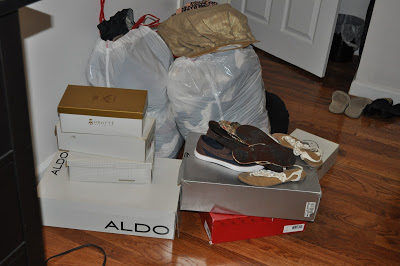 Her closets now…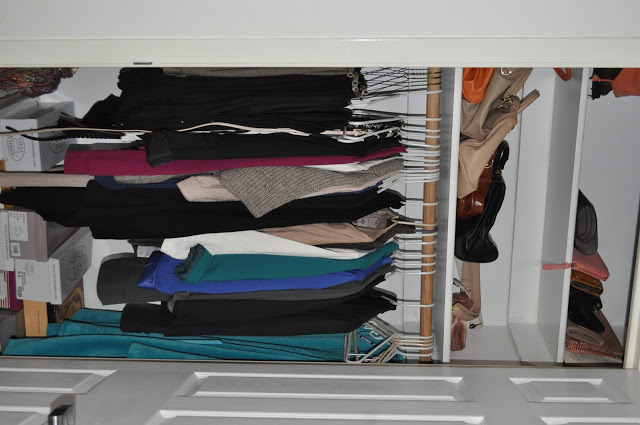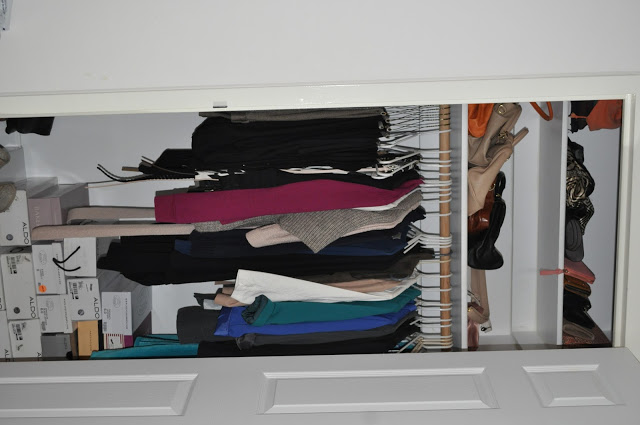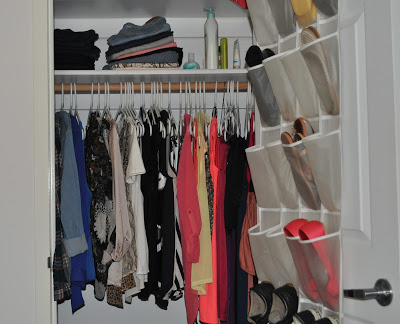 More room for new pieces!
After a long and fun day of shopping!
Laura's style goals were to step out her comfort zone a little bit but still stay true to herself.  She wanted something sophisticated but still fun and she wanted to start being able to think of different ways to wear her clothes.  We focused on adding some more staple pieces to her wardrobe that can be worn in different ways and we added some more color and prints.
Here's just 2 of the looks I styled for her.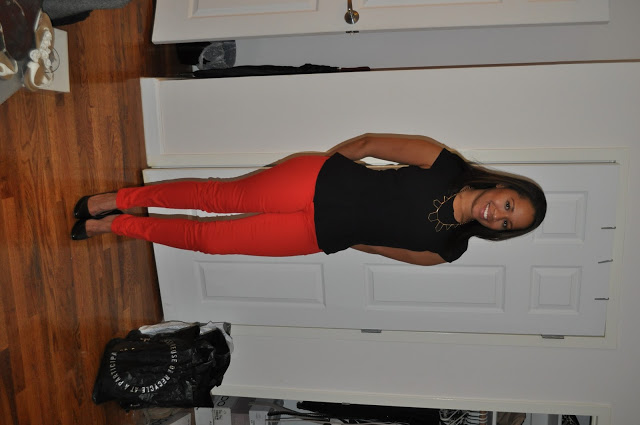 She usually wears a lot of black but never thought of pairing it with a brighter or bolder color like red… these red jeans and peplum top are 2 of the new pieces that she bought.  I also gave her ideas on other ways to style the red pants.  This is a perfect example on how you can do something simple to switch up your look.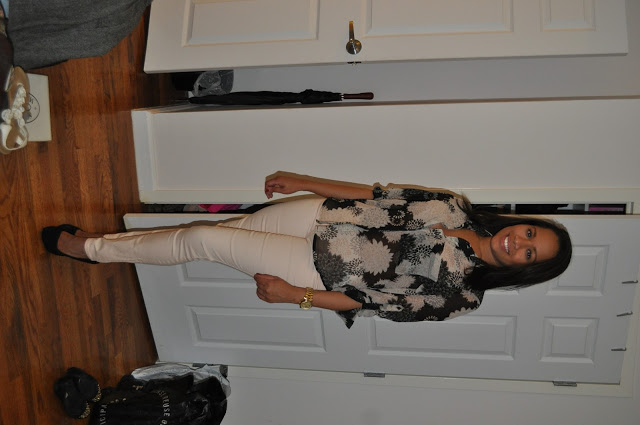 This is an outfit that I put together for her from pieces that she already had in her closet.  She had never worn the top because she didn't know how to wear it.  Her initial thought was to go with black bottoms.  I helped her see that she could easily style the top by bringing out the lighter color in the print.
Both of these looks are pretty simple, but definitely sophisticated and still fun and a huge change from her outfit choices before.   She ended the day with more confidence and it was great to see a huge smile on her face!
When I do this, I make sure that my clients feel comfortable and are happy with the results.  I will always listen to your style needs and goals and do what I can to help you achieve them and I will also try to help you think outside the box with your outfit choices.  Sometimes when we are so used to dressing a certain way, it's more difficult to come up with newer ideas on our own.  So that's where I come in.  If you are interested in these services, please email me aloveaffairwithfashion@gmail.com
HAPPY FRIDAY BABES!