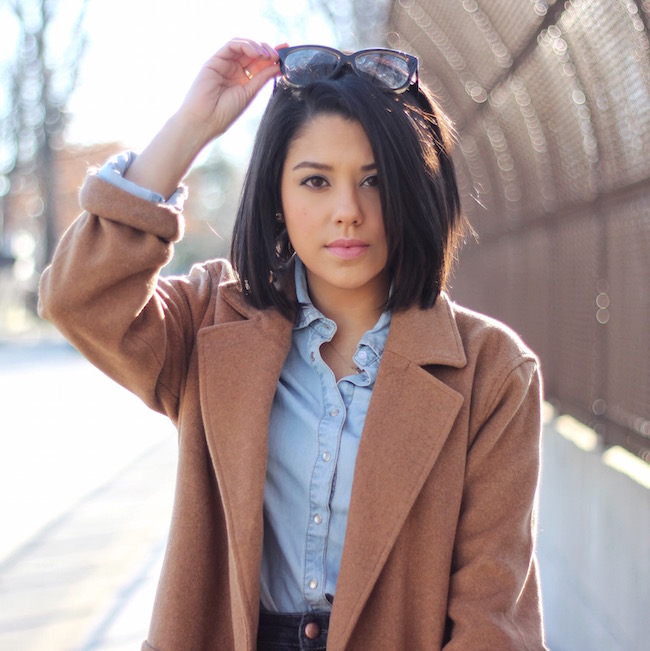 It's the second full week of January and it's going to be amazing.  Here's a little secret… my niece is coming within the next few days! Words can't even begin to describe my excitement.  Can't wait to share her name and beautiful little face with you all.  But for now, I'm kicking off the week with a new style post.  I think it just might be one of my favorite recent looks.
What I'm Wearing
Coat: Forever21 [also love] | Denim Shirt: YMI [love this] | Jeans: Macys [similar style]
It's been awhile since I've styled a denim on denim outfit.  Years back I was not much of a fan of this trend, but over time I grew to love it.  I honestly don't see it going out of style anytime soon, or ever for that matter.  There are many ways to create looks with two denim pieces, but I prefer to go with a lighter wash up top and a darker wash on the bottom.  Whatever you do though, please make sure you don't pull a Britney and Justin.  I think you know what I'm talking about. [haha]
Let's talk about this camel coat for a second.  I've been searching for one since last year and never had much luck.  I scored this one on sale at F21 not too long ago and I've already been wearing the hell out of it.  I have to say that Forever has really stepped up their game.  They've got some great coats and the quality is much better than I expected.  I have a feeling that I will be wearing this one for a long time.  I had to get it a size up, but I love that it's got a looser fit.  I thought it mixed really well with the double denim.  I couldn't resist throwing in a pop of leopard print with my favorite clutch!
Have a fab week my loves. <3