If you're always up on the latest trends in fashion then you probably already know about this list.  Some trends are amazing & always find their way back into the spotlight while others go out of style as quickly as they came in.  Here are some of my favorite 2011 Fall trends.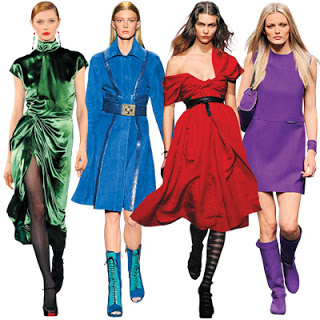 COLOR!
I love branching out & rocking some bold & bright colors.  Color blocking was a huge trend this past spring/summer, but right now it's more about matching your clothes & accessories.  Everyone has their own opinion on this.  Some love to match, while others hate it.  I admit, I tend to match pretty often, but I always try to break up the color somehow, even if it's subtle.  But if you're feeling a little bit daring, you should try this trend. The possibilities with this are endless.  Two popular colors this season are Jade Green & Mustard hues.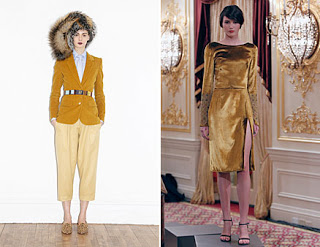 LACE!
It's always been around but I'm starting to see it more frequently. I absolutely love lace embellishments.  If done the right way, it looks amazing.  There's something very classic & elegant about it, but it also has  sex appeal.  I am loving these photos from the Jason Wu & Prabal Gurung Fall/Winter collection.  I die for that jacket & this dress is beautiful!  It reminds me of something Carrie Bradshaw would wear 🙂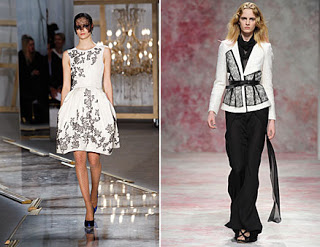 & I need this dress in my life! It's MM Couture by Miss Me $92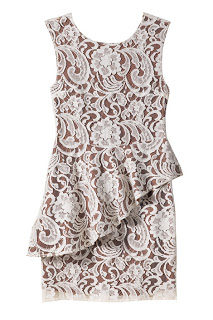 BRIGHT PANTS!
Usually people think of more toned down, neutral colors when the fall & winter seasons come.  Well not anymore! This is a fun trend. You can make any outfit stand out with a nice pair of brightly colored pants.  Don't be afraid of color.  If you are unsure about how to wear them, I would suggest pairing them with a cream/white colored top or something neutral to start off with.  Or you could be more daring like the model with the red top & pink pants. I love these red ones & I'm still looking for a good pair.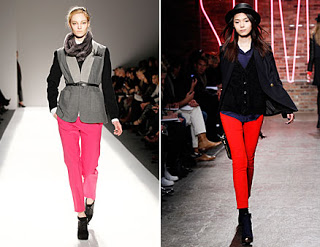 CHOKER NECKLACES!
Yes, chokers have made a come back right on the runway this season.  I adore statement necklaces, but I really do like the effect a choker can have on your outfit.  It adds a little sophistication.  These photos are from Marc Jacobs & Max Azria Fall/Winter collection. I love the choker with this white dress!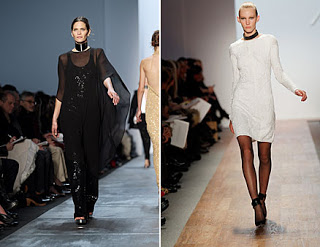 TUXEDO STYLE!
I love taking menswear inspired pieces & making them look feminine.  I've noticed a lot of celebrities use this as an alternative for evening gowns.  It's true not everyone can pull this off, but if you do, then it will be stunning! This trend can be very glam & sophisticated. I am loving this red Tom Ford ensemble!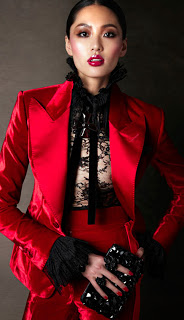 & I adore these 2 looks from Prabal Gurung & Jason Wu.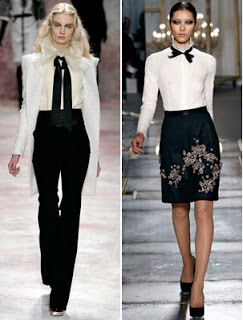 DUSTER COATS!
These long coats are floor length & sure to make you look extra glam this season.  Not only that but they will keep you warm too! 🙂  They look great with all textures & colors peeking through from underneath. You will definitely make an impression in one of these!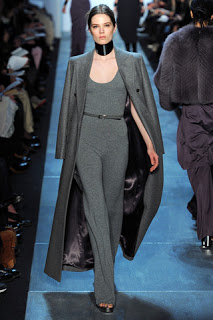 MICHAEL KORS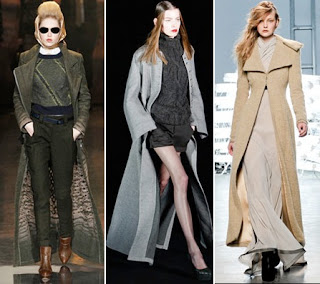 L.A.M.B., THEYSKENS' THEORY, & RODARTE
There's plenty more trends including leather, faux fur, polka dots, & high slits!  Try one, or try them all 🙂 Hope you enjoyed!!
xx Naty