I just posted yesterday about sending me photos of outfits you put together that were inspired by me & my blog.  I got my first submission today from my friend Jenn, who by the way makes amazing cakes.  Check out her page on facebook https://www.facebook.com/sanctuaryofsweets. Here's the photo she sent & this is what she had to say about this outfit: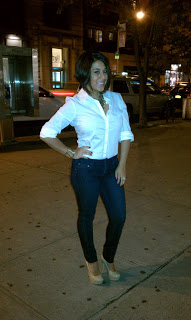 "I wore this for a date night in NYC. We were going somewhere casual but nice. I had no idea what to wear and I needed to find something in my closet! I know you said white button downs are a staple piece so I took a risk and brought it out. I tucked it in with skinny jeans and nude pumps. You always said accessories can really jazz up an outfit so I wore my chunky gold necklace, gold bracelet/bangle and my gold hoop earrings. 
My husband was amazed on how I put that outfit together! I am usually very nervous to try new things! He gave me a lot of compliments that night and it was a perfect date! 
Thanks so much for helping me break out of my comfort level and giving me ideas on how to put easy "staple" pieces together. I felt like a million bucks!"
xoxo Jenn – Rutherford
Doesn't she look fab?! The nude pumps & gold accessories were a great touch for this look and white button downs always go really well with dark jeans. I'm so happy that she was inspired to put this together after reading my blog & getting occassional fashion tips from me 🙂  Thanks for sending this in Jenn & I look forward to seeing more outfits from you!!
Email photos to ALOVEAFFAIRWITHFASHION@GMAIL.COM <3
Always remember, "Fashion Fades, but STYLE is eternal." – YSL
-Naty xo