It feels good to be dressed for work in the fashion district and then being able to take photos outside in the city.  I was finally able to bring the Nikon with me.  Yay!  So I got really camera happy and we took a lot 🙂
Dress: H&M
Belt: Zara
Shoes: Mandee
Clutch: H&M
Lipstick: MAC Costa Chic
I fell in love with this belt when I originally saw it on Asos but I wasn't sure how it would fit.  When I saw it at Zara and tried it on I knew that it was a must have accessory.  I don't have many belts and they are the perfect way to add a little something extra to any outfit.  This one is super edgy and not too mention a little dangerous lol
I was thinking of ways to style this and originally I wanted to go with a high waisted skirt and top, but when I saw this dress I knew it would be perfect.  Since this belt is the statement piece I wanted the rest of my outfit to be super simple and all black.  This makes the belt stand out even more.  I love how it adds an edgy feel to a feminine ensemble.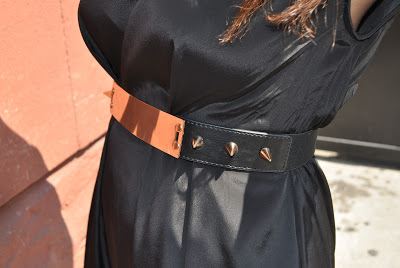 I'm wearing simple pumps and using this small envelope clutch.  All of my accessories are H&M and the earrings are Forever21.  I'm having one of my favorite drinks of course, skinny vanilla latte from Starbucks!  I recently picked up this new lipstick shade, Costa Chic, at MAC and I love it!  It's similar to Vegas Volt but a lighter shade.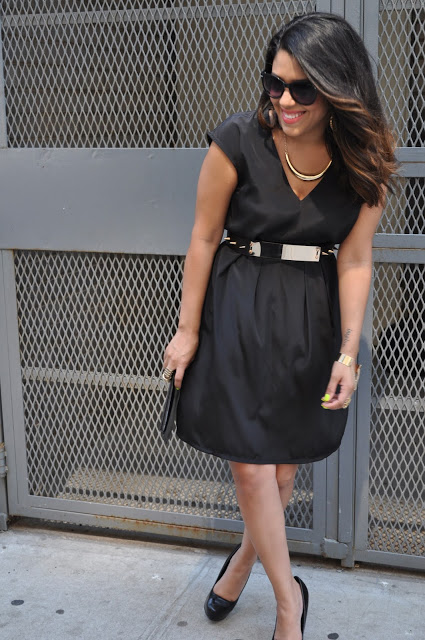 On another note, a lot of girls email me asking for fashion and style advice.  The tab on top of my blog lists all the services that I offer and that includes style consultation.  If any of you are in the NYC area and are looking for a consultation, I can meet with you in my NY office.  Just send me an email and we can discuss details and fees.  Happy Thursday dolls!
XO