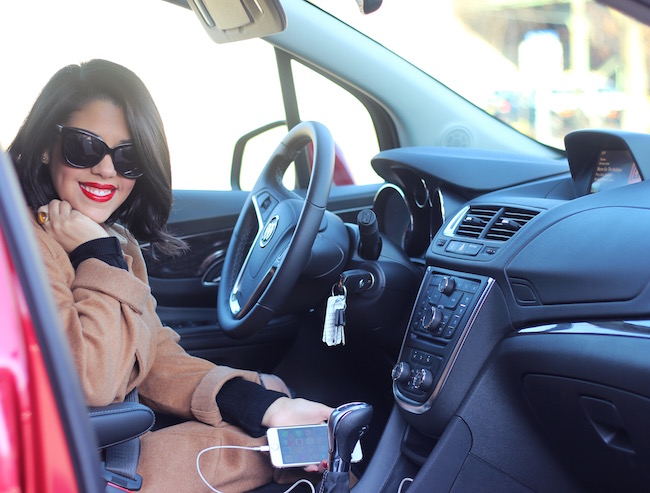 I'm really excited about today's post because it's so different from anything that I have done before.  I've wanted to create more lifestyle-themed content and thought that this was such an amazing way to start.  I teamed up with Buick to test drive their beautiful 2016 Encore during the holiday season and I am taking you all along for the ride!  I was especially looking forward to this because as you all know from my previous posts, I have had trouble with my car over the past several months.  It's been financially draining and it's one of the last things that I want to worry about, especially during the holidays.  It felt so good to finally drive a new car that I could 100% rely on, and even if only for a short amount of time, it made me feel both happy and safe.  You should have seen me playing around with all of the features.  Going from a 2003 to a 2016 was like a whole new world to me.  I did not want to give it back.  One of the first cars that I was ever introduced to was a Buick.  My mom had two while I was growing up and I have a ton of memories in those cars.  I feel like that made this partnership extra special.
The holiday season is such a hectic time for all of us, which is why it's so important to remember to take some time out for ourselves in the midst of our jam-packed schedules.  I've found that this is the best way to create the perfect balance in my life.  With the help of the Buick Encore, I'm going to share some of the ways that I maintain both a happy and healthy lifestyle during and after the holiday season.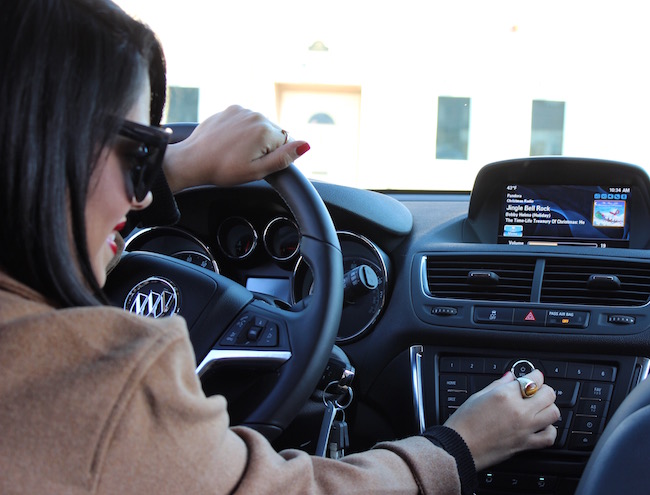 I'll be the first to admit that I am a procrastinator, regardless of the occasion.  There's something about that last-minute pressure that gets my adrenaline running.  It's also when I feel the most creative.  While it's a constant process, I am learning that setting goals and making to-do lists can be extremely helpful when you stick to them.  Once you do this there's no greater feeling than crossing everything off those lists.  I love to just get in the car, put on my favorite music and get things done.  This time of year I have an obsession with Christmas tunes and obviously belting them out in the car.  You have no idea how happy I was that I could connect my iPhone to the Encore and play the Christmas station on Pandora!  I could also listen to any song in my phone as well as SiriusXM radio.  I must have really been living under a rock in that 2003 car.
I know that shopping this time of year can be seen as stressful, but I've come across a few tips and tricks to make the process go much smoother.  I stay away from the bigger malls and literally go to the stores as soon as they open. Weekdays are best as most people are still at work, so I find that I'm in and out in no time.  Lines are much shorter and it's easier to navigate the racks as they've just been organized.  I find a lot of joy in getting the perfect gifts for my family and friends.  When I was a kid, Christmas was always about opening up my presents. Now that I am an adult and know better, it's solely become about giving to my loved ones.  That gives me fulfillment.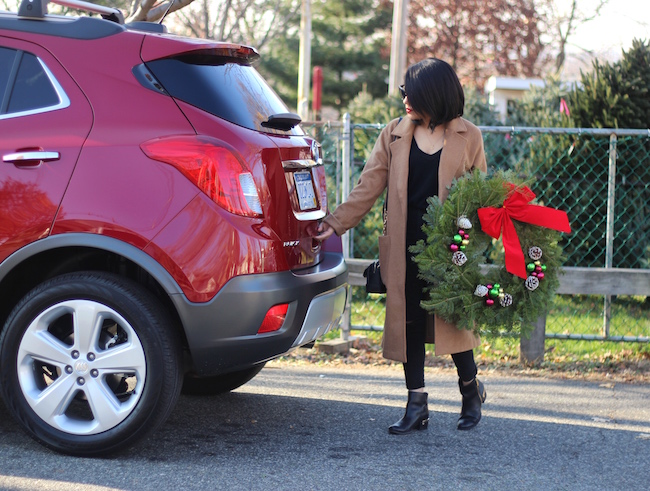 I also enjoy decorating for the holidays and I get a bit excited to head down to the local tree lot.  While I typically don't get a tree, I do love getting wreaths for the front door.  The smell of fresh pine is like no other.  Shopping and running holiday errands with the Buick was a breeze, with plenty of space to store my bags, wreath and much more in the trunk.  I also loved that the back seat moves forward when needed for easy access to anything you have in the trunk.  The front seats move forward as well in case you ever need more room.  Another thing that sealed the deal for me was the reverse camera.  I've seriously never used that before and it was like a dream come true.  Pulling out of tight parking spots in a crowded lot made me feel much safer and at ease.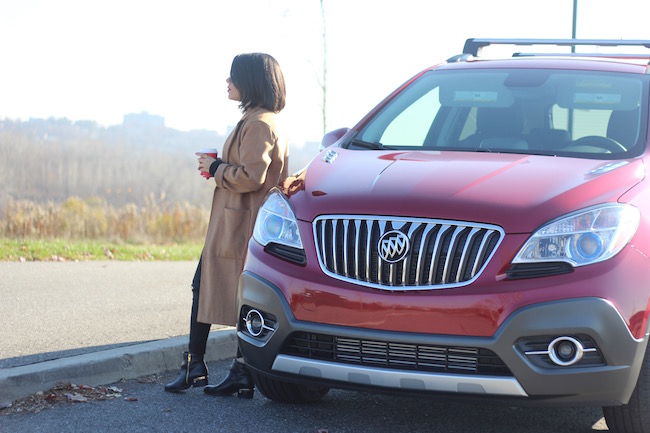 One of the things that I do for some peace of mind is visit my happy place.  I've talked about this park quite frequently on the blog before as it holds a special place in my heart for many reasons.  As often as I can, I love to come here with a coffee and either walk around or take in the amazing view.  It's a great way to keep that balance of a happy, healthy lifestyle, as clearing our minds and spending time alone is essential. Being here really calms me. I wasn't able to do a road trip with the Encore, so this just felt like the next best thing.  If the temperatures had dropped a bit more, I could have easily enjoyed the views from inside the car thanks to the heated seats. That was another treat!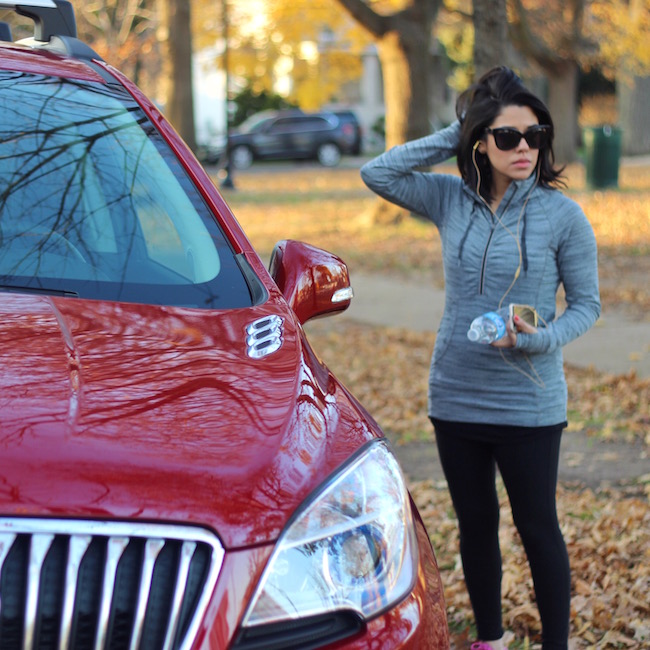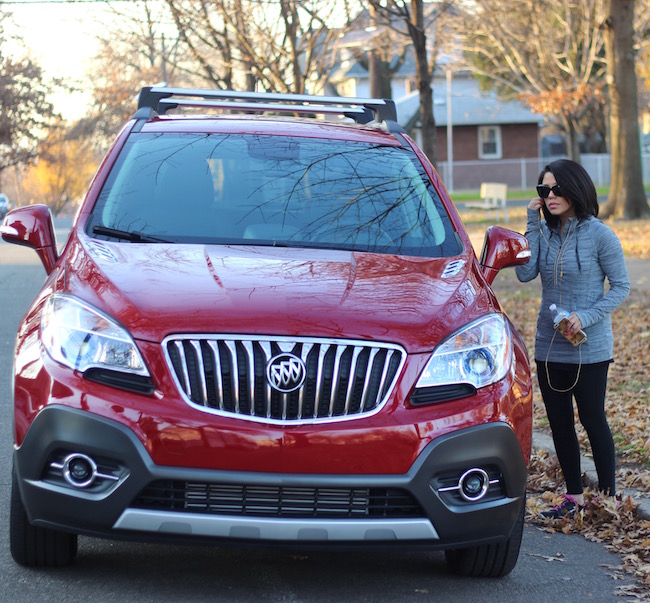 Ever since I started working out at home instead of at the gym, I realized that I still needed to do some exercise outside of the house.  Running has and always will be one of my favorite ways to stay active.  It's amazing how a long run can quickly ease any stress and tension that you've been building up.  It always makes me feel good.  I tend to indulge during
the holidays, so after Christmas I make sure to get back into the routine.  I loved that I could continue listening to my playlist when I got back into the car.  It just kept me pumped and motivated for the rest of the day!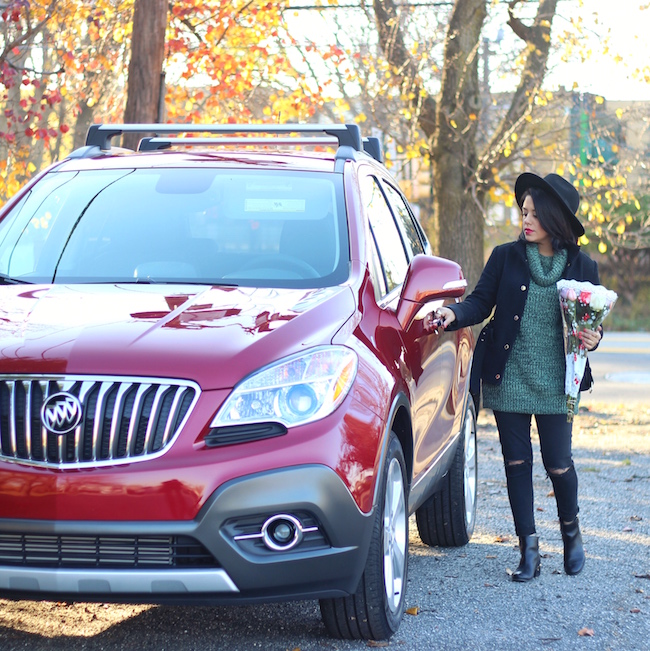 I believe that the little things in life can bring us joy, which is why I have become so flower obsessed over the years.  I try to buy a fresh bouquet every week, as this is such a wonderful way to brighten up both my office and my day.  Flowers are my favorite passenger seat rider.  Sorry, Mom.
Speaking of my mom, making time for her is so important to me.  She really is my best friend.  My family keeps me grounded, and through the midst of all the craziness in life, they are my constant foundation.  They help me to create balance. During the holidays and pretty much all year-round, I make it a point to do something special with her, whether that's going out to dinner, trying something new, or simply just having that quality mother/daughter time.   I don't count shooting for the blog as spending time together.  We had so much fun doing all of these things with the Encore.  It was honestly one of the smoothest and most comfortable rides.  I would have loved to take it for a little weekend getaway somewhere.  One of the biggest surprises to me was the WiFi! This definitely comes in handy, especially during those longer-length road trips.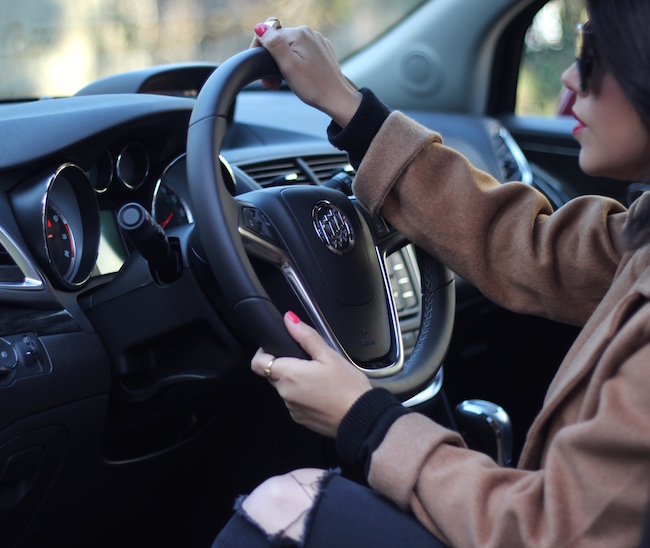 When you're constantly on the go, there's no greater feelingthan driving a car that you know you can rely on.  The Encore truly helped make my holidays a bit happier and brighter.  I hope you all enjoyed this post as much as I enjoyed putting it all together.  Thanks
Buick
for the smooth and stylish ride!
This post was sponsored by Buick through their partnership with POPSUGAR.  While I was compensated by POPSUGAR to write a post about the Buick Encore, all opinions are my own.