She's GLOSSY, She's CHIC… She's HATCHED!
The website has officially launched!  Now you can check it out and shop for the little fashionistas in your life.  You'll see the final product of the shoot that I helped style and you'll also hear my voice on the catchy Glossy jingle!
 I was able to put my journalism degree to good use and have an interview with Laura Riano, the brand director for this creative children's clothing line.  Here I'll be sharing with you all the inside scoop about Glossy and some exciting things to look for in the future with the brand!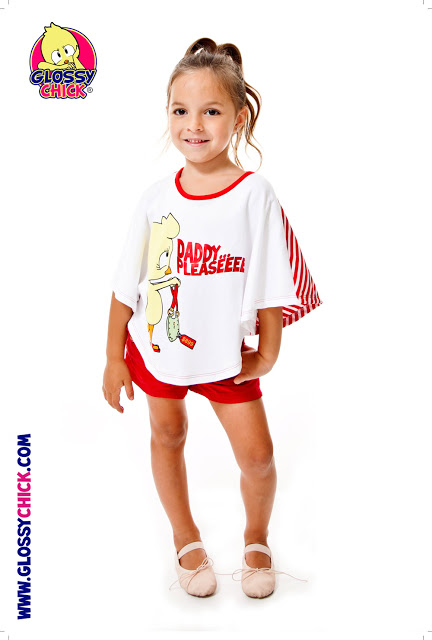 NATY: WHAT'S THE STORY BEHIND GLOSSY CHICK?
LR: Glossy Chick is a Diva and Fashionista In Training going through many phases of her life – like many young girls. No matter what phase or feelings she is going through that day – she never sacrifices her inner diva and always stays true to who she is.
NATY:  HOW WAS THE LINE CREATED AND WHO CAME UP WITH THE INITIAL CONCEPT?
LR:  The concept was developed by
GSEA
Fashion Group throughout a 2 year period with brand director (aka Sassy Chick) leading the way. We were also very blessed to have received advice from some of the very best in the business. Industry friends such as Fashion Merchandising expert Joan Duncan, Syn Founders (Sue, Yalenis, Nicole), former Children's Designer Andrea Elias and owner of Duo Kids Showroom Robin Wilcher.
NATY: WHAT SETS GLOSSY CHICK APART FROM OTHER CHILDREN'S BRANDS OUT THERE AND WHY SHOULD CHILDREN WEAR IT?
LR: Glossy Chick is so much more than a character driven childrens brand. Glossy Chick represents a movement and powerful message. She is someone young girls her age can look up to. She always portrays a positive message to stay true to who you are while expressing your inner chick. Her pieces represent fashion forward bodies with pops of colors that little girls can feel like they're ready to rip the runway in!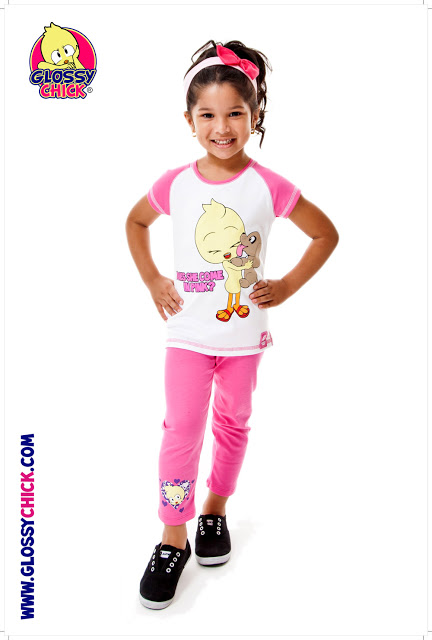 NATY: WHAT IS YOUR DEFINITION OF A GLOSSY CHICK?
LR: Glossy has no definition. She's funny, sassy, classy, happy, excited, ambitious, curious and the list goes on and on. She is never afraid to express how she is feeling that particular day and teaches young girls its OK to feel different ways. No one should be defined as one thing. Especially girls because we tend to have our many different moods 😉
NATY: WHAT IS ONE MESSAGE THAT YOU WANT TO GET ACROSS WITH THE GLOSSY CHICK BRAND?
LR: Be Confident and always stay true to who you are!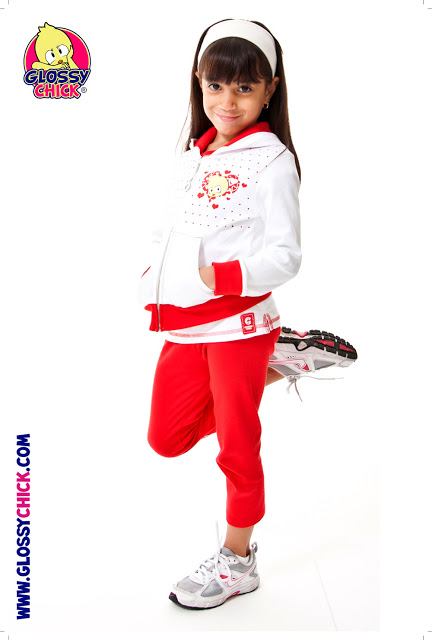 NATY: WILL THE LINE BE AVAILABLE FOR PURCHASE IN STORES OR ONLY ON THE WEBSITE?
LR: The line is being introduced to market @ ENK this month – and will be exclusively available in stores this upcoming Spring. To hold our young fashionistas over until that time we have developed a limited online-only collection showcasing Glossy in the experimenting phase in her life.  The website 
www.glossychick.com
 – will have accessories and other items not available in stores. To see a preview of our Spring Collection – you would need to join our Free newsletter online for sneak previews only available to buyers.
NATY: I NOTICED ON THE WEBSITE THAT THERE IS A VIP MEMBERSHIP PACKAGE.  HOW DOES THIS WORK AND WHAT DOES IT INCLUDE?
LR: The VIP membership package is pretty cool! The VIP Chick Card gives access to Membership Community of Chicks where aside from earning points to redeem credit for merchandise, this gives us a platform to communicate with all of Glossy's fans and provide exclusive games and prizes all revolving around being positive and building confidence in those to be their own chick!
The VIP Membership Package Includes-
-An Official Welcome Letter
-Glossy Chick Membership Folder
-Official Fashionista Certificate
-Glossy Chick Coloring Book
-17 Piece Glossy Sticker Sheet
-Glossy Chick Magnet
-Glossy Chick 50 Piece Puzzle
-Glossy Canvas Tote Bag
-Glossy VIP chick Card – Which allows you to earn points towards glossy gifts, prizes, and merchandise!
-10% off every online purchase!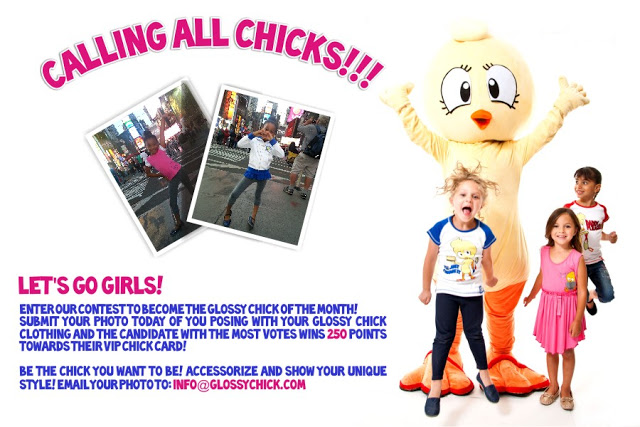 NATY: BESIDES THE WEBSITE, HOW ELSE CAN WE CONNECT WITH GLOSSY?
LR: Follow us on facebook @theglossychick and connect with us through: instagram, youtube and twitter where each platform serves its unique purpose into the Glossy brand. Glossy loves to hear from her chicks! 
http://www.facebook.com/theglossychick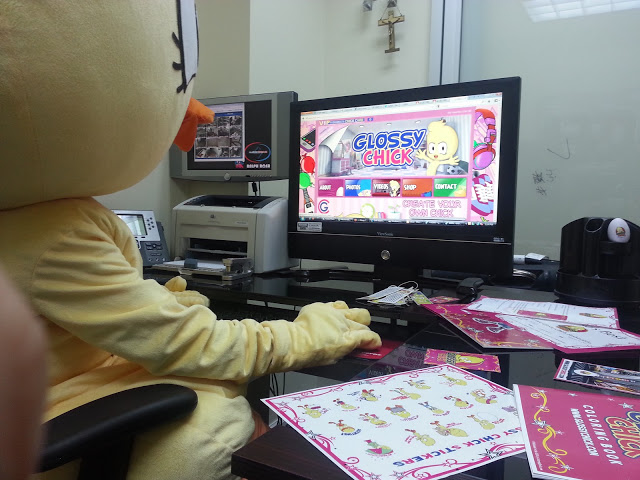 NATY: WHAT CAN CUSTOMERS EXPECT FROM GLOSSY IN THE FUTURE?
LR: We are really excited about our future – our customers can expect the brand to release its first phone application offering exclusive merchandise previews, a store locator, free games, ring tones and much more! Stay tuned… Join our free newsletter online: 
www.glossychick.com
NATY: IS THERE ANYTHING ELSE YOU WANT YOUR CUSTOMERS TO KNOW ABOUT THE BRAND?
LR: Our mission statement reads: Glossy Chick is a Diva and Fashionista in training, inspiring young girls to be their own Chick.
 Glossy is a movement and we believe through the brand we have a way to inspire girls to be confident in who they are.  It all starts with 1 chick. If we can help inspire others to be the chick they want to be then our mission statement will have been achieved!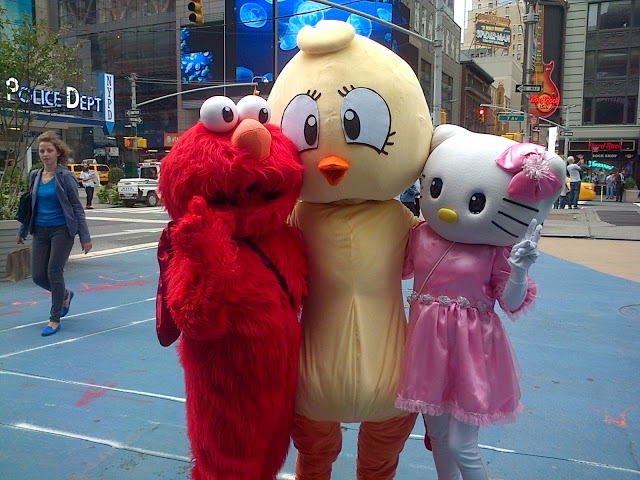 Glossy making friends in Time Square!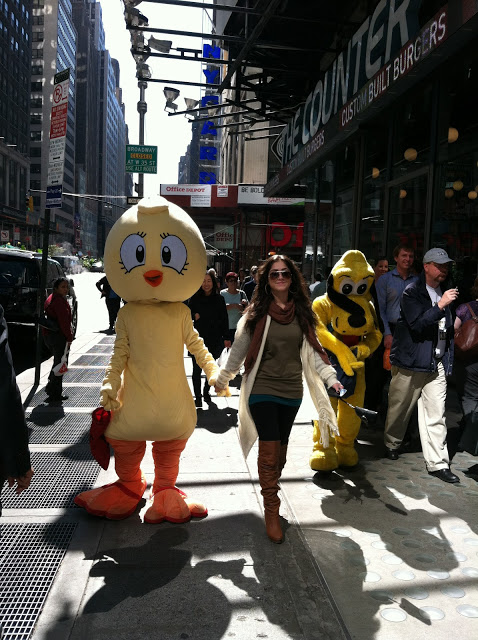 Glossy with Brand Director & Sassy Chick, Laura Riano
Check out this clip of Cianna singing and dancing to the Glossy theme song!
HOW AMAZING?!
Not only are the clothes adorable, but the line has a very powerful and positive message for young girls everywhere and I think that is so important.  I absolutely love the story behind Glossy Chick and hope that you do too.  Make sure to share this with your daughters, nieces, or any little fashionistas in your life!  I think they will absolutely adore it.  This is just the beginning and as you can see there is still so much more to come, so make sure to stay connected with
Glossy
!
Thank you so much for the interview Laura!
*This has been a sponsored post*