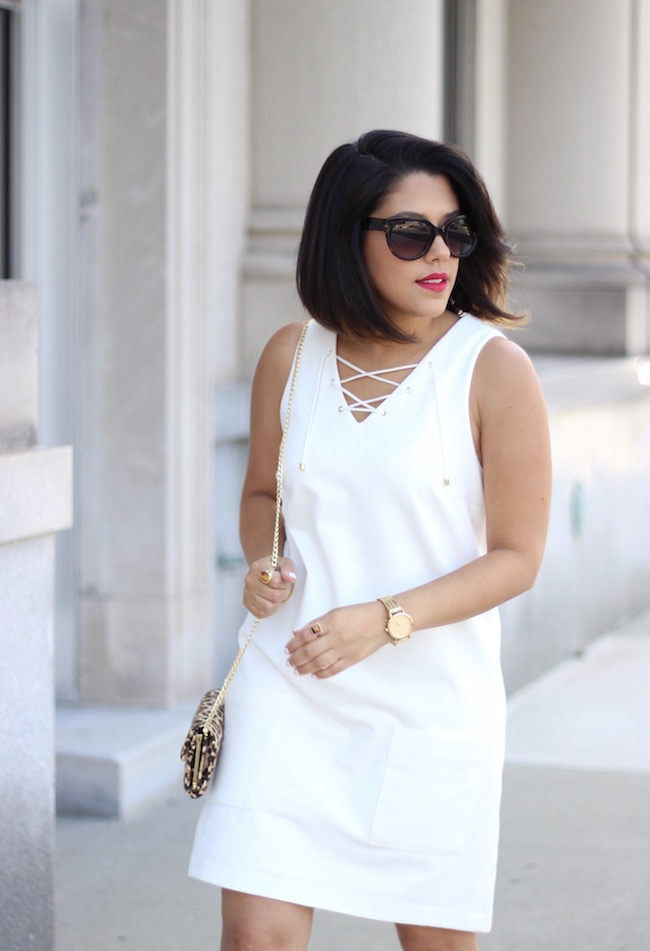 August is pretty much like the Sunday of summer, so I am holding on to it for as long as I can. I won't be saying goodbye to those summer whites any time soon.  To be honest though, I am somewhat ready for fall fashion as it's one of my favorite times of year! That may or may not have something to do with the fact that my birthday is in November. 🙂 I was excited to partner up with 
Charming Charlie and StyleWatch
 to share some of the pieces in their limited edition capsule collection for the fall. It's filled with tons of leopard print and cherry reds, statement jewelry, versatile bags and more.  I picked out a few of my personal faves to style in today's post along with one of their dresses!
What I'm Wearing 
Dress: Charming Charlie | Leopard Wallet: Charming Charlie
Watch: Charming Charlie | Shoes: Aldo | Necklace: Charming Charlie
I've been all about the lace-up trend lately in almost every form, so I couldn't help but gravitate towards this specific dress.  I don't typically wear shift style, but I think it's good to switch things up from time to time.  It's so chic and casual, which I liked a lot. Plus, it has pockets and doesn't that always make things better? Years back I would see leopard print and stay away.  I didn't really understand the obsession and never really knew what to do with it.  All that has changed though as it's become one of my favorite prints that I have worn repeatedly. It's a trend that I don't see going away anytime soon.  I view it as a neutral now and because of that, styling possibilities are endless.  I love this leopard wallet because it can be used in various ways.  You can use it as a clutch, throw it in your bag as a wallet, wear it over your shoulder or style it as a crossbody.  Versatile pieces are everything to me.  I also loved this gold tassel watch and have been wearing it so much over these last few days.  It's a fun and bold accessory to add to your outfits. Another piece that I chose was this fringe necklace.  It didn't go with this look because of the lace-up dress, but I still wanted to share it on here since it's such a great statement piece.
The best part about the collection is that everything is super affordable.  They're running a promo right now until 8/17 where you can get $10 off your purchase of $30 or more.  Just use code SWXCC10 at check out!  Which piece is your favorite?
This post was sponsored by Charming Charlie. All opinions are my own and this was not edited by any third parties. Thank you for supporting the brands that support A Love Affair With Fashion!