This past weekend I had the pleasure of attending
Latinista
at Solo Event Space in NYC. It's basically fashion week for Latin designers, both established and independent, and it happens twice a year. It was a 2 day event created and produced by DEE & Co Group and it was sponsored by
IMAN Cosmetics
and
Latina Magazine
. I was not able to attend the first night so I missed out on seeing Cesar Galindo who will also be showcasing at Lincoln Center next week. But on the second night I saw three designers showcase their work: Edwing D'Angelo, Cenia Paredes and Shantall Lacayo. It was so inspiring to be surrounded by such talented and creative Latinas! This was my first time attending a fashion show to cover on my blog and I also got to sit front row as press which was a pretty great feeling! In this post I will be showing some of my favorite designs from their SS14 collections so there's lots of pics! Hope you like 🙂
I wore a dress from Charlotte Russe.
He is a Columbian-born New York designer and his work has been featured on national television networks as well as the NY Times, New York Post, Daily News and the hit movie The Devil Wears Prada. His pieces were very chic and sophisticated with a touch of elegance. I especially loved the blue statement coat.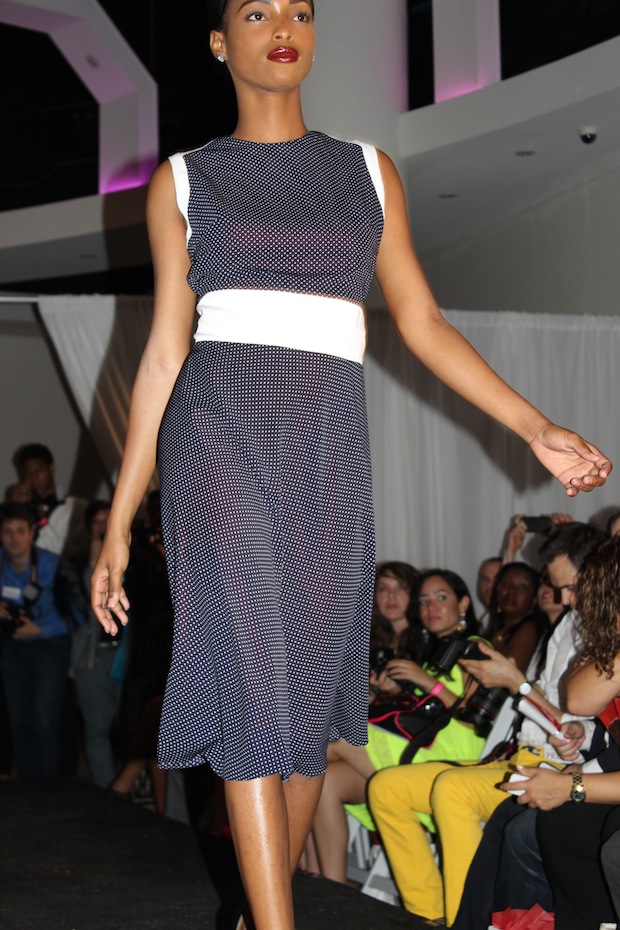 She was born in the Dominican Republic and after coming to America, she graduated from the Fashion Institute of Technology in NY. She launched her own line Cenia in 2009.
I loved all of her fun bright colors and prints as well as the classic black and white pieces too. Super feminine and bold.
Third designer: Shantall Lacayo
She is from Nicaragua and made her debut on Project Runway Latin America during her senior year at Escuela Argentina de Moda in 2010. She describes her collections to be sensual, avant-garde and daring. I really loved the intricate details in her designs. There was a lot of neutrals but great pops of color added in as well.
Which collection is your favorite? Hope you enjoyed the pics!
With NYFW coming up next week, there is going to be so much for me to cover here on my blog. I am trying to figure out how I am going to do it all. I really can't wait to share the experience with all of you!
Make sure to check out my post for Fearless Fashionista today. It's all about mixing prints.
XO