The cold is here & there's no escaping it. Winter is right around the corner & here are some things that I suggest getting for the next few months.  They will keep you warm & in style 🙂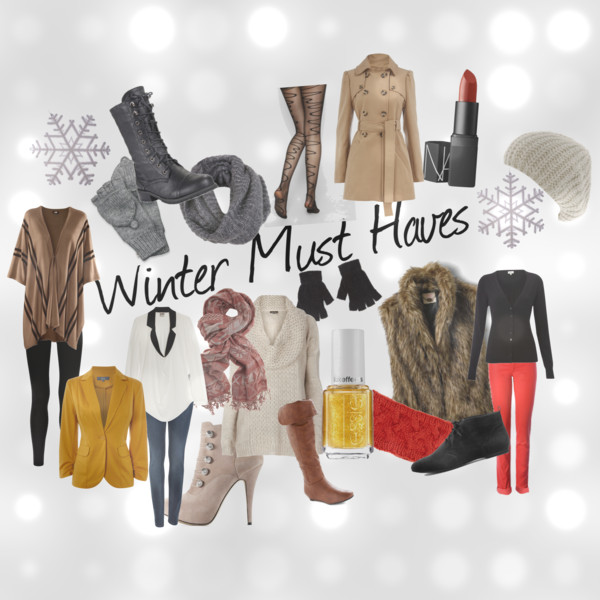 Cowl Neck sweaters like this one from Warehouse are very cozy & right on trend.  I have a similar one from H&M that I love.  If you get the long ones, you can wear them over a pair of tights like these BCBG ones & wear as a sweater dress.  Patterned tights are huge right now.  Put a belt on & you're good to go.
Faux Fur vests are another great way to keep warm.  You can put them over any long sleeve tee, button down, or cardigan.  This one is from Quik Silver but I got mine from H&M.  I've also seen them at Zara & Forever21.
A nice pair of over the knee boots like these from Modcloth for only $45. Not bad!  Try getting a neutral tone like these so that you can wear with almost anything.
A good pair of booties is always nice for the winter, whether it's got a heel or not.  These black ankle booties are from Zara & I will be getting these soon.  They go great with a pair of skinny jeans, especially the red ones from Mango!  These other booties are Vince Camuto.  Very stylish 🙂
Combat boots!! I love them! I have a pair just like this one. These are from Amazon.  They go great with leggings & skinny jeans.  Sometimes I even wear them with sweats depending on my mood.
I have this exact poncho from H&M.  They have similar ones at other stores too.  Ponchos are another great way to stay warm as long as you wear it over long sleeves & then layer on a long coat like this one from Dorothy Perkins.
RED lips!  You can get a good shade almost anywhere, but I suggest MAC, Nars, or Smashbox.  It will change your entire look.  Longer length pea coats are right on trend and a sure fire way to keep you warm.  Just layer up!
Fingerless gloves are a great way add some edge to your outfits.  These black ones are from Tillys, or you can get the ones that come with a flap to keep your fingertips warm too. These grey ones are from Abercrombie.
Knitted hats & head bands/wraps are great for keeping your ears warm but they are also very trendy.  These are from Dorothy Perkins & Warehouse.  You can also find them at Forever21, H&M, and almost any other store.
A good pair of jeans is essential!! So is a blazer & a nice blouse.  These are from Haute Hippe & Peacocks.  I love this mustard color.  Great for the season.
Don't forget about keeping your neck toasty with a knitted snood like this grey one from Miss Selfridge.  Cozy & stylish 🙂  Also try getting some fashion scarves with different prints & colors.  They will add more to your outfit and of course help you stay warm too. This rose & cream aztec one is from Dorothy Perkins.
And finally, put a little sparkle on those nails like Essie's Luxeffects top coat.  It's great for the holidays 🙂
I have a holiday party tonight & can't wait to wear my new dress 🙂 I will be posting pics tomorrow.  Have a great weekend loves!
xo