Happy February!
It's all about beauty today.  I teamed up with Neutrogena to check out their new product launches for 2015, sold at Target.  Think of it as a "New Year, New Neutrogena Beauty Kit."  I have been using Neutrogena for years, especially their skincare products, so I was really looking forward to trying these and sharing them with you. Let's get to it!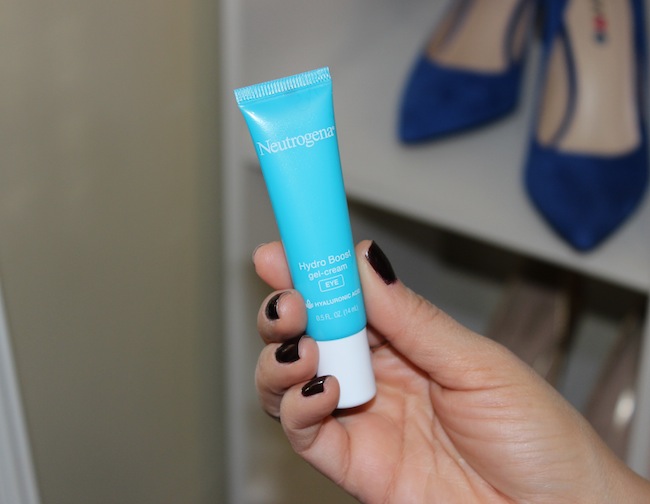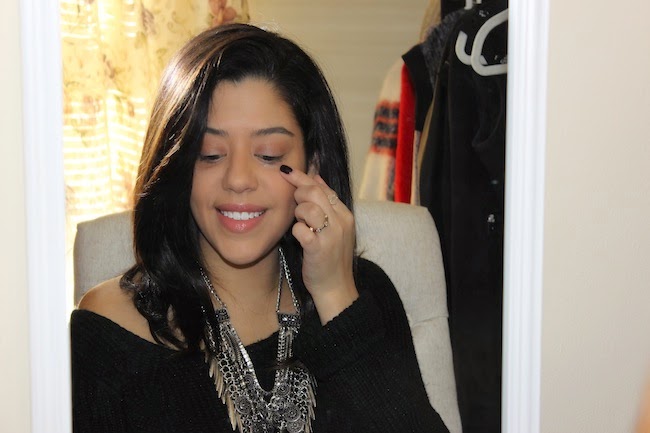 Once I learned the importance of using an eye cream, I became obsessed.  I've tried so many different ones and make sure to use it every single day.  What I loved most about this one is the hydration and cooling effect. It's part of Neutrogena's new Hydro Boost line.  I am not a morning person.  I admit it.  Even after I shower, I still feel so tired.  I love being able to apply an eye cream like this because it really does help to wake me up.  So far, I have only used this for a couple of days, both morning and night.  It's very lightweight and helps keep the skin underneath the eyes hydrated and smooth all day.  It's so important to do this before applying your makeup!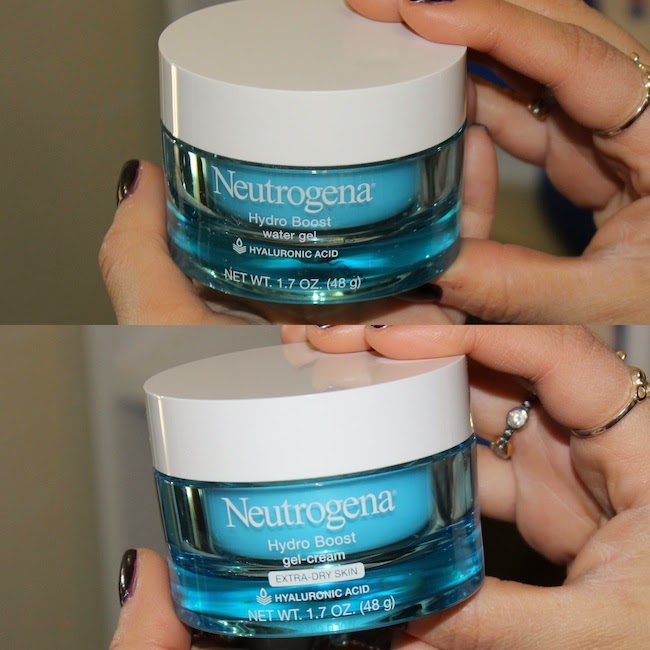 Hydro Boost gel-cream Extra Dry Skin & Water Gel
My skin type is normal to dry, however during the winter months it gets very dry.  Sometimes, even with using a moisturizer each day, I still notice some dryness.  Dry patches are not my friend.  I think I was the most excited about these two products because they provide so much extra hydration to the skin.  Initially when you put it on, your face will look and feel very wet, but the gel absorbs very quickly and also has a long-lasting moisturizing power of a cream.  It's oil free too, which is a plus for me.  After using this for a couple of days now, I have definitely noticed improvement with my skin.  The extra hydration really makes a difference for me and my face feels so smooth.  I will continue using these with my daily skincare routine for sure.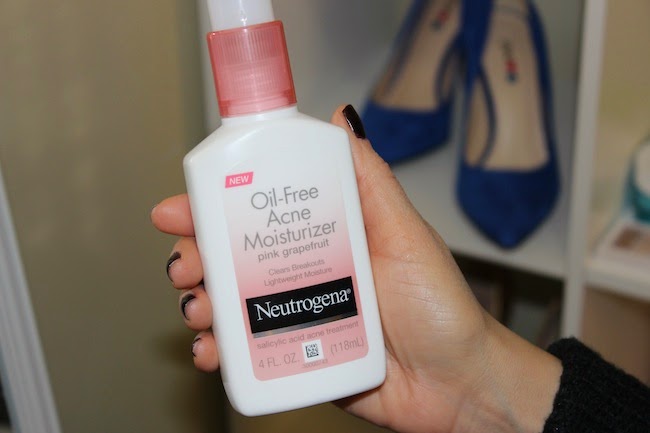 Oil-Free Acne Moisturizer Pink Grapefruit
I typically don't get breakouts until it's that time of the month.  I swear that I always get them in the same areas on my face too and I hate it.  This really intrigued me because I have never used a moisturizer that was specifically geared towards acne.  It's lightweight with a soft pink grapefruit scent that is meant to clear breakouts.  Two of the most important things for me, when it comes to moisturizers, is making sure that it won't clog my pores and that it is non-greasy.  I'm looking forward to using this when I get my next pimple!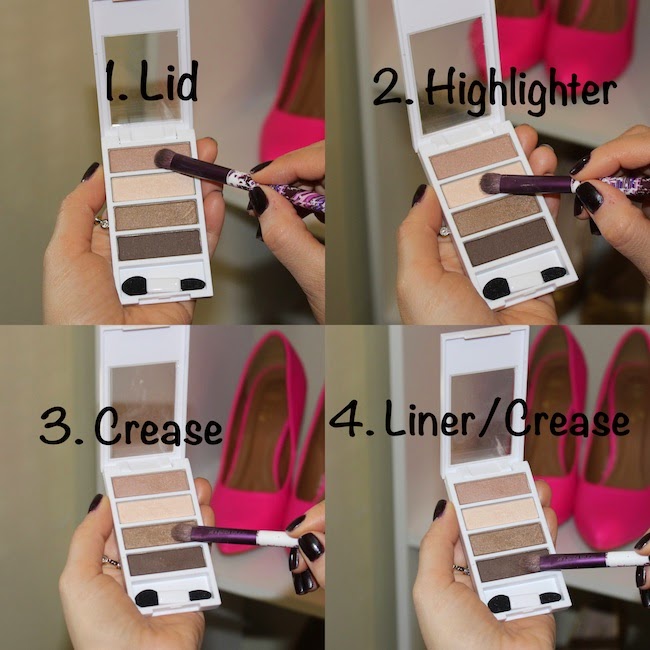 This was my first time trying a makeup product from Neutrogena so I had no idea what to expect.  Honestly, I was pleasantly surprised.  I have been using these shadows all weekend and especially love these shades "Mink Brown."  The shadows come with a built-in primer to give that long-lasting color.  The formula is also infused with vitamins and skin-nourishing conditioners for delicate eye areas.  When applying, the shadow went on so smooth and was definitely more pigmented than I expected it to be.  I love little shadow kits like this one because they sort of act as a "cheat sheet" for creating a natural smokey eye.  The back of the kit tells you where to apply each color.  Since I mostly wear neutral colors on my eyes, this was perfect for me.  I went and did a full makeup look so you could see the final result. 🙂
And then, the makeup comes off.  I've used other makeup remover wipes from Neutrogena, so I was looking forward to trying these new ones out.  My biggest thing when it comes to makeup remover wipes is that it will actually remove my mascara.  Sometimes that can be the hardest thing to remove.  I'm happy to say that these did the trick.  They're really soft and not rough on my skin, which is a plus in my book.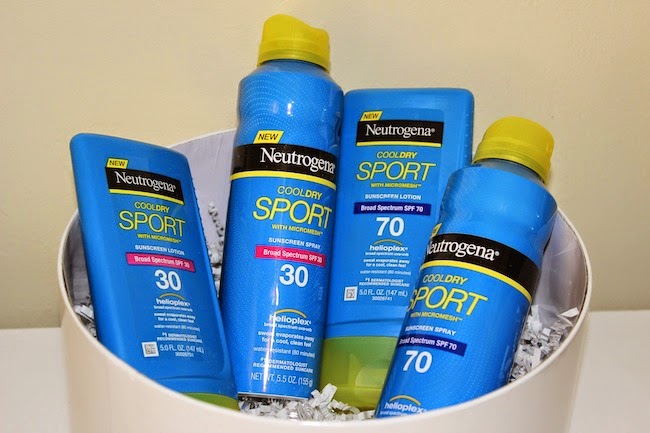 Last, but not least, we have the new sunscreen collection with both 70 & 30 SPF.  We are seeing lots of snow over here in Jersey lately, but the sun will be coming back out in no time.  Spring break is right around the corner and all of those summer vacations will be here before we know it too.  These are meant to provide superior protection during the most intense activities.  With their new MICROMESH technology, the sunscreen allows sweat to pass through and evaporate while durable protection stays where it should.  I especially love the sprays.  All of these are fast absorbing and oil-free.
I know that was a lot of new product info to take in, so hopefully you have reached this point in the post because now it's time for a giveaway!  Neutrogena is giving away a $25 gift card to one of my readers so that you can go and get some of these new products for yourself!  It's super easy to enter, just do so in the widget below.  I will contact the winner on Friday, February 6th.  Good luck!
I really hoped that you enjoyed today's post and I look forward to doing more beauty soon!
This post was sponsored by Neutrogena.  All opinions expressed are my own and this was not edited by any third parties.