Happy Thursday dolls!  First let me start off by saying THANK YOU to everyone for the birthday wishes on my last post.  I appreciate it so much! It's been so crazy over here in Jersey lately.  Last week we got a hurricane and yesterday it snowed! Yes, snow in November.  Last night it covered the streets.
 Anyway, today is what I like to call one of my "fill in" outfits.  I wonder if any of you bloggers know what I mean by this lol Sometimes I have my outfits & blog posts planned out, and other times I have no idea what I am wearing or posting until that morning.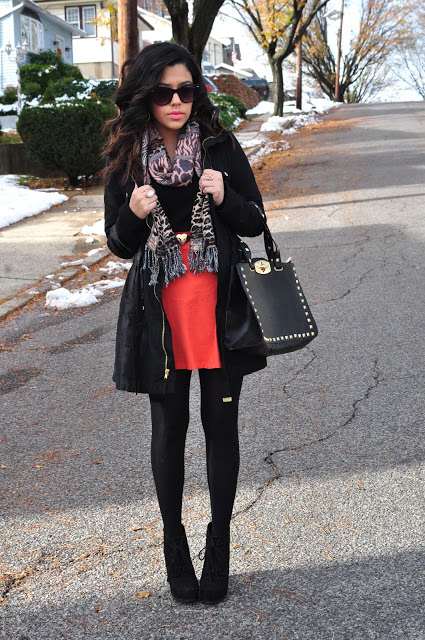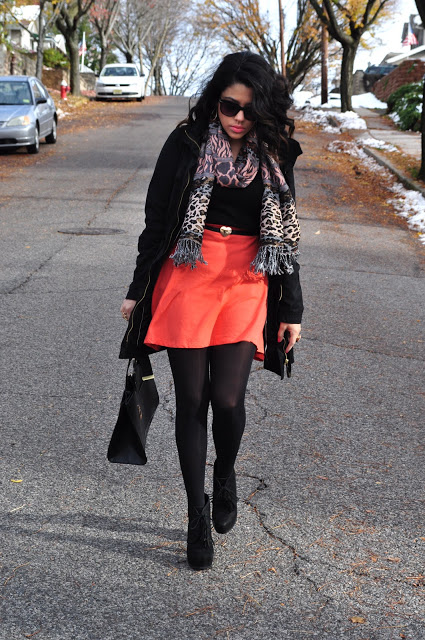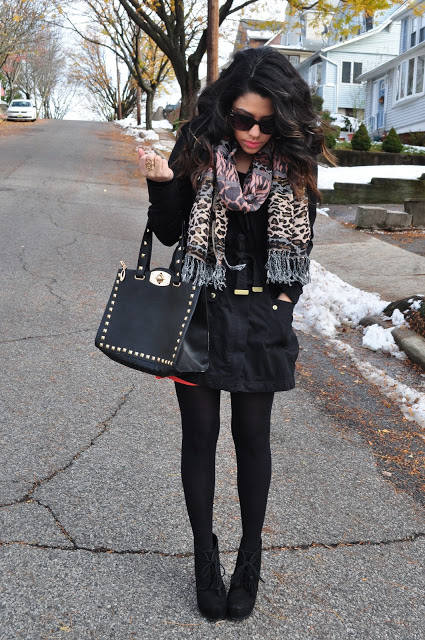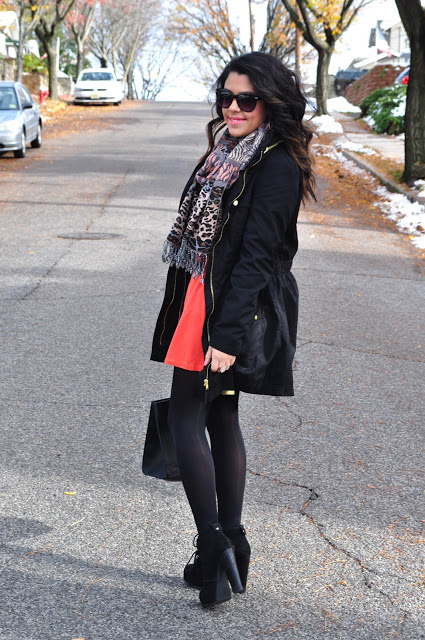 Jacket, Sweater, Tights, & Scarf: H&M
Skirt: Charlotte Russe
Belt: Forever21
Booties: Steve Madden
I wanted to do some layering but still make it chic and stylish.  I'm actually wearing a sweater dress but I tucked it into this skirt to make it look like a top.  This skirt is such a bright fun color. I wore it once in the summer, but this is a great example of how you can still rock those summer skirts into the fall season.  Just throw on some tights and do a little layering!
(These H&M tights are the most amazing pair I own)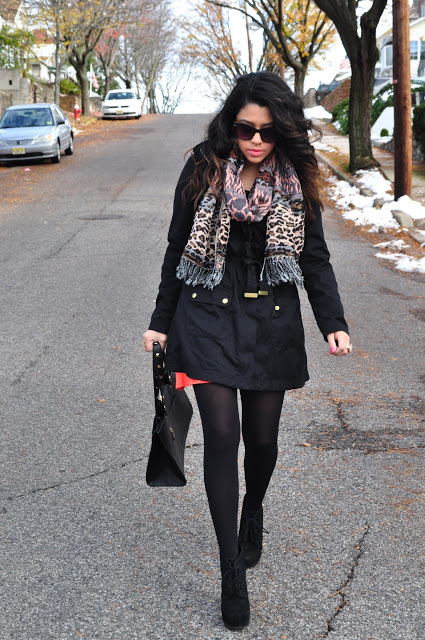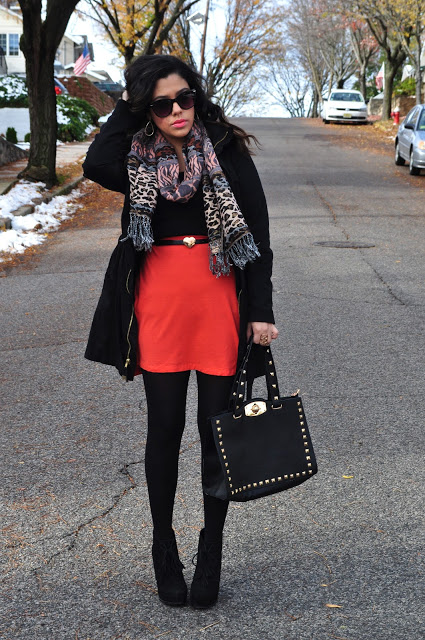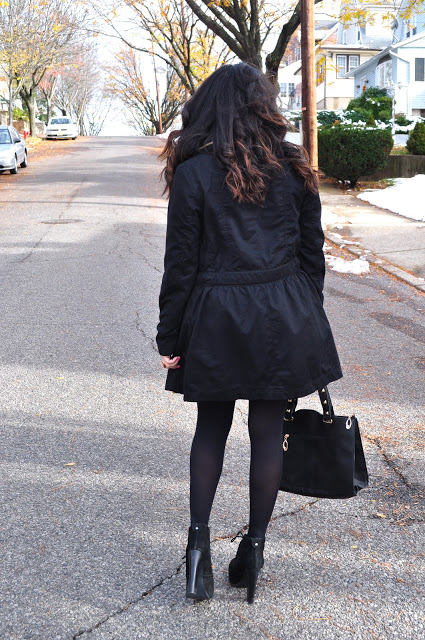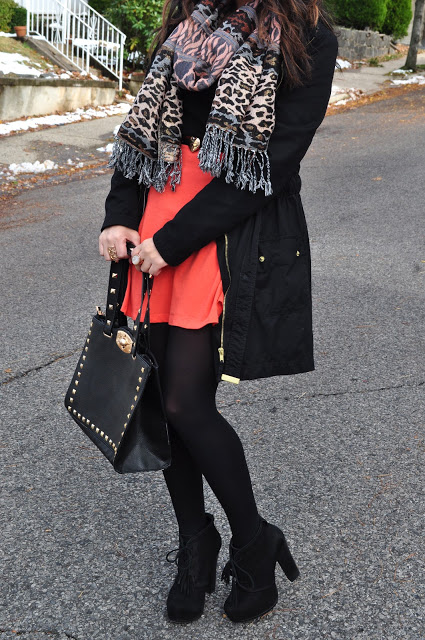 To bring the whole look together I put on my favorite belt.  I seriously can't get enough of it.  I wanted to add some print to break up the solid colors so I added this scarf.  I love the combo!
I got this parka style jacket last winter and I really love it.  It can be worn casually or dressed up so it's perfect.  I'm wearing my favorite booties too! I think it might be time for a new pair.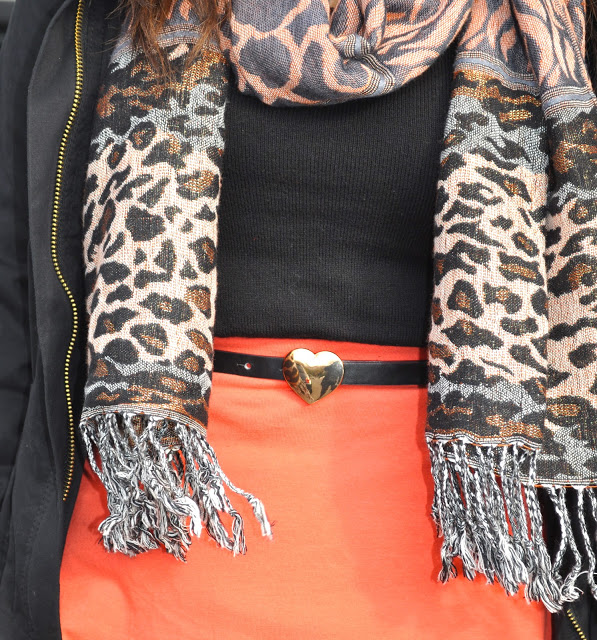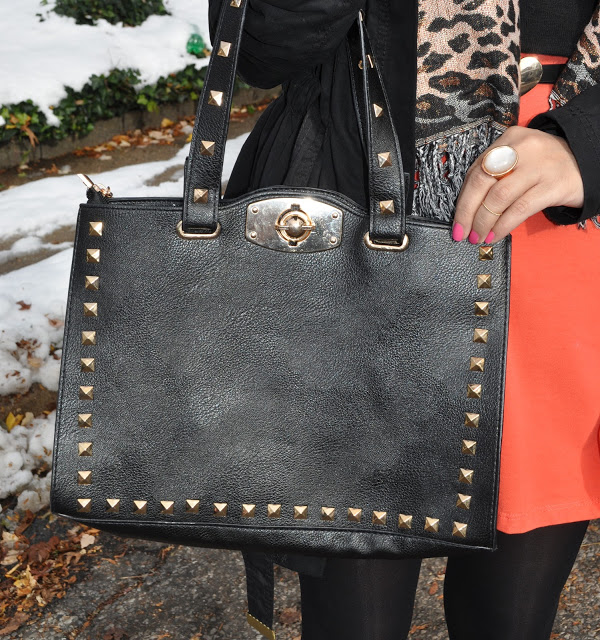 How amazing is this bag from
OASAP
?!  I am kind of obsessed with the gold pyramid studs and twist lock.  It can be worn as a handbag and it also comes with a strap so you can put it over your shoulder. It's a great statement piece to add to any outfit. Gold details are my favorite! You can check out more details on this fab bag
here
!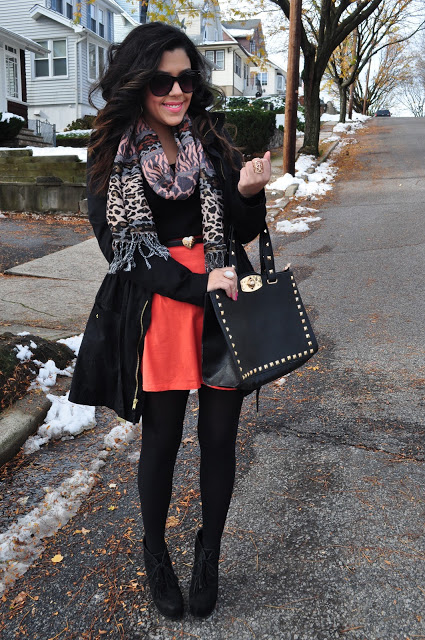 I hope that you liked today's ensemble!  If I don't get to post tomorrow, enjoy your weekend my loves.  Saturday night I'll be going out for dinner and drinks to celebrate my birthday with my friends.  Really looking forward to it!
Check out my new youtube video: 9 WAYS TO WEAR A SCARF!
I hope that you all have an amazing day!
XX