Hi loves!! Finally have an outfit post from New York Fashion Week! I have hated not being able to blog every day like usual but I can't even describe how crazy things have been. When I get home I don't want to get dressed or wear heels for an entire week lol. I got my images back from the first 3 days of outfits so they will be coming all week. I wore this on the first day to the Nicholas K & Desigual shows. I've always wanted a printed short suit so I was really excited about this one and it came just in time for NYFW!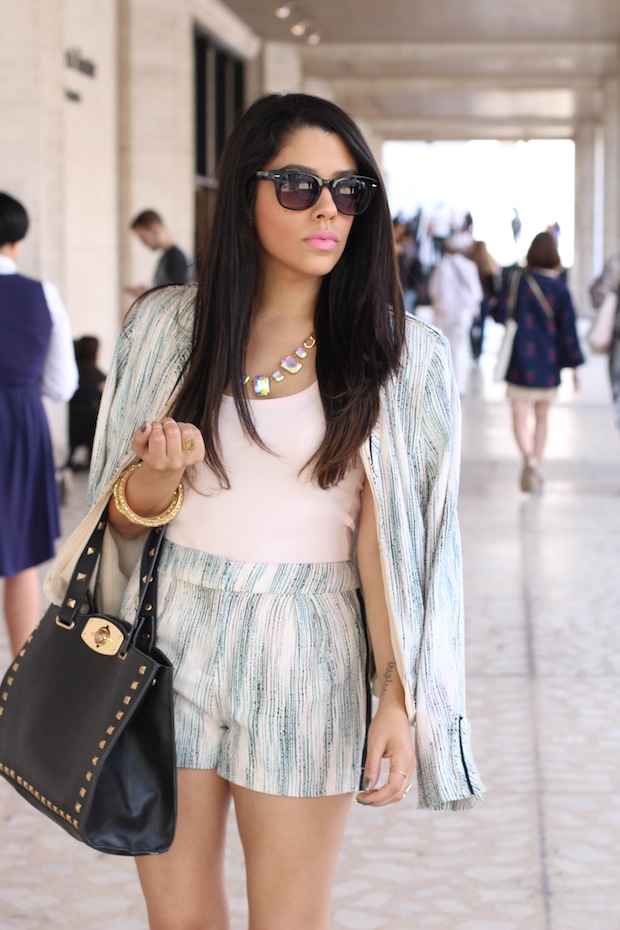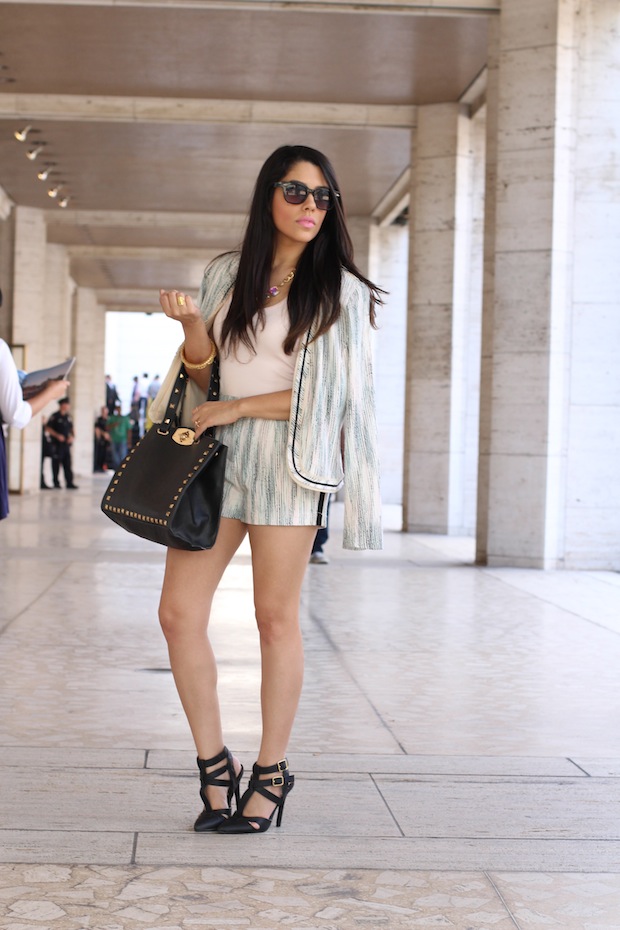 Short Suit: C/O L.Mae Boutique (
here
&
here
)/ Top: H&M/ Shoes: Charlotte Russe (
shop here
)
Bag: OASAP/ Necklace:
OIA Jules
/ Sunglasses: Charlotte Russe/ Bangles: BeBe
I mentioned previously that I was really stressing over these outfits. I wanted to stand out but still remain true to myself and my style while doing so. I tried to switch up the looks each day to show a different style and side of me and hopefully I have been able to achieve that. So for this first day I went with a business chic look with this short suit from L.Mae Boutique. Instead of wearing the blazer, I decided to put it off my shoulders which gave it a different effect. I wanted to bring out the pink in the print which is why I went with this top and then to accentuate the black trim, I did these shoes and this bag. I am obsessed with these shoes but man do they hurt my feet after walking for a few hours!
Outside Lincoln Center is completely insane. There's a ton of photographers/paparazzi waiting to snap pics of everyone. It's definitely not something that I was used to but it's been a wonderful experience.
There is so much amazing street style and it's so easy to spot bloggers and celebs. I've met so many people so far and I still have a few more days left! I hope you enjoyed these pics from my first outfit. Next post will be about the event that I hosted. I've still got to share images from the shows, the rest of my looks and I will probably do a NYFW diary post as well. Lots to come! Thanks for all of your support I love you guys <3
And a special thanks to Ryan for shooting with me the first 3 days!
XO