Happy Wednesday lovies!  The weather over here has been pretty crappy the past two days with on and off rain.  I wasn't going to post anything today because for the first time I had to use the self timer on my mom's Nikon and let's just say that it was a mission lol I didn't really know what I was doing so I had to run back and forth to the camera every 10 seconds.  This was the only good shot that I got!  So I decided last minute to post this up anyway 🙂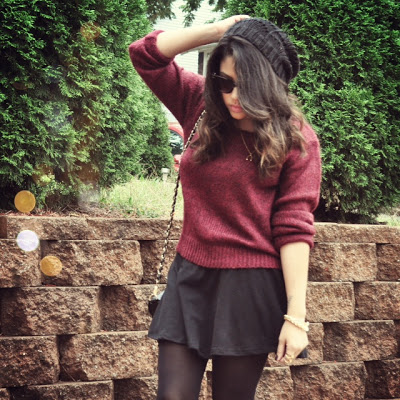 Sweater, Beanie & Tights: H&M/ Skirt: Charlotte Russe/ Bag: Forever21
I was going for a chic Fall look by pairing a sweater over a skirt with tights, booties and a beanie.  This is obviously not a full length shot, but I'm wearing the Steve Madden booties from my last post.  The color of my sweater, oxblood/burgundy, is actually a huge color trend this season.  I'm sure you have been starting to see it everywhere.  I got this beanie last year and I absolutely love it.  I think that they are a must have for the Fall because they look so cute!  You can dress them up or down.  The perfect way to wear skirts and dresses when the weather cools down is with a pair of tights! You can go with simple black ones like these, or try a pair with a design.
I went with simple gold accessories and I'm wearing my wishbone necklace courtesy of
Happy Wrist
!
Here you can have a better idea of the full look.
I'm sorry that this was so short and not a regular outfit post, but I hope it gave you a little inspiration!
The next few days are going to be super busy for me.  Tomorrow, I'm working with a client to clean and organize her closet and take her shopping for new pieces to add to her wardrobe.  I'm so excited because I love doing this.  I have another appointment set up for next week.  If you are interested in these services please email me aloveaffairwithfashion@gmail.com for fees and details! You must be in the NJ/NY area.
I also have a wedding this Saturday that I still have no idea what I am wearing to! And an event on Sunday for the Style network that I am super excited about! Busy little bee!  I will do my best to get outfit posts up in between.  Enjoy your day dolls!
P.S. Now you can SHOP MY CLOSET!
<3