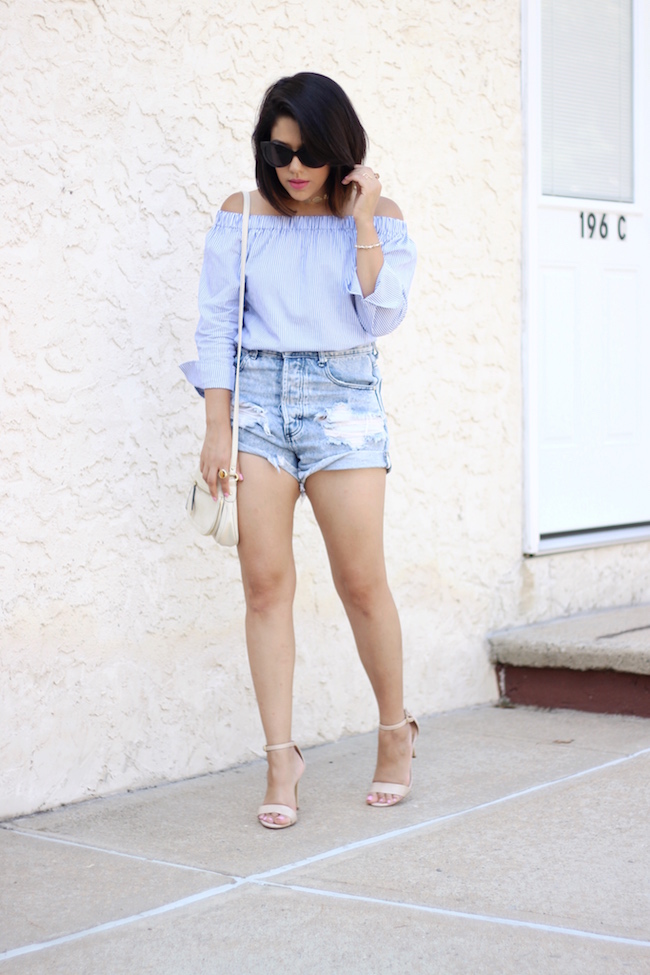 Happy Tuesday loves!
I wasn't lying yesterday when I mentioned this whole off-the-shoulder obsession.  I bought this top at Zara right before my trip and it was another piece that I was hoping to wear in either London or Paris.   I actually tried to, but it was just too damn hot and humid. I found this top amidst the craziness of the big Zara sale.  It was full price, but I just had to get it.  They also have another top that is super similar, but the sleeves are longer and the stripes are slightly different.
What I'm Wearing 
Top: Zara [also love] | Shorts: One Teaspoon [similar style]
Shoes: Aldo [also love] | Bag: Apt9
Choker: H&M [similar] | Sunglasses: ThreadSence [old, similar]
 My initial thought was to style this top with my white denim.  I am always gravitating towards that lately, so I decided that I had to switch things up. I went for my favorite distressed denim shorts instead and I'm happy that I did because I really love this look! Also, it ended up being muggy the day I wore this outfit and I don't think that I would have survived in jeans. I actually think that the top worked better with the shorts anyway.  I have to be honest and say that I wear these shorts at least once a week and I have no shame!  I got these last Spring and they literally became my go-to ever since for the warmer months. I don't wear any other jean shorts because these are just too freaking good.
Petite Style Tip: If you are tiny like me [4'11] and want the illusion of longer legs, try pairing your shorts with a thin ankle strap heel or pump.  I feel like I always look much taller than I actually am!  
It feels good to be posting new content again!  It's always so hard for me to get back into the swing of things after a trip.  I've got one more new style post coming up this week and then my Paris Diary on Friday.  Hope you enjoy all of the posts. 🙂