This is my last post for my holiday campaign with
Tommy Hilfiger
and I finally get to reveal my mannequin with you all!  I hope that you have enjoyed the posts and I appreciate every single person who went to the store to see my display.  For this last look, I took my love for plaid to another level 🙂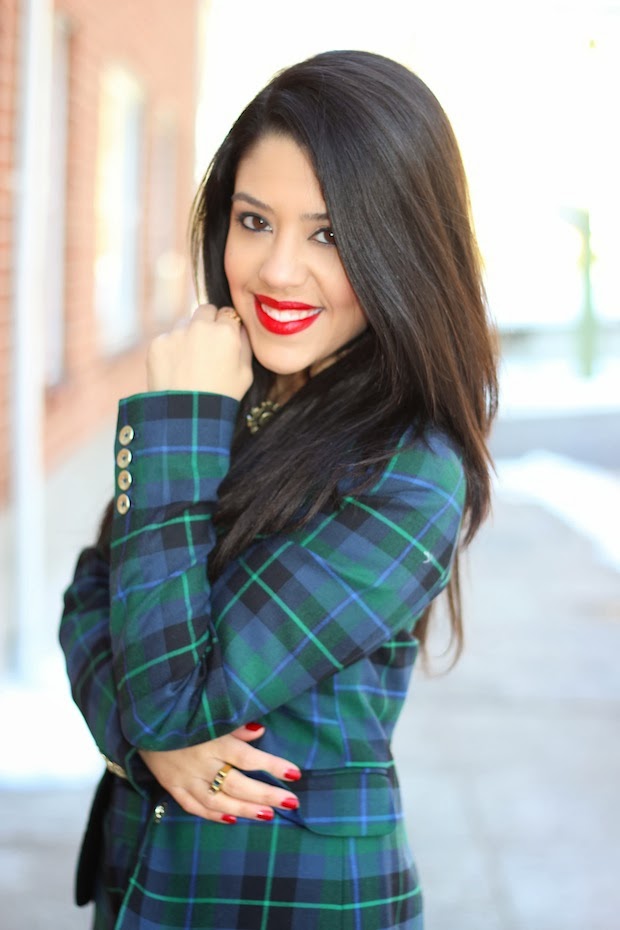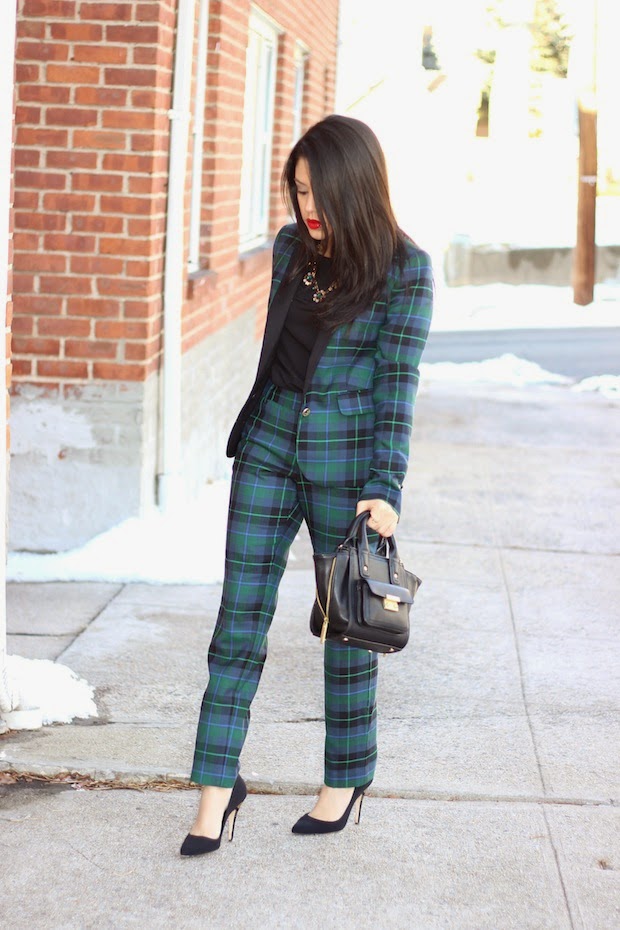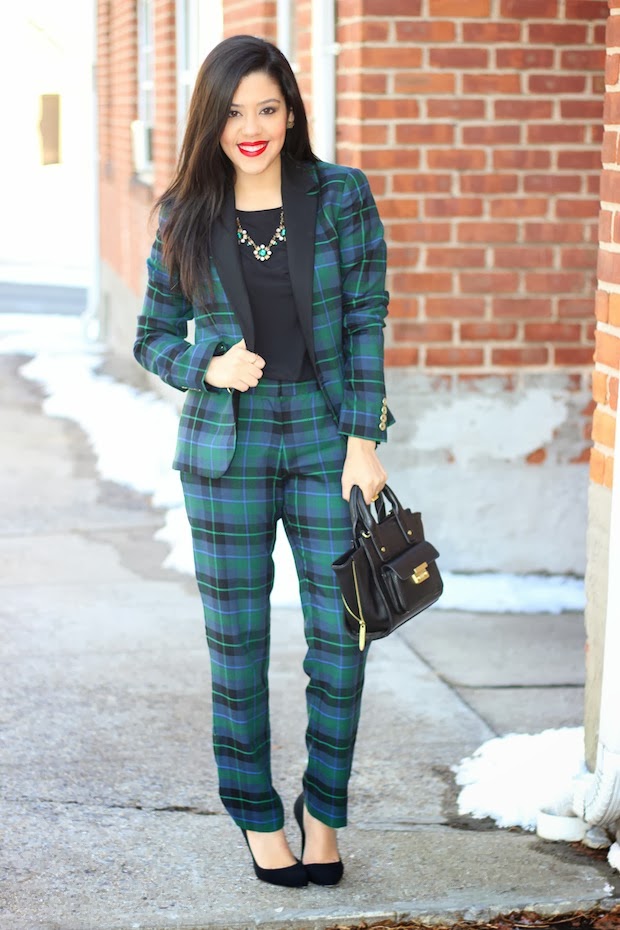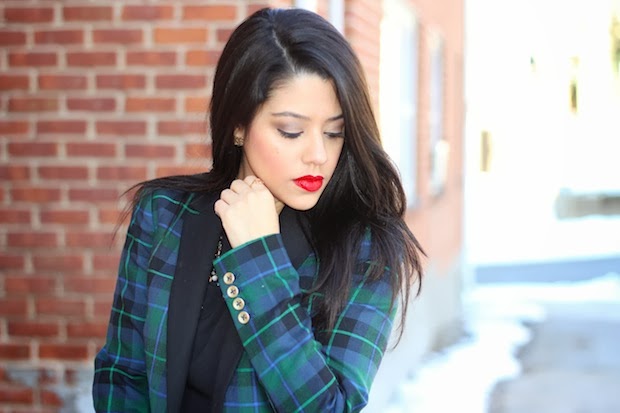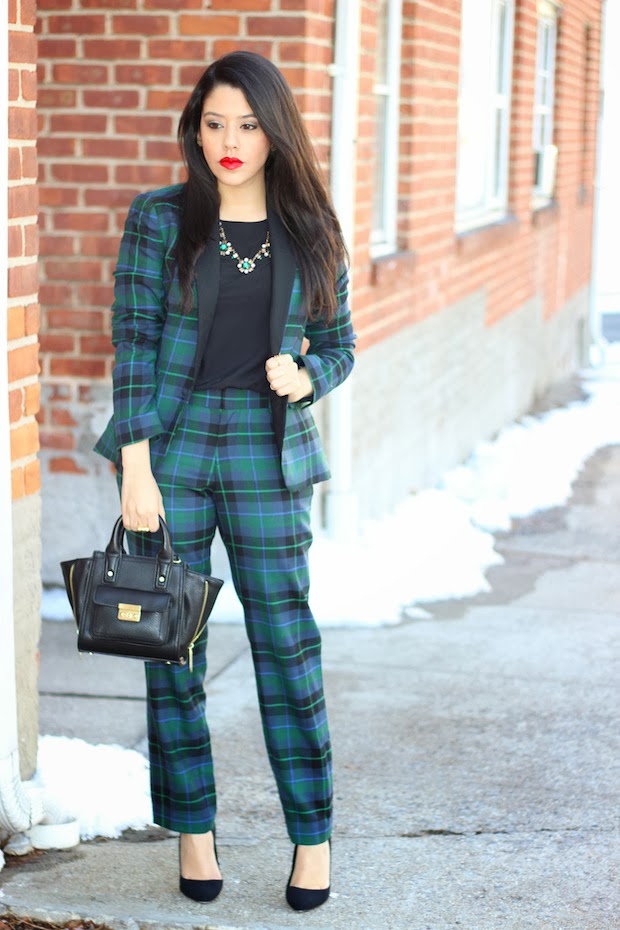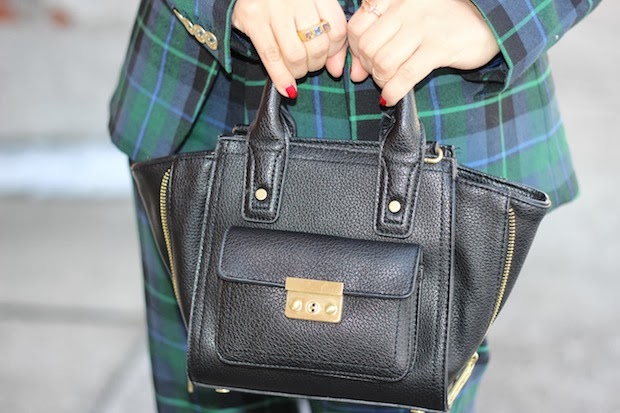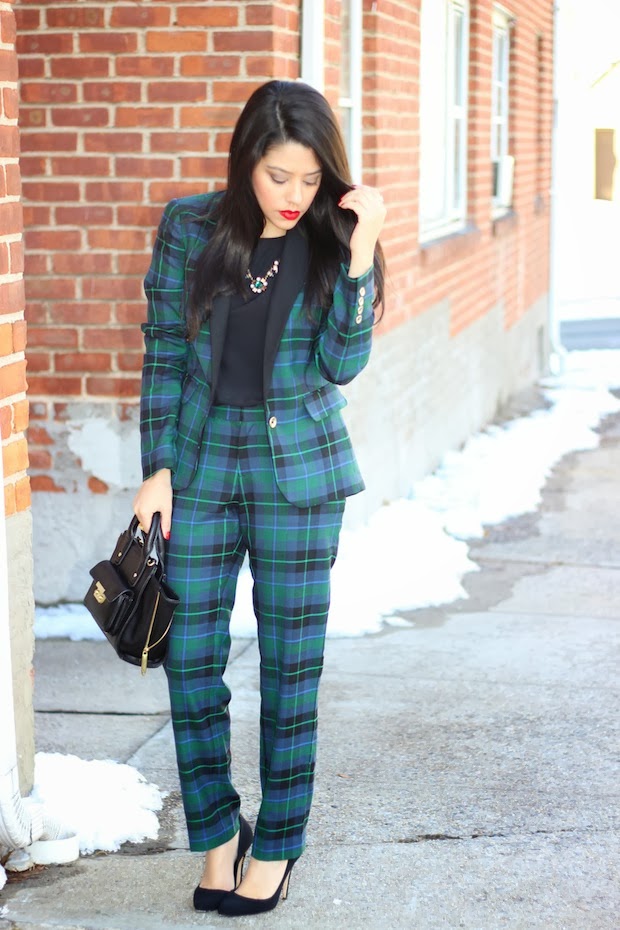 Necklace:
Capwell
(gifted)/ Bag: Phillip Lim x Target
I wore the blazer and pants separately already, so I wanted to show that you can also wear them together to create a plaid suit.  I love pieces like this because they're extremely versatile.  It's kind of been a plaid theme on the blog all week and I didn't do that intentionally, but I guess it really shows how much I am loving it especially in this green and navy color combo.I decided to keep it basic with a black top, shoes and bag but wore this necklace to make the green in the print pop a little more.  A suit like this is a huge statement outfit because it's really bold, however it's not over the top.  It's really chic and trendy and you could wear it to so many different places too.  I really wanted to show how you can get the most use of these pieces.
These are just 3 different ways to style them, but of course there are many more options.  The theme with all of these looks was a red lip!  I just love how it pops against the print.
And now for my mannequin and some special pics from my display….
Surprise Surprise!  I styled her in the plaid suit and she looks better in it than me!  The only difference is the top which has a pretty ribbon and this green bag that I was obsessed with.  I love how the bag pops against the plaid print.  I also put some sunglasses on her to give her that cool factor 🙂 I didn't decide to wear the plaid suit until a week or so after I styled the mannequin so unfortunately I didn't have the same top but I still made it work with other pieces that I had at home.  I am so petite so if I was a little taller, the suit would have been a little more fitted on me but I still love it!
These are all the amazing signage that they made for my display: a banner next to the mannequin, a sign on the rack with all my top picks, and special hang tags for all the pieces on my rack!  This was such a fun and awesome experience and I am so happy that I was able to be apart of it.  A huge thank you goes out to everyone at the Tommy store at the Garden State Plaza.  Everyone was so helpful throughout this entire project.  And a special thanks to Sandra and Francesca for setting this whole thing up and working with me this past month.
I hope you all enjoyed this holiday project! Thanks so much for taking the time to check it out 🙂
Happy Weekend dolls.
XO
* This has been a sponsored post in collaboration with Tommy Hilfiger.  This post was written by me and expresses my true opinions.