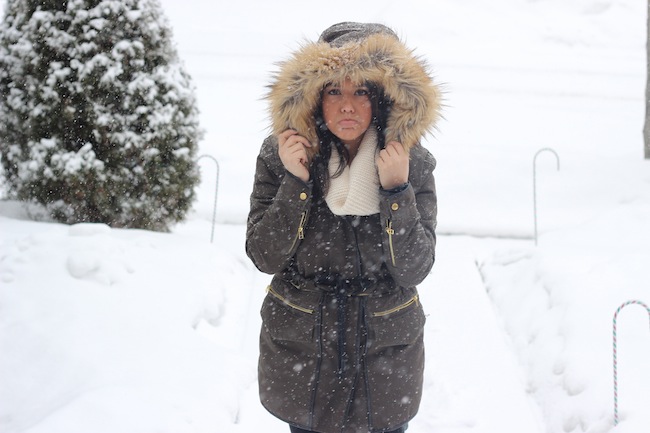 This is my "Winter, I'm so over you" face. But really though, snow again?! I don't want to be the one who always complains about the weather, but this has felt like the longest winter ever. (that sounded poetic) I haven't been able to shoot much this week, so I have been thinking of different topics to post about. I seriously need to step up the beauty genre and I have so many ideas for some upcoming posts. For today though, I thought that I would share some love for one of my favorite apps.
I'm an iPhone app junkie, which is probably one of the many reasons why I run out of memory so quickly. I cannot wait to upgrade to the iPhone 6 and get the 128GB. This 32 GB is just not cutting it for me. Anyway, I have mentioned the Poshmark app before, but I wanted to get into a little bit more detail about it as well as my own personal experiences on the app as both a seller and a buyer. A few people have asked me questions so I figured I would just answer them all here. 🙂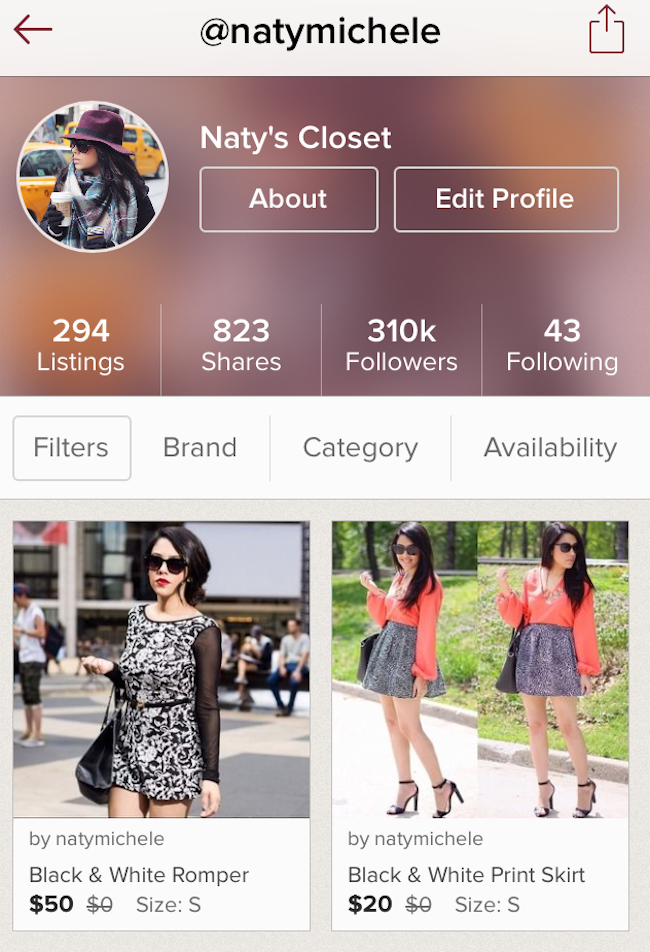 In case you haven't heard yet, Poshmark is sort of like a thrift shop, but it's in the form of an app. It's grown into this fashion community where hundreds of thousands of girls can sell things directly from their closets as well as search for some amazing finds. Like they say, "One man's trash is another man's treasure." It's really become more than just buying and selling though. They have hosted conferences and happy hours, where posh users have been able to meet each other in person and learn about some great tips & tricks for selling as well searching for the things that you are lusting after. The "poshers" show each other so much love and I think that's one of the many reasons why it has become it's own little community. You have the ability to share someone else's listing, so say you come across an item that you love, but it's not your size, you can share it to the girls who follow your closet. You don't find this on eBay. They also host in app posh parties as well as live ones focused around a specific theme. This is a great opportunity to have your closet listings shown to so many users on the app. The party hosts also share their favorite listings as well, so it's great exposure.
When it comes to selling, this is sort of my routine or technique. I clean out my closet and drawers every few months. I make a pile for the clothes that I want to donate and a pile for the ones that I want to sell on the app. When creating a listing in my closet, I do my best to use photos of me wearing the pieces. These listings do the best because people want to see how the clothes look when worn.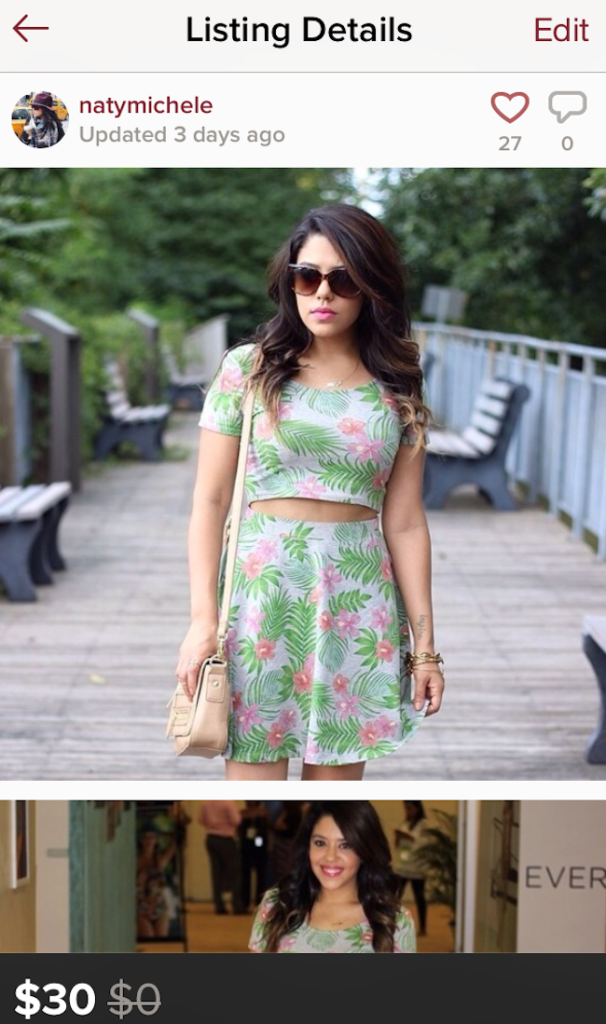 For pieces that I have never worn before for whatever reason, I do my best to take a good product shot of it and list as many details as I can.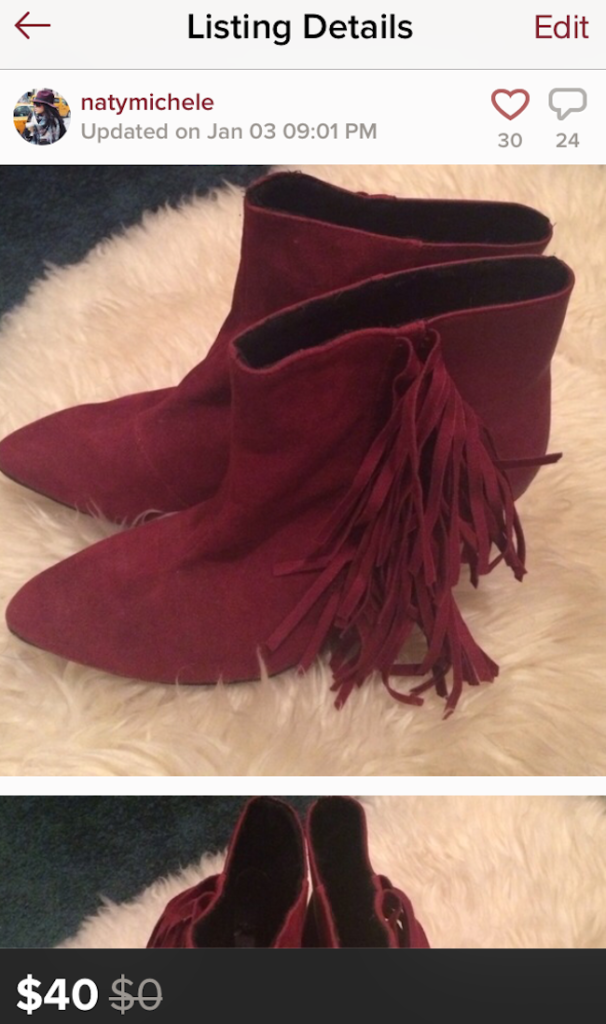 Then I come up with my price and list the item. Poshmark keeps 20% and the rest goes to you. Your balance is kept in your account and once the item is delivered and accepted to the buyer, you can direct deposit that money straight to your bank, request for a check, or use that balance to shop in the app. Once an item is sold, you literally just print out the shipping label, package it up and drop it in the mailbox. I try to make my packages somewhat pretty and I always send a thank you card. Adding a personal touch is always a great idea. Also- you can create bundles, which means that if someone wants to purchase more than one item from your closet, they will only have to pay for shipping once. See below for example.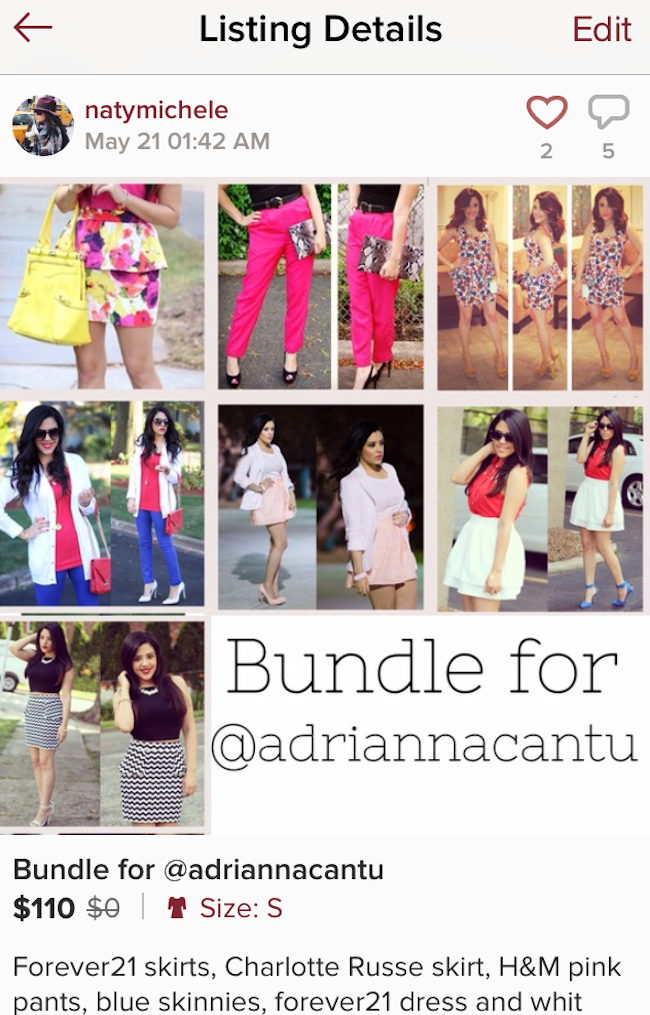 I have had some really great experiences with selling on Poshmark over the last 2 years and have met some incredible people through the process. Now, let's get into buying. I have only purchased a few things on poshmark, my favorite being the Clare V leopard clutch and these nude Zara sandals.
With these items, I knew exactly what I was looking for so it was easy for me to type that in the search. Luckily, I scored both of these items brand new. You can negotiate prices by submitting an offer to the seller, just like people will try and talk you down on your own listings. You can "like" listings as you find them and then go back into your "likes" at any time when you decide on making a purchase. You're able to search for items in your size and narrow down by brand, color, etc. Be as specific as you want to be when searching. This helps a lot. You can even create a list of your closet crushes, which makes it easier to shop their closets. They are always updating the app, so there are a ton of new features. There is also a FAQ page within the app in case you still have some questions.
You can create your own account on Poshmark via the web or your iPhone/Android and start selling and/or buying! Just note that currently, this is only available within the US. My closet name is NatyMichele. I would be more than happy to share your listings with my followers, so if you create an account just let me know your username! Hopefully this post was helpful to you and possibly introduced you to something new. If you have any other questions about the app, just let me know below. 🙂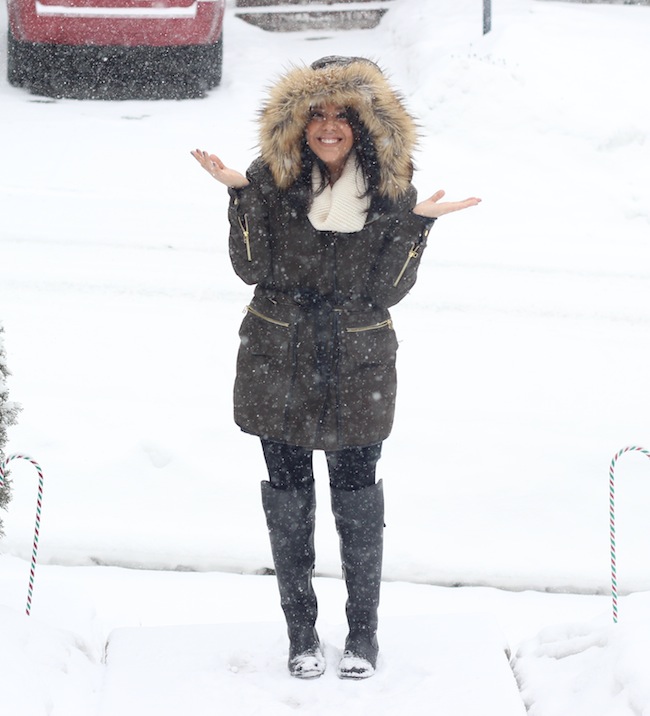 Wishing you all a happy weekend. We are finally getting more sunshine over here in Jersey. Yay! I've decided to stop fighting the snow. The more I fight it, the more it snows. lol So maybe if I just embrace it, then it will go away!