Yesterday was the first day of fall, but where I live it still felt a little like summer. My outfit was inspired by two simple things: love and a common trend that I have been seeing amongst other fashion bloggers.  I've worn a graphic top and skirt before (here) but I honestly never thought to do this with a peplum skirt.  I saw some photos from one of my favorite bloggers Song Of Style during NYFW wearing this trend and I really loved the feminine/edgy combo.  Another blogger that I love, Studs & Sapphires, posted a photo on instagram with a similar style outfit and it really made me want to rock this trend in my own way.  So I did!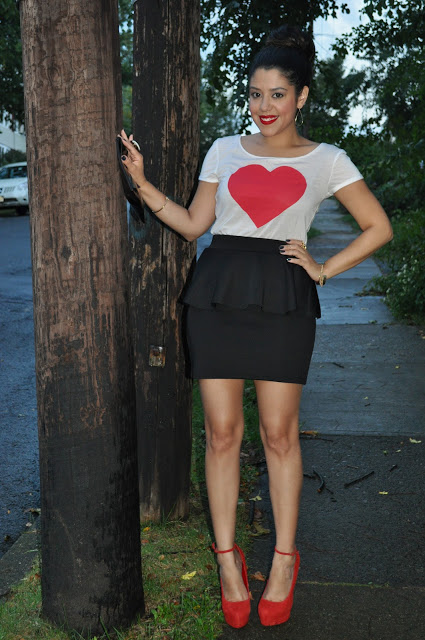 Top: H&M
Skirt: H&M
Shoes: Steve Madden
Clutch: H&MI don't have many graphic style tops and I thought this heart one was adorable.  Plus, I'm all about spreading the love.  As soon as I saw this peplum skirt I had my entire outfit planned out already.  Peplum is still a big trend for fall.  I just really love it and even if it wasn't trending, I would still wear it.
I was really excited to wear these Steve Madden shoes again because they're super hot!  The only time I wore them was in AC for a bachelorette party and I didn't get to do a regular outfit post.  As I mentioned then, I got these on sale for $40 marked down from one something.  Not bad right?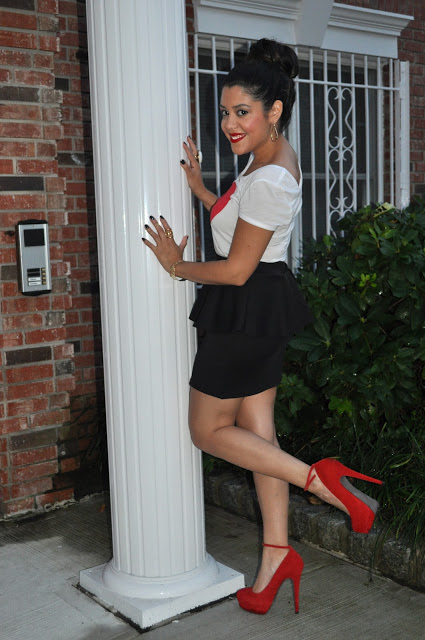 I went with this simple small black clutch and threw in some gold & white accessories.  I have on my Lovely Obsessions arrow bracelet again.  I thought it went cute with the whole heart theme.  My big white ring is from Aldo and the cuff bracelet is H&M.  I've got MAC Ruby Woo on my lips and ESSIE Bobbing For Baubles on my nails.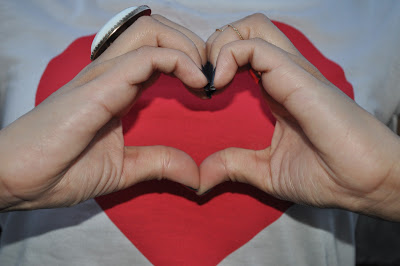 So how do you feel about wearing graphic tops with peplum skirts?  As you can see, I love it!  It's funny, because people always tell me that even when I do something a little edgy, I still manage to make it chic!
One last thing, don't forget to enter my giveaway with Happy Wrist!  It ends tomorrow night and I am loving all the entries so far! Enjoy your day dolls!
XO