I mentioned that I was going to be adding a new addition to my weekly posts, so today it's a review on:
 AVEENO's Positively Radiant Intensive Night Cream
.
I received this product from
Influenster
and it also came with an eye mask that I used with the product.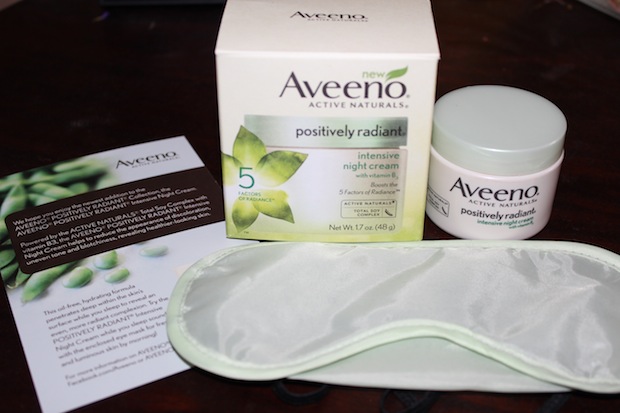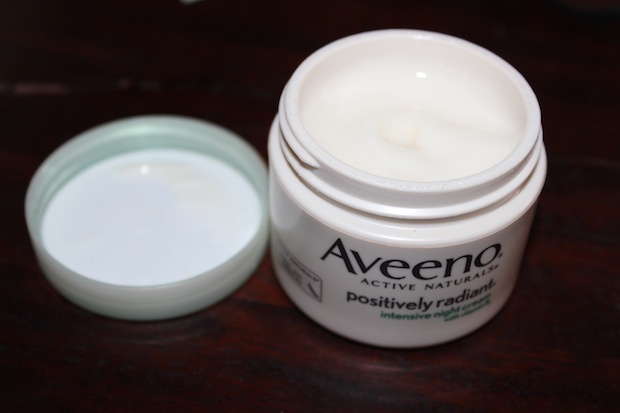 As I have gotten older, I've really learned to take better of my skin.  So many decisions that we make when we are younger truly do affect us later on.  I really regret not wearing SPF all of the time especially with all of the tanning that I used to do.  It's given me somewhat of an uneven skin tone that I have been trying to fix.  A few other problem areas that I have faced with my skin are blotchiness from time to time and a few dark spots.  I've tried many things like the typical cleansers, toners and moisturizers as well as exfoliators, serums and even eye cream.  Nothing really made that much of a difference for me, until now.
WHAT IT IS
Aveeno Positively Radiant Intensive Night Cream is an oil free, hydrating formula that penetrates deep within the skin's surface while you sleep to reveal an even, more radiant complex.
WHAT IT CONTAINS
Active Naturals: Total Soy Complex boosted with tone-evening vitamin B3 to help keep you looking luminous and fresh.
WHAT IT DOES
It gives your skin an extra boost on all
5 FACTORS OF RADIANCE
:
MY REVIEW 
I've been using this product for 7 days now.  All you have to do is smooth the cream all over your (clean) face and neck before bed.  The first few times I used it, I felt a little burning sensation.  After reading a couple of other reviews, I found that this was a common occurrence with many people so I didn't think much of it.  One of the things I love about the cream itself is that it's not too heavy on my skin and it absorbs pretty quickly.  I also love it's light scent. Every morning after waking up I noticed that my face looked a little brighter and not as dull as it used to.  My skin was also silky smooth and really felt moisturized.In just a week's time I have noticed improvements with my skin tone and it appears to look more even than before.  I think that the more I continue to use this, the more of a difference I will see.  I also noticed that I don't have any more blotchiness and the dark spots are fading.  My skin feels and looks better. I really think that this is a great product to incorporate into your every day skin care routines.  It's actually my first time using a night cream and I really don't have any complaints! My skin type is normal to dry and this has definitely helped with the dryness. I've used other Aveeno products before and have always been a fan.  I truly recommend this cream. You can buy this product for $16.99.
MY SKINCARE TIPS 

Use SPF every day
Drink lots of water daily
Always take your makeup off before bed
If any of you have used this product or decide to use it, I would love to hear your feedback on how it has worked for you! If I have time later today or tomorrow I will make a video review for this product on my youtube!
*I received these products complimentary from Influenster for testing purposes and this post reflects my honest opinions*
*
*
*
AND THE WINNER OF THE GIVEAWAY IS….
JENNIFER ARRINGTON


Congrats! I will be sending you an email!
Thanks to everyone who entered.. more giveaways soon 🙂