Happy beautiful Sunday!  It's been in the 80s today and this is what I consider perfect weather.  No humidity and a nice cool breeze! Since I was basically in all black last night, I wanted to switch it up this afternoon with some nice colors.
 Blouse: Courtesy of Gypsy Warrior (
Here
)
Jean Shorts: Forever21
Shoes: Mojo Moxy
Bag: Mandee
Sunnies: Ray-Ban
Lipgloss: MAC Pink Poodle
I'm wearing this lovely draped blouse with rainbow feather print all over.  The front is v-neck and the back has shred detailing which I love.  I also love the sleeves on this because they poof out.  It's super cute!  The blouse is sheer but comes with a lining underneath which is great.  I really like the color combo.  Check out some of the other great tops at Gypsy Warrior!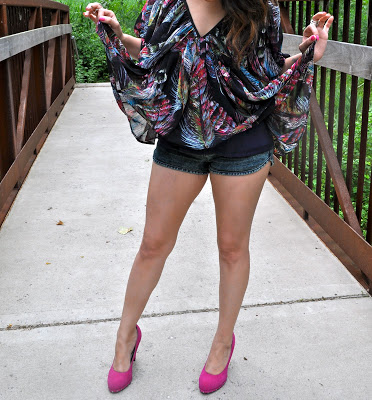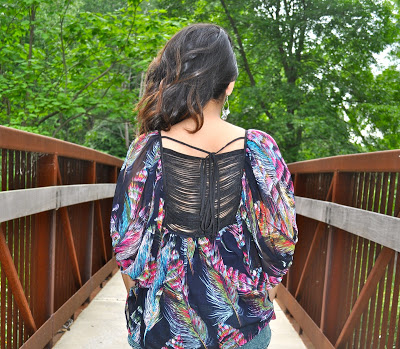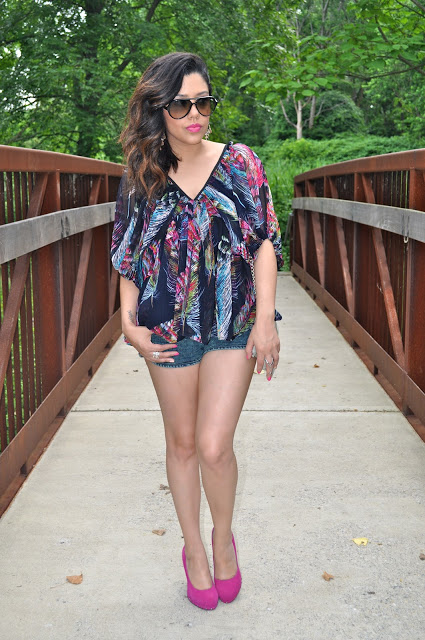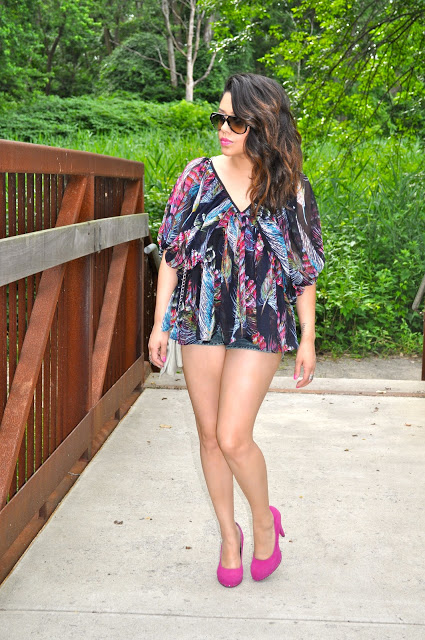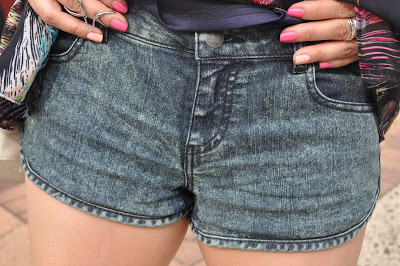 I decided to pair this with my new jean shorts that I showed in my Forever21 haul.  They'e called "Colored Denim Dolphin Shorts." I really like the way they are cut on the bottom.  I wanted to bring out the pink in the top so I'm wearing these shoes that I purchased at a boutique called Carina inside the Borgata hotel down in AC over a year ago.  I always forget about these!  The bottom part has studs going around the front and sides.
I just went with a neutral bag and silver accessories.  Nothing too much today and no arm candy.  I have on pink gloss to match and  I decided to pin my hair over to one side.  I really like this look!  Another weekend has come and gone and I hope that you've all been enjoying it!  I can't believe that June is almost over.
Tomorrow I'm going to Moxie Salon for my make over and I'm really excited! Can't wait to share photos.
XOXO