I've nailed down a simple everyday makeup look that I wanted to share with you guys today.  I sometimes get questions on instagram about the products that I use and since those products tend to change, I think it's good to do updated beauty posts.  Let me start this off by saying that while I do use drugstore brands, the majority of cosmetics used in this post are from Sephora.  I definitely have an addiction to that store and love that you are able to return products, even after opening, if you are not satisfied.  You can totally use drugstore products to achieve this look as well.  It all comes down to personal preference.
There are times when I do a "no makeup, makeup" look and I keep things super minimal.  When I am going out during the day for meetings, errands or anything else, I typically do the look in this post.  It's still simple and easy to do.  There are a bunch of different products used, but what I love is that it doesn't look there is too much makeup on. For me, that is what I strive for.  Let's get to it!
After cleansing and moisturizing, I start with my foundation.  I apply this by starting in the center of my face and then blend outwards.  I just recently changed foundations and have been using this one from NARS for the past two months.  Previously, I had been using Make Up For Ever for about two years, but I wanted something that had a little bit more coverage and so far this one has been doing the trick.  I tried the sample for a few days and fell in love so decided to splurge and get the full bottle.  It's definitely pricey, but one drop goes a long way so I know this will last me for awhile.  I had read some reviews and a few people complained about this drying out their skin.  It has not happened to me as of yet, but I make sure that I continue to moisturize both morning and night.  I
also just got this new foundation brush too.  The one that I had before started to shred.
Next up is concealer.  I am still using the full cover one from Make Up For Ever.  I put this underneath my eyes and on any blemishes or dark spots.  My main issue is covering up small pimple scars.  I usually only get pimples when it's that time of the month, but they always come out in the same areas which is really annoying.  Here's a little tip with applying concealer.  Dab, don't smear.  I used to do this wrong for so many years.  I would literally smear all of the concealer dots together and then wonder why it wasn't actually covering my dark circles properly.  When you dab the concealer, it will give you less streaking and a more even coverage.
This is my favorite step because it's quickly become my favorite product.  After my concealer, I add a highlight from YSL and let me tell you it has worked wonders for me!  It's been one of the best beauty investments that I have made.  I know I mentioned this product in a previous post, but now I have been using it for several months.  It really helps to brighten up underneath my eyes and other areas on my face as well.  I also add a little bit around the edges of my mouth and above my Cupid's bow. If you are looking for a good liquid highlighter but something more inexpensive, I also recommend Physician's Formula Nude Wear Touch Of Glow.  It's not going to give you as much coverage, but it still works well!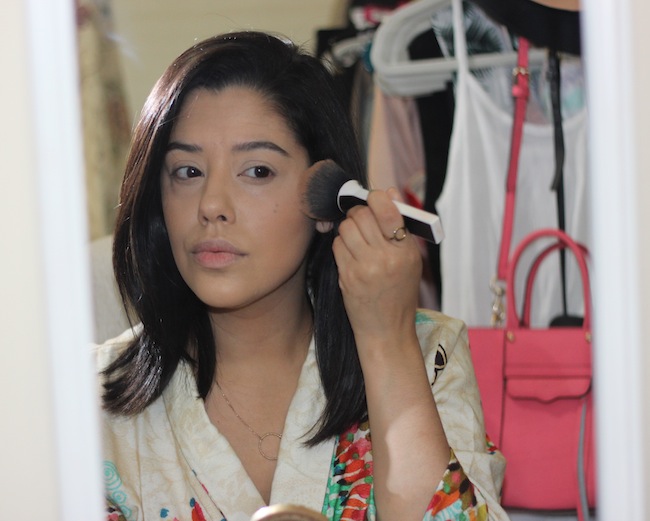 The next step is bronzer.  I've learned to always apply liquids before you apply any type of powder.  For just every day wear, I still use Too Faced Chocolate Soleil Bronzer, but for night time I will do a little bit of contour with my Anastasia Beverly Hill's palette.  I add powder to my cheekbones, the corners of my forehead, and my jawline and then blend.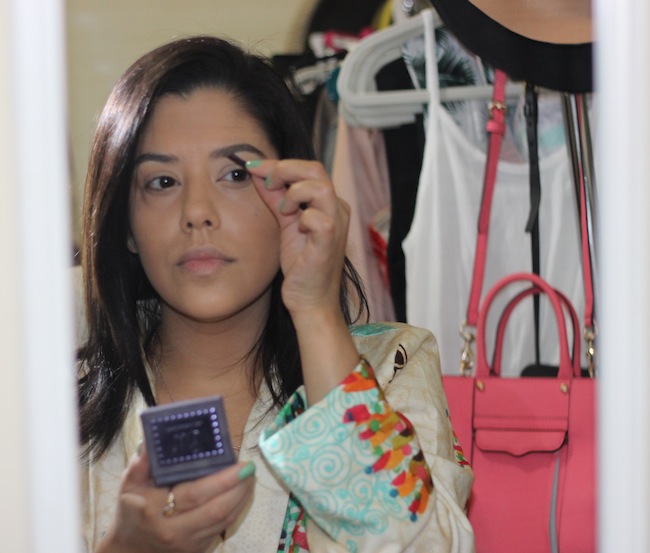 After that, I fill in my eyebrows with this Urban Decay Brow Box.  I only use a little bit.  A secret on my brows is that I do them myself.  I got them threaded for years until someone completely messed them up and they were uneven.  The worst!  After that it got really hard for me to trust anyone else with my brows so I let them grow back in and I just trim and tweeze them on my own. Filling them in just helps to make them stand out more.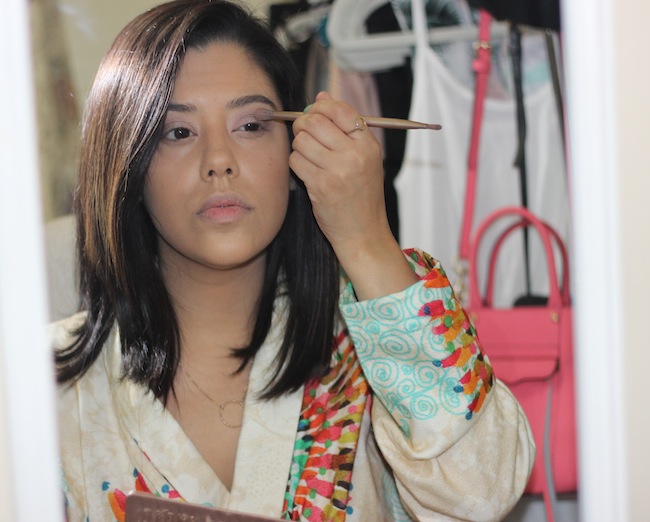 I use an eyeshadow primer more so when going out at night, so during the day I just apply neutral shades from one of my Naked palettes.  Currently I have been doing more pink tones with the Urban Decay Naked 3 Palette.  To keep it simple, I just blend two different colors together.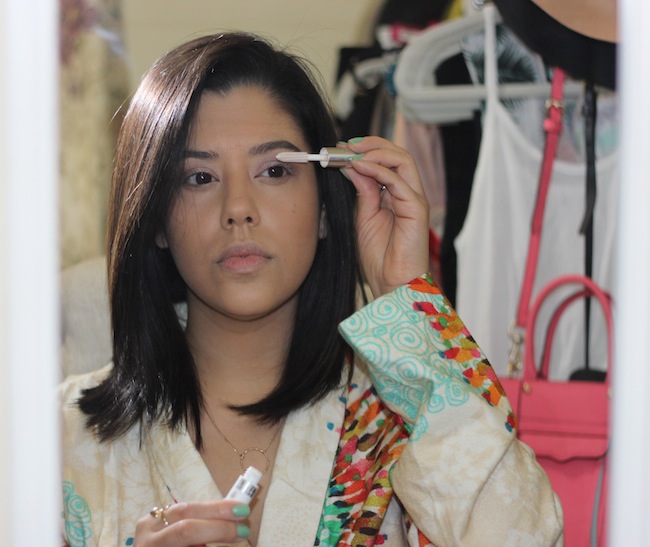 I got this as a sample from Sephora and even though it's pricey, I think I am going to purchase the full bottle when I run out.  This is the first time I have ever used a primer on my lashes and it's actually made a huge difference with my mascara.  This is the Dior Maximizer Lash Plumping Serum.  I only wear false lashes for a special occasion.  For me, I do not want to wear them every single day.  As long as my natural lashes look long and full, then I am good to go!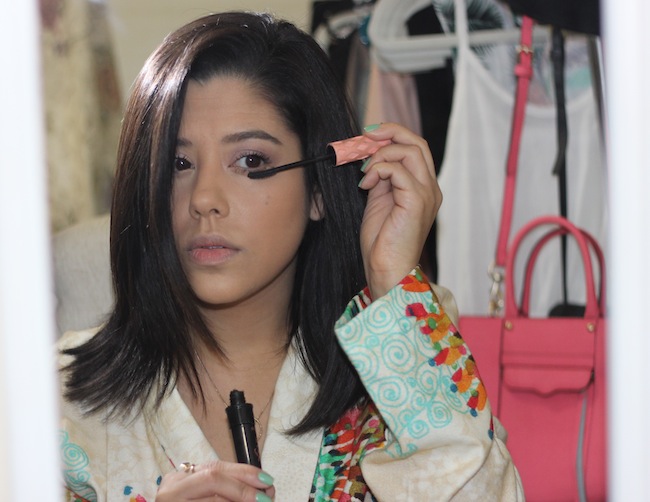 Now it's time for the actual mascara and I am still using Benefit Roller Lash. It's one of my favorite mascaras that I have ever used.  This combined with the primer makes my lashes pop out so much more!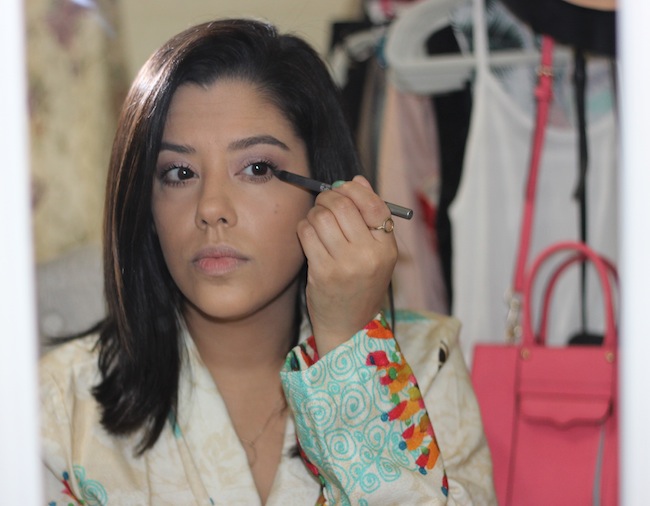 Over the past several months, I stopped applying liquid eye liner to my top lid for during the day.  I used to do this all the time and it's just too much.  I prefer to do liner on my top lid at night only.  The truth is I was so used to it that I felt so weird without having a top liner on.  Once I nailed down the proper mascara, it was enough to make my eyes pop without needing it.  For during the day, I add a pencil liner to my bottom lid.  This one is Urban Decay 24/7 Glide-On Eye Liner.  It's my favorite pencil liner.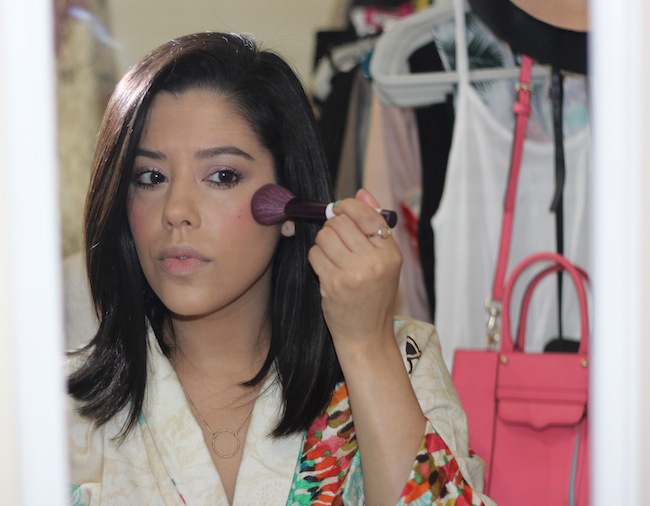 I don't know why, but my blush is usually one of the last things that I put on.  It's kind of like the cherry on top.  I am still using this one from NYX and love it.  I am about to run out though so I might try a different one to see what I like best. I prefer light pink blush to add more color to my face.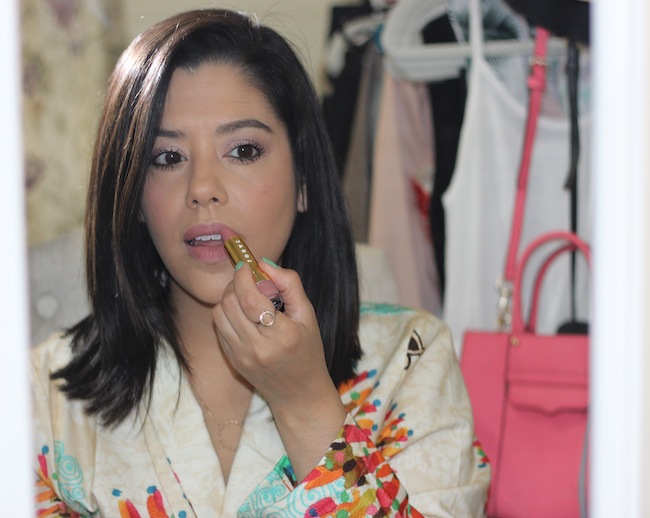 The last step is my lipstick and for during the day I go with either a nude or pink shade.  This one is Duchess from LORAC.  I love their lipstick because they're super pigmented and go on very super smooth.
So there you have it!  It's just enough, but not too much.  I hope you enjoyed today's beauty post and if there is anything specific you would like to see please let me know! I plan to do more makeup looks soon. Thanks so much for checking out today's post and thank you so much to everyone for your sweet words on my previous post whether you left them on here or on my social channels. Seriously love you guys!
Cheers to the weekend! <3