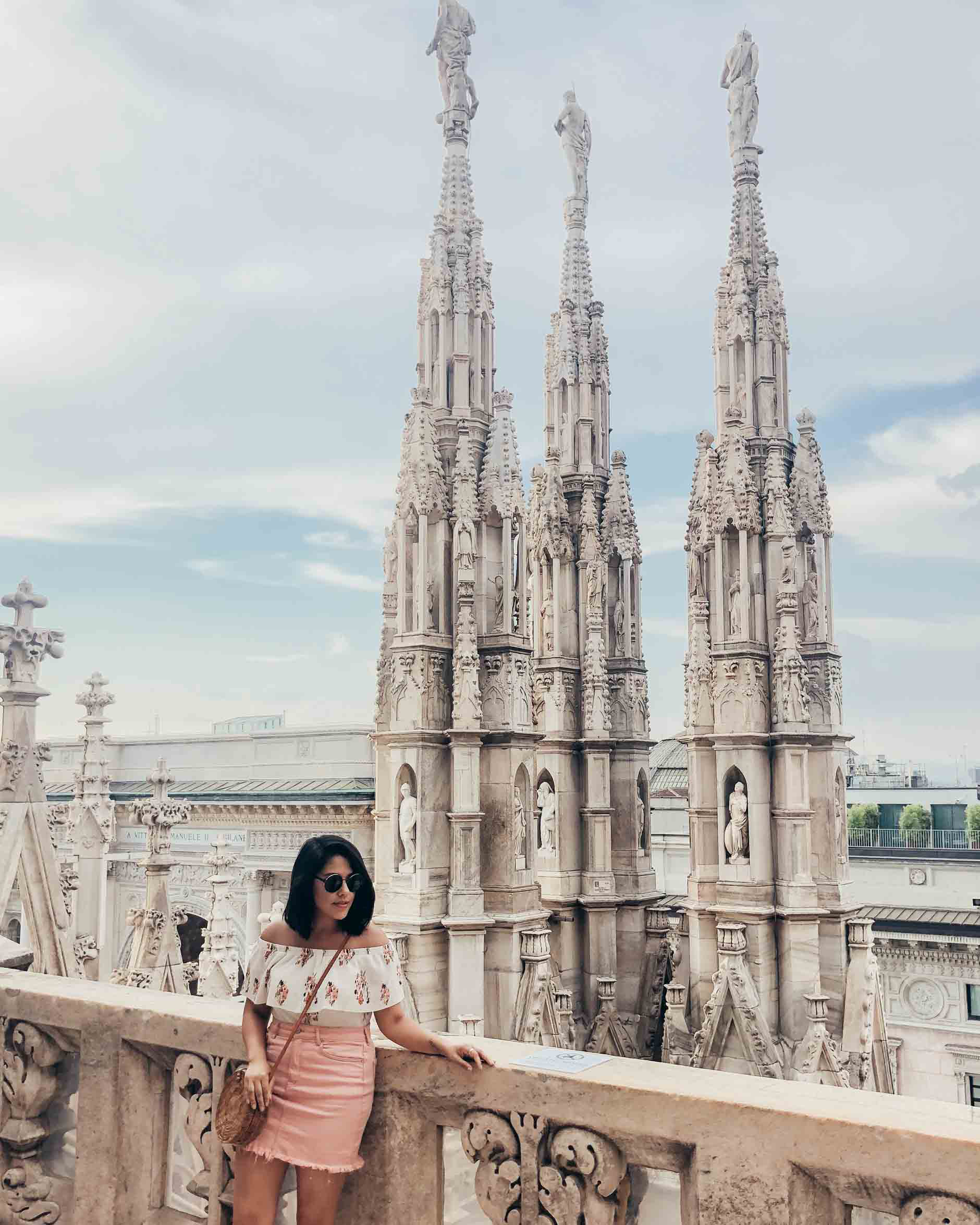 Milan Gave Me Spontaneity.
Initially, Milan had not been at the top of my list for must-see cities in Italy on this trip, but by changing my flight home from Venice to Milan, I ended up saving almost $700 on my plane ticket! I decided to end my travels here with two nights before heading back home.
Milan is beautiful in its own right, but it truthfully was my least favorite of all the cities I traveled to in Italy. It's more industrial and as a solo traveler, I didn't enjoy myself as much as I did in the other places. If I had been there for a specific purpose, like Milan Fashion Week or if I had been there with friends, I probably would have liked it more. I don't think I knew enough of what to do and where to go. Since it was the last leg of my trip I had decided to just wing it and maybe that's why I didn't fully enjoy my time there. It seemed like I was ending this incredible trip on such an anti-climactic note. I instantly felt I needed to stay in Italy. I just knew that there was more I had to see and I was not ready to go home.
I could not fight that feeling. My father's 8-year anniversary was coming up that weekend and the thought of him gave me that extra push I needed. I made an impromptu decision to change my flight and extend my stay until the end of the week. I decided to use Milan as my home base in Italy and did several day trips during those few extra days that I gave myself. It was the BEST decision! I got to experience even more than I had planned for or imagined. This gave me the opportunity to be spontaneous and adventurous by hopping on a different train and heading to a new city every day. In a strange way, I think that if I had loved Milan I would not have done this.
I'm still going to share the things that I did in Milan during those initial 2 days because even though it wasn't my favorite place, I'm still thankful that I had the experience. There were definitely a few highlight moments for me that I will share below! I'll be posting about my day trips separately because I think that they deserve their own posts, but so you know what to expect I went to Verona, Lake Como and Lugano, Switzerland!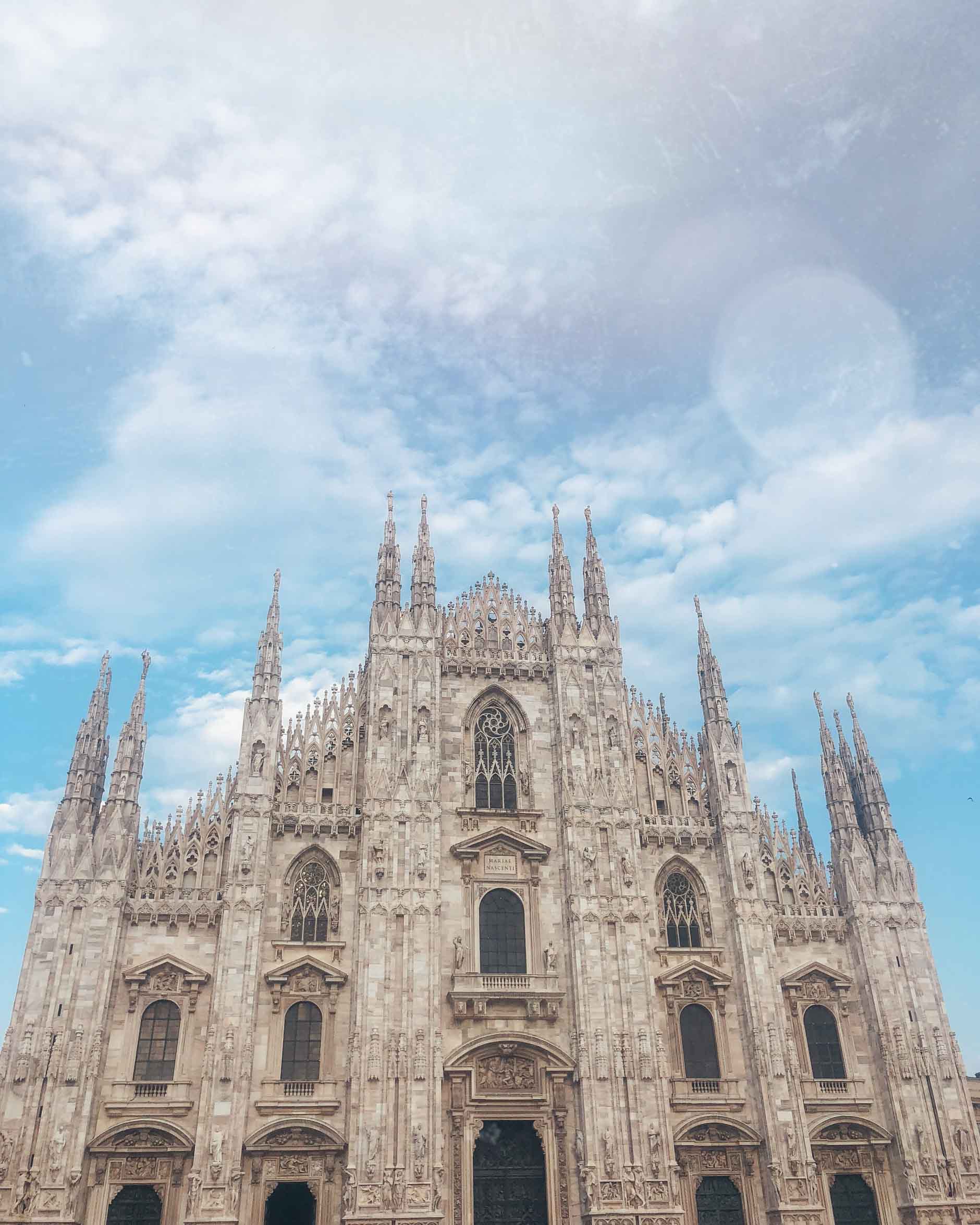 I randomly found and picked my hotel on Trip Advisor after reading tons of reviews. I decided to stay at Hotel Gran Duca Di York. It ended up being my most expensive hotel, but I also stayed there for the longest amount of time. My stay included complimentary breakfast, which I took advantage of every morning before my day trips. The hotel is tucked away on a side street that takes you out of the chaos of Milan, but it's a quick 5 minute walk over to the Duomo area. When traveling alone, I like to stay in hotels that are right in the heart of it all. Even though this was in a good location, I kind of wish it had been on a busier street like my other hotels.
My room was huge compared to all the other hotels that I stayed in. The staff was super friendly and helpful, always printing out my train tickets at the front desk. They were super accommodating when I asked to extend my stay. It all ended up working out perfectly!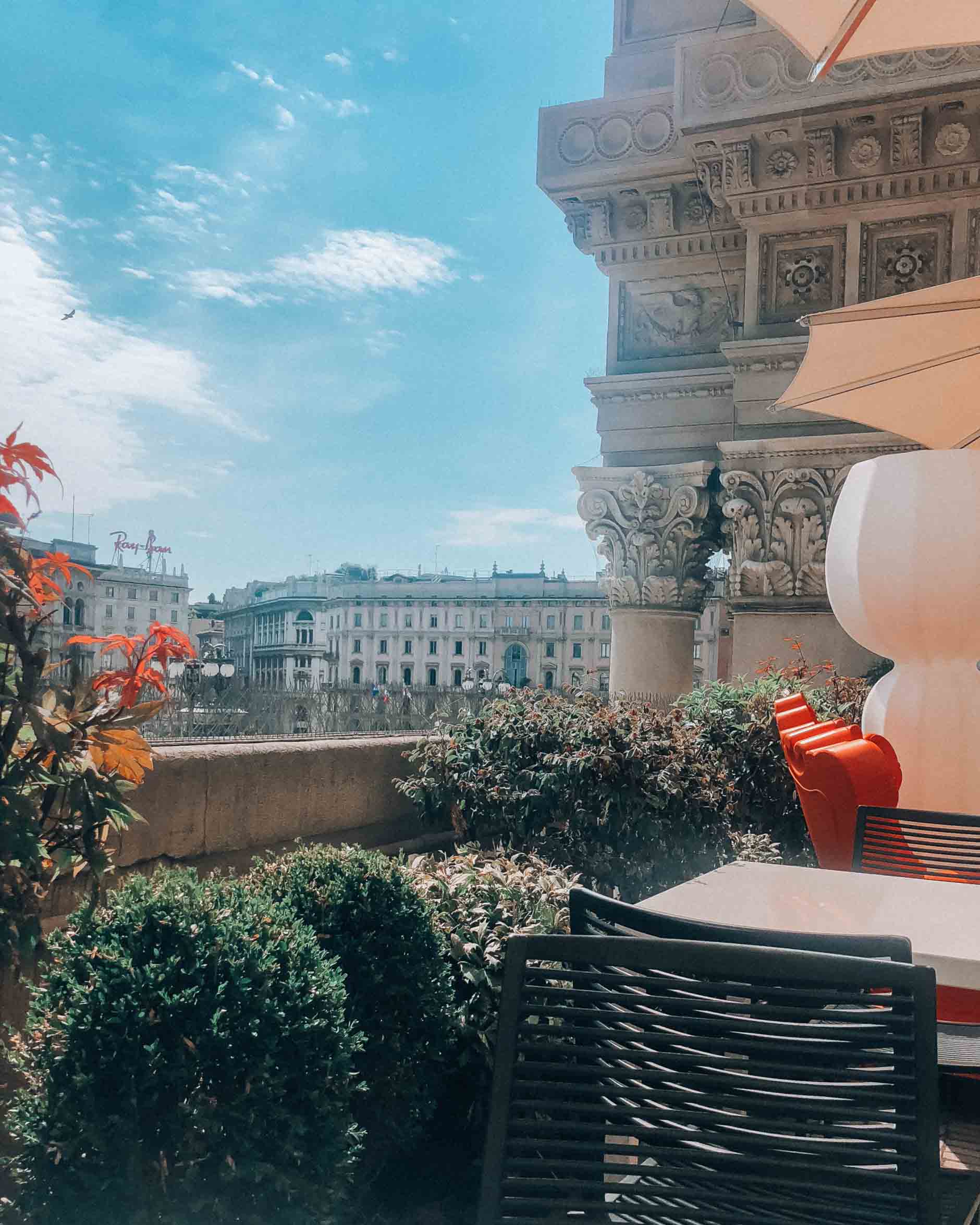 THINGS TO SEE & DO
Piazza Del Duomo
Here you will find the Milan Cathedral and it's surrounded by tons of shops and restaurants. I walked past here more times than I can count. The Duomo is massive and absolutely beautiful! I definitely recommend going up to the top and checking out the incredible view of Milan. That was definitely a highlight for me during my stay. When purchasing a ticket, you can either take an elevator up to the top or you can choose the stairs. I think there were 400 steps! The best time to go is right before sunset. There was no line and there were not many people at the top during that time.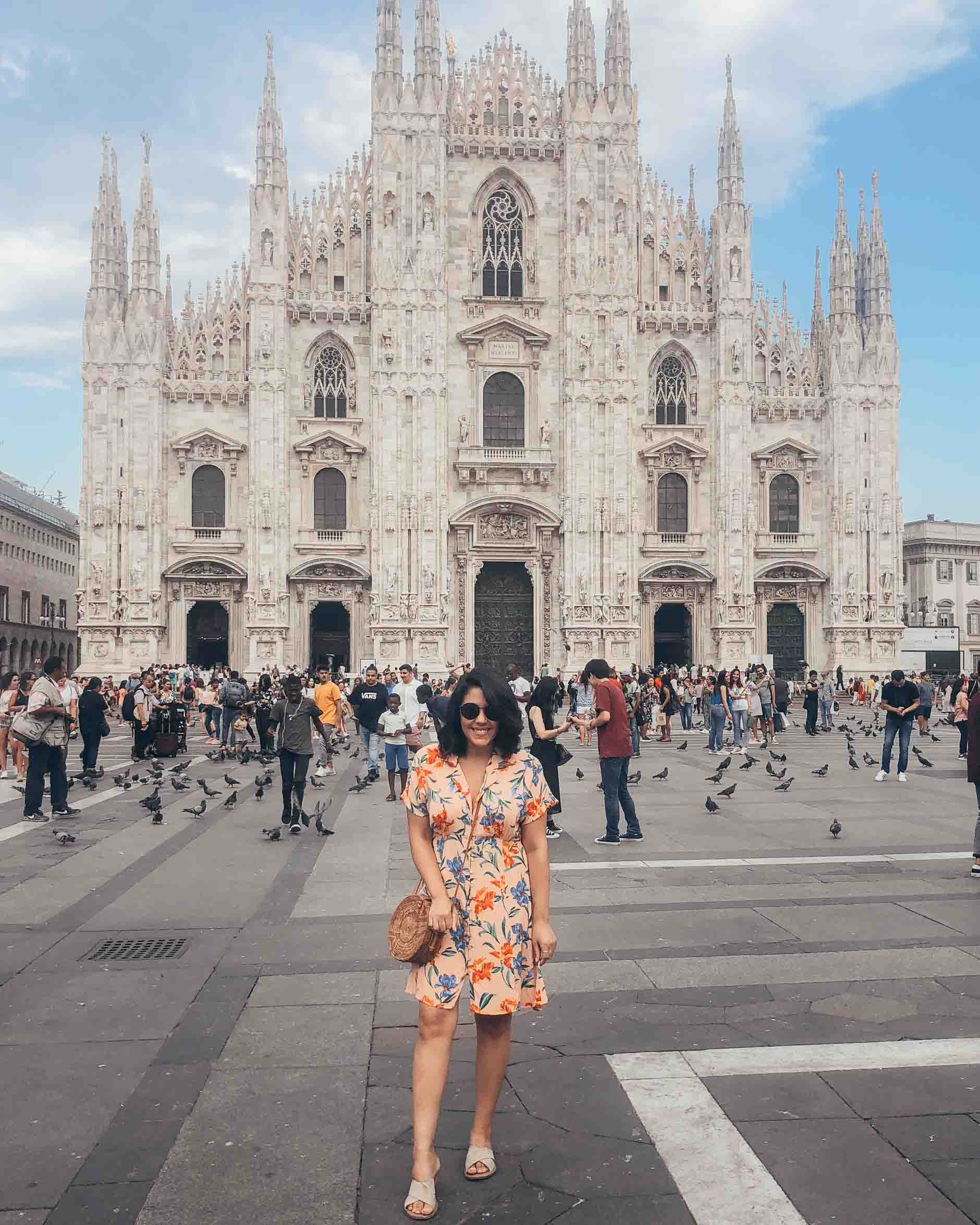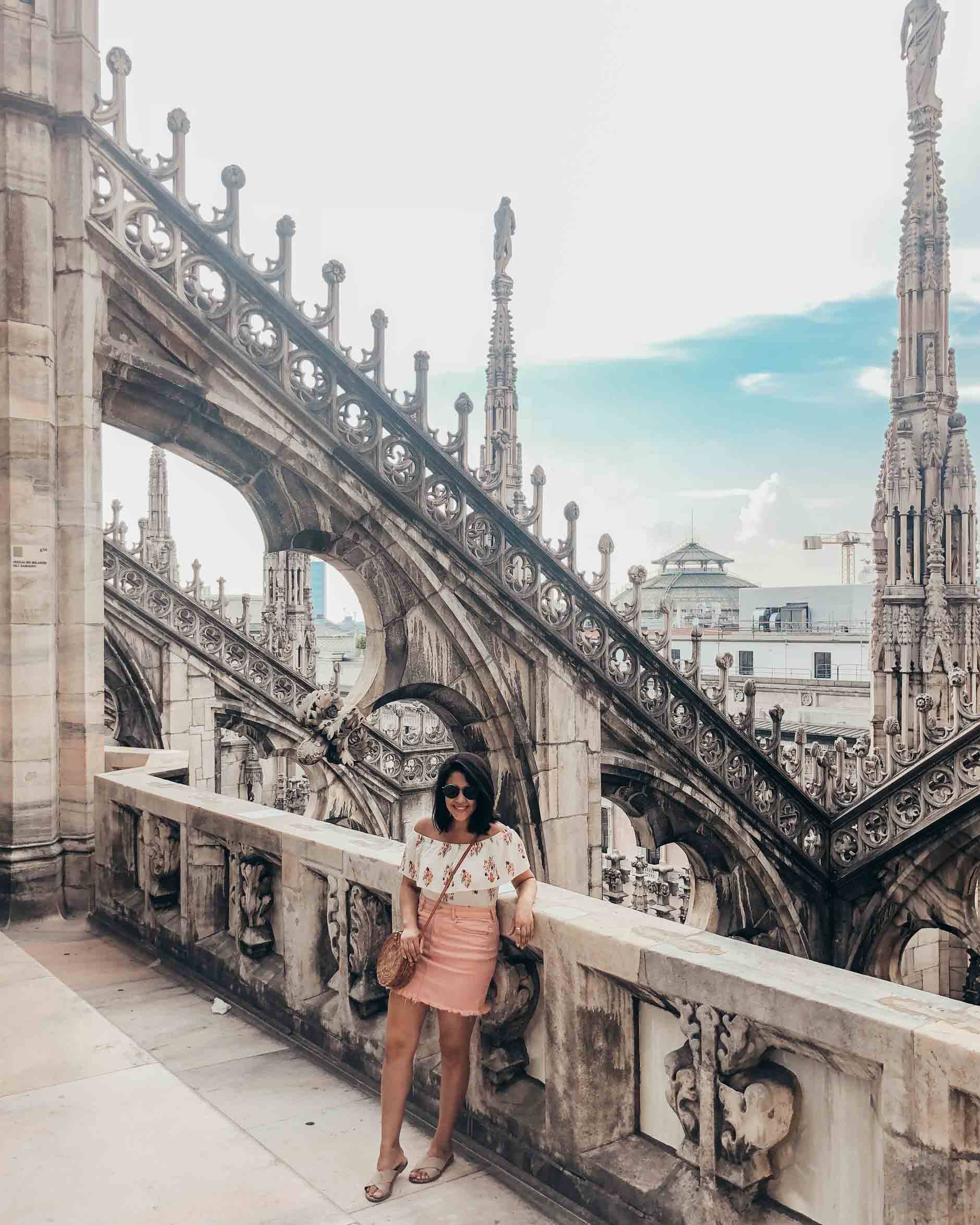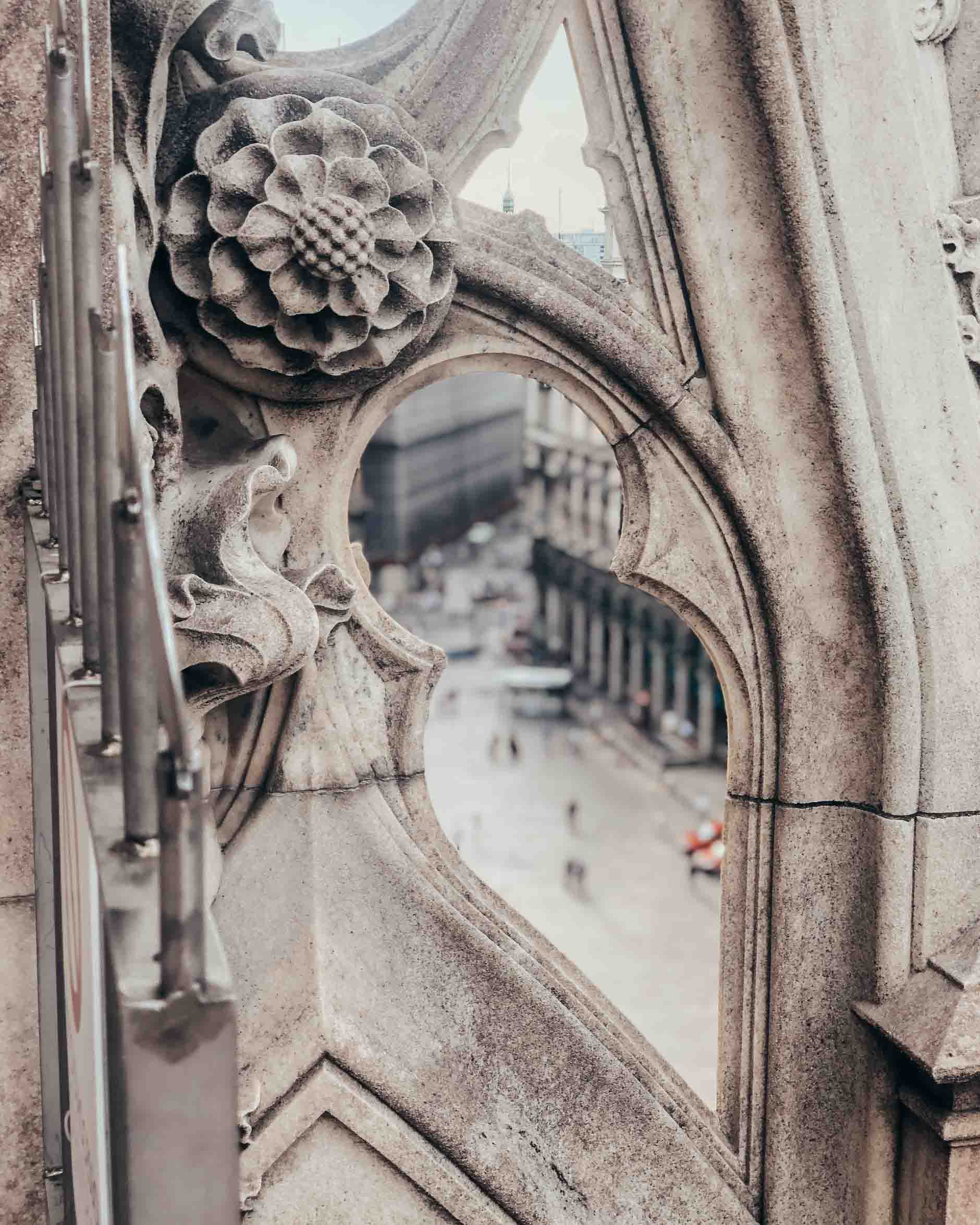 Galleria Vittorio Emanuelle
This is Italy's oldest active shopping mall and it's housed within a four-story double arcade. Inside you will find some designer stores and restaurants. The architecture is magnificent. It sort of gives you that feeling that you are standing outside and not in. The Galleria is located to the side of the Duomo. I didn't spend much time in here, but did a few walk throughs during the day and the night.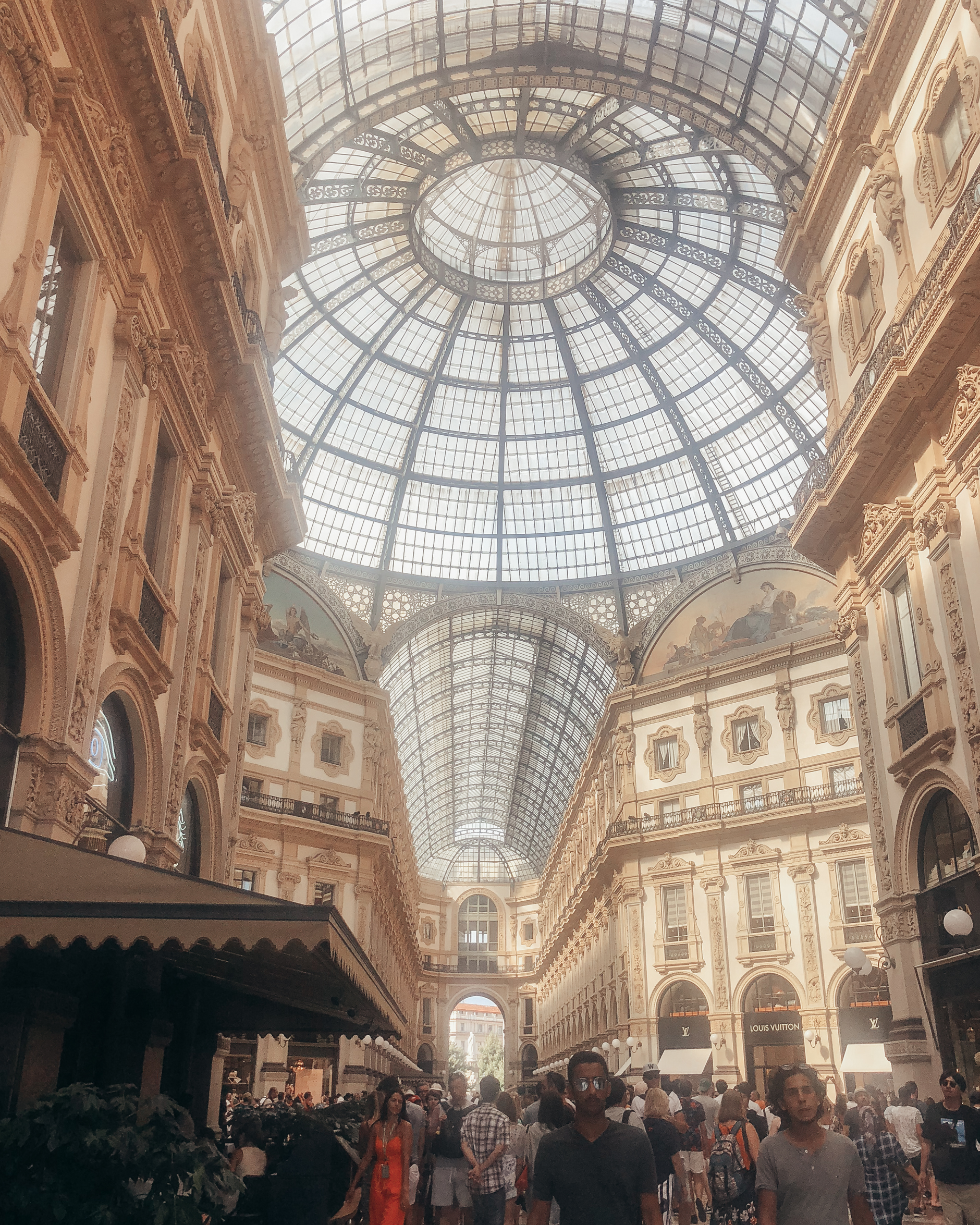 Navigli 
This ended up being my favorite area in Milan. I came here in the morning for an espresso and it was super quiet and empty. I went back for dinner one night and it was packed with people. It had a really cool and fun vibe. There are tons of restaurants lined up on both sides of the canal with little bridges and pretty views. I was able to catch the sunset over here. Highly recommend!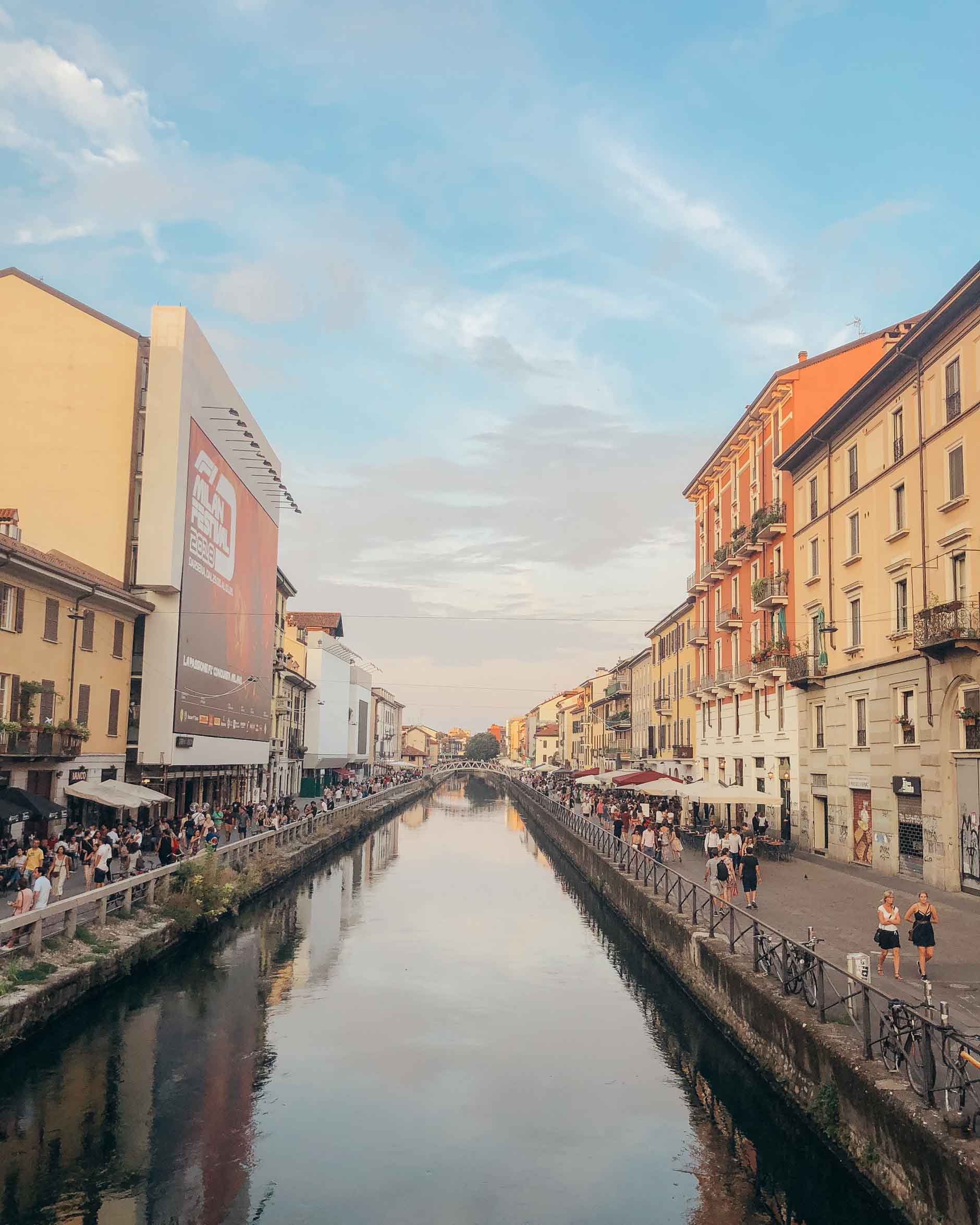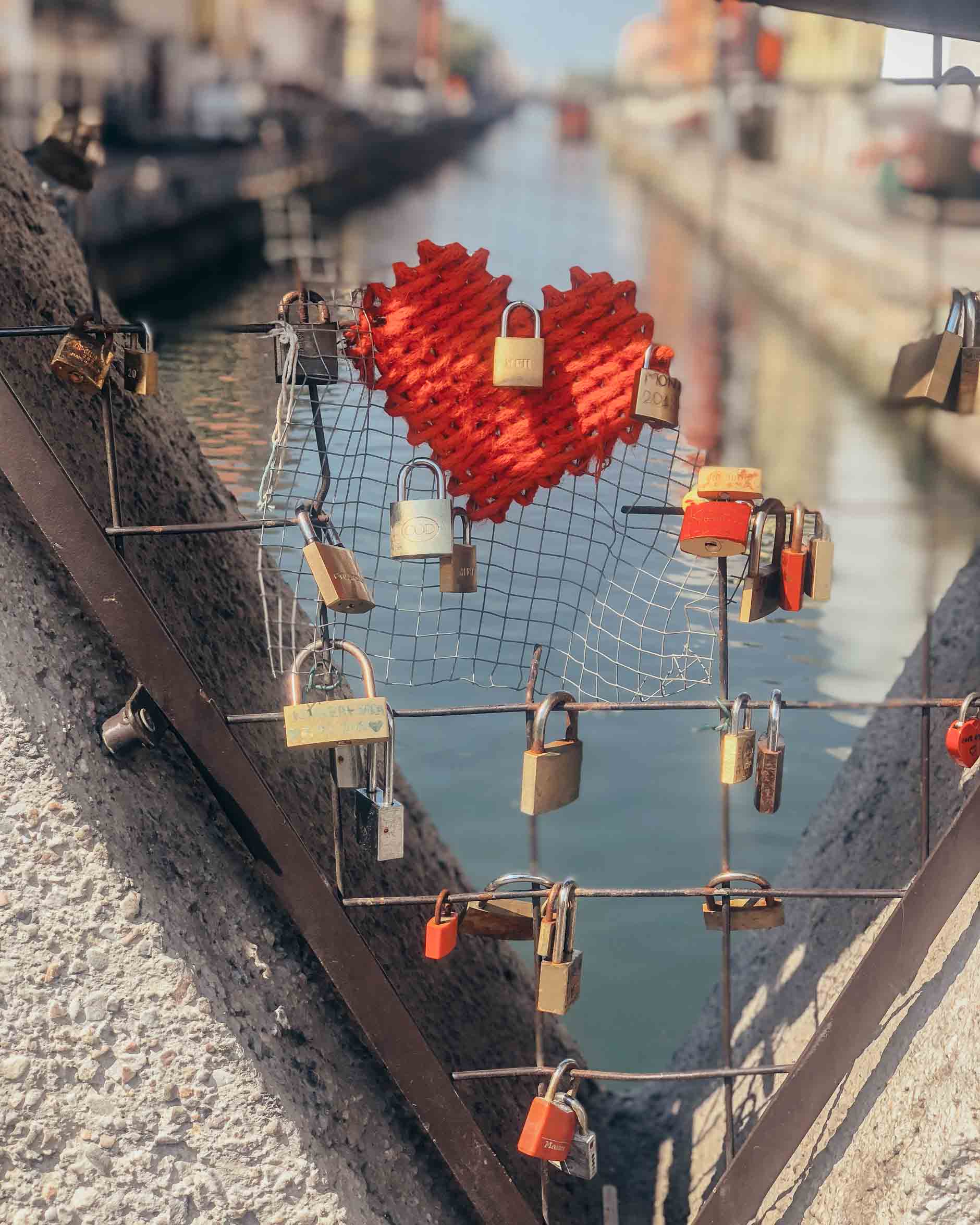 Da Vinci's Last Supper
I'm a little disappointed that I didn't see this iconic painting in person. You have to purchase tickets in advance and I didn't give myself enough time in Milan to do it. As a heads up, you can do a tour that will also take you to the opera house, La Scala, at the same time.
Shopping 
Just like Florence, there were tons of places to shop. If you walk around the Duomo, there are stores all around, including some of my favorites like Bershka and Zara! I also stumbled upon one of the main shopping streets, but I can't remember the name. I got introduced to a few new brands on that street, like Pimkie!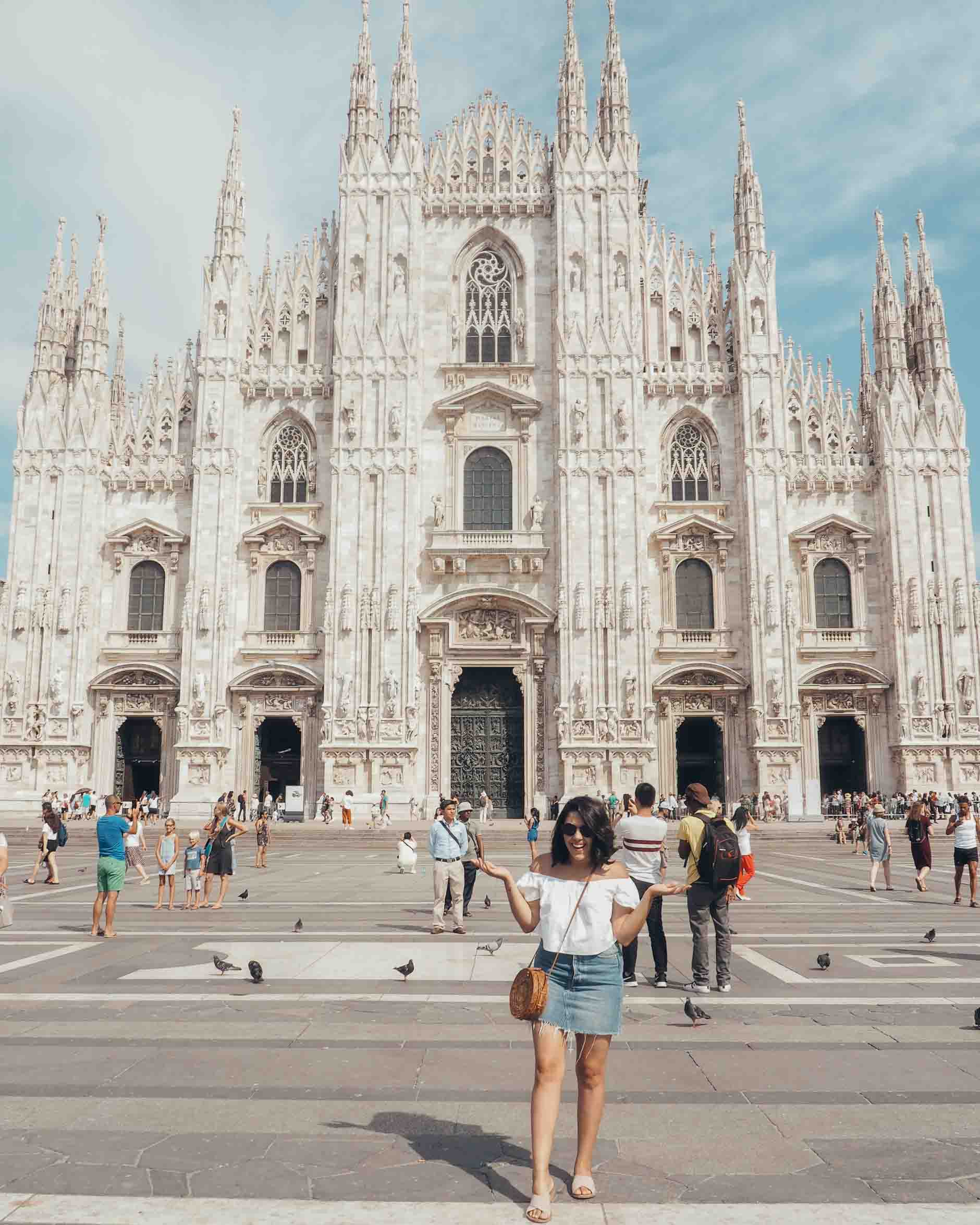 WHERE TO EAT & DRINK
Al Coniglio Bianco
Located in Navigli, I randomly chose this place while walking by. It got great reviews on TripAdvisor, so I decided to try it out. I needed a little pasta break, so I went with their traditional Milanese meatballs and risotto. It was so yummy!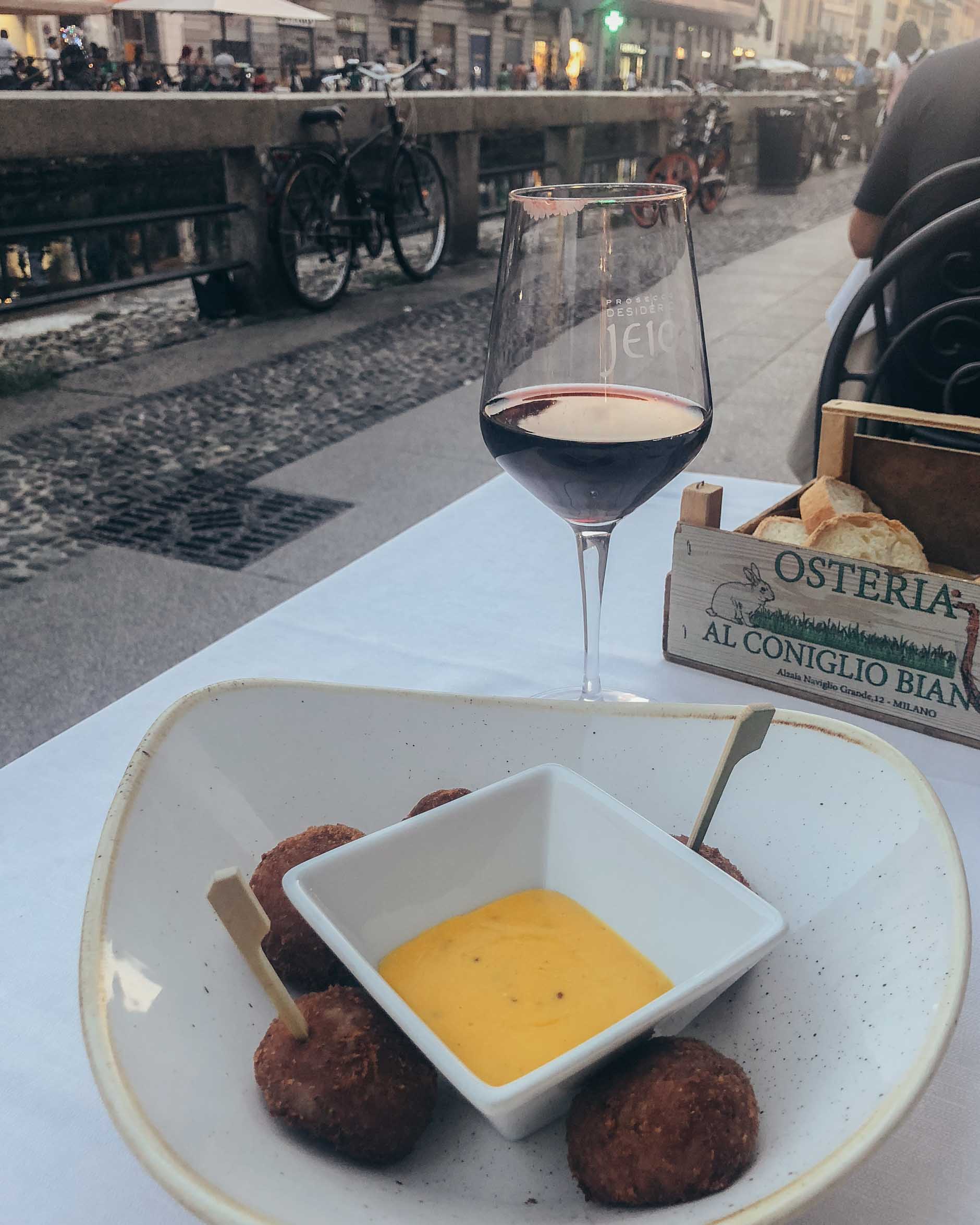 Mag Café
I came here in the morning and indulged in a donut with a cup of espresso. I loved sitting outside and taking in the views from the canal. The whole aesthetic here is super cool, especially on the inside. When they bring you a menu, it's inside a book. That was my favorite part! I'd recommend going for drinks at night too. My friends went and said they loved it, it just gets packed!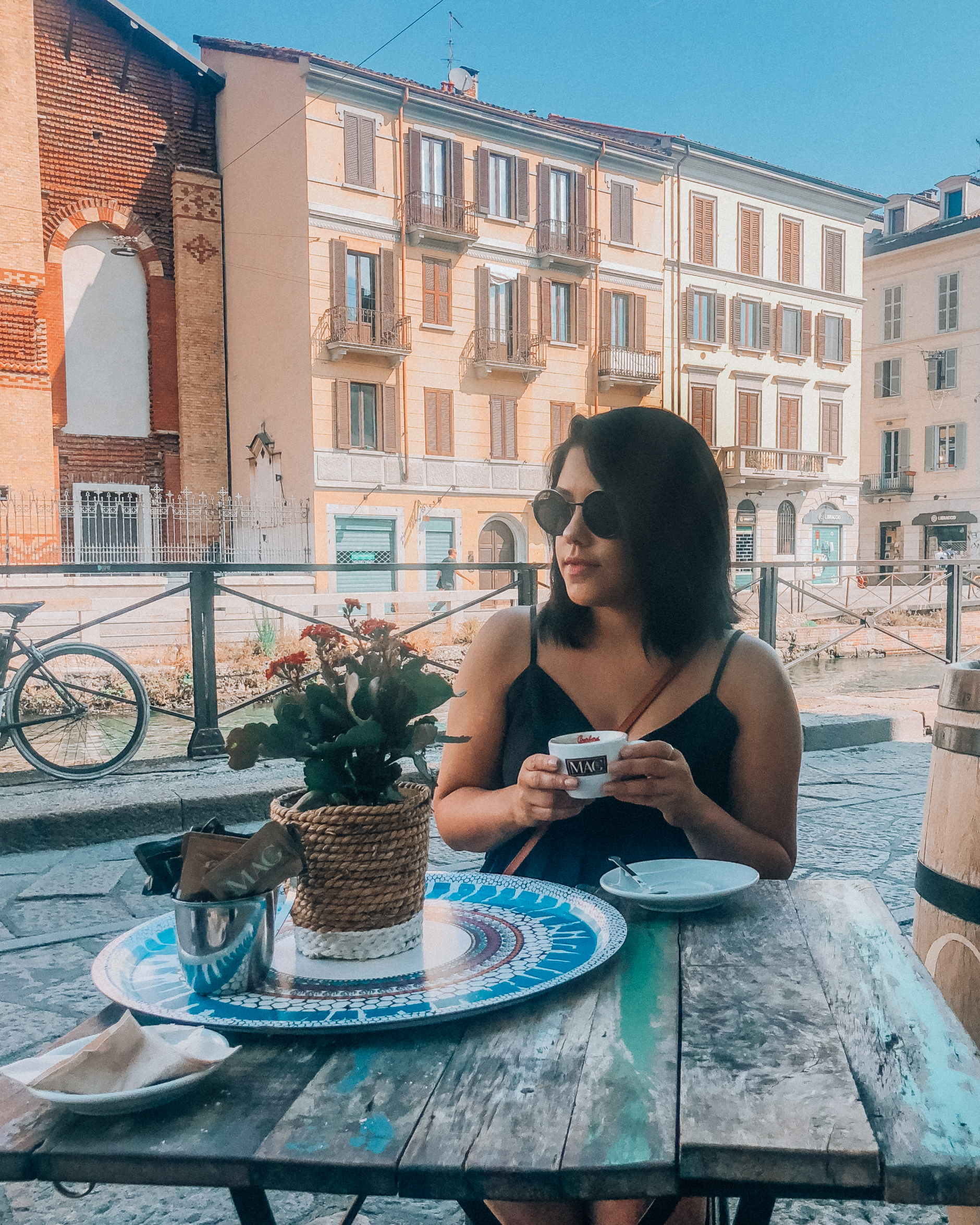 Terraza Aperol
This is one of the best rooftop views of the Duomo! I came up here in the late afternoon to sip on an Aperol Spritz. It had been recommended to me by a few people and I'm so happy that I decided to go and check it out. If you go during happy hour, you get free snacks!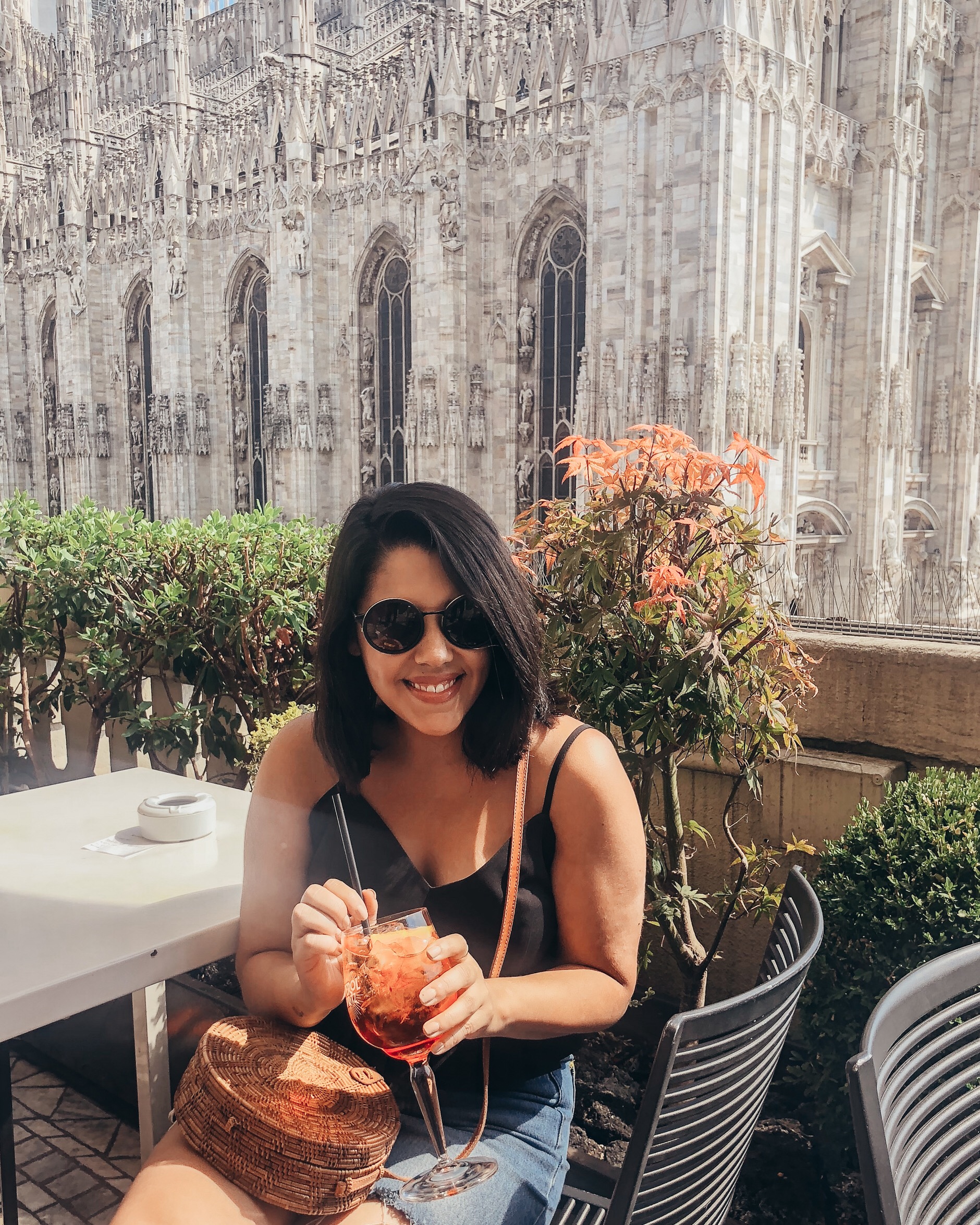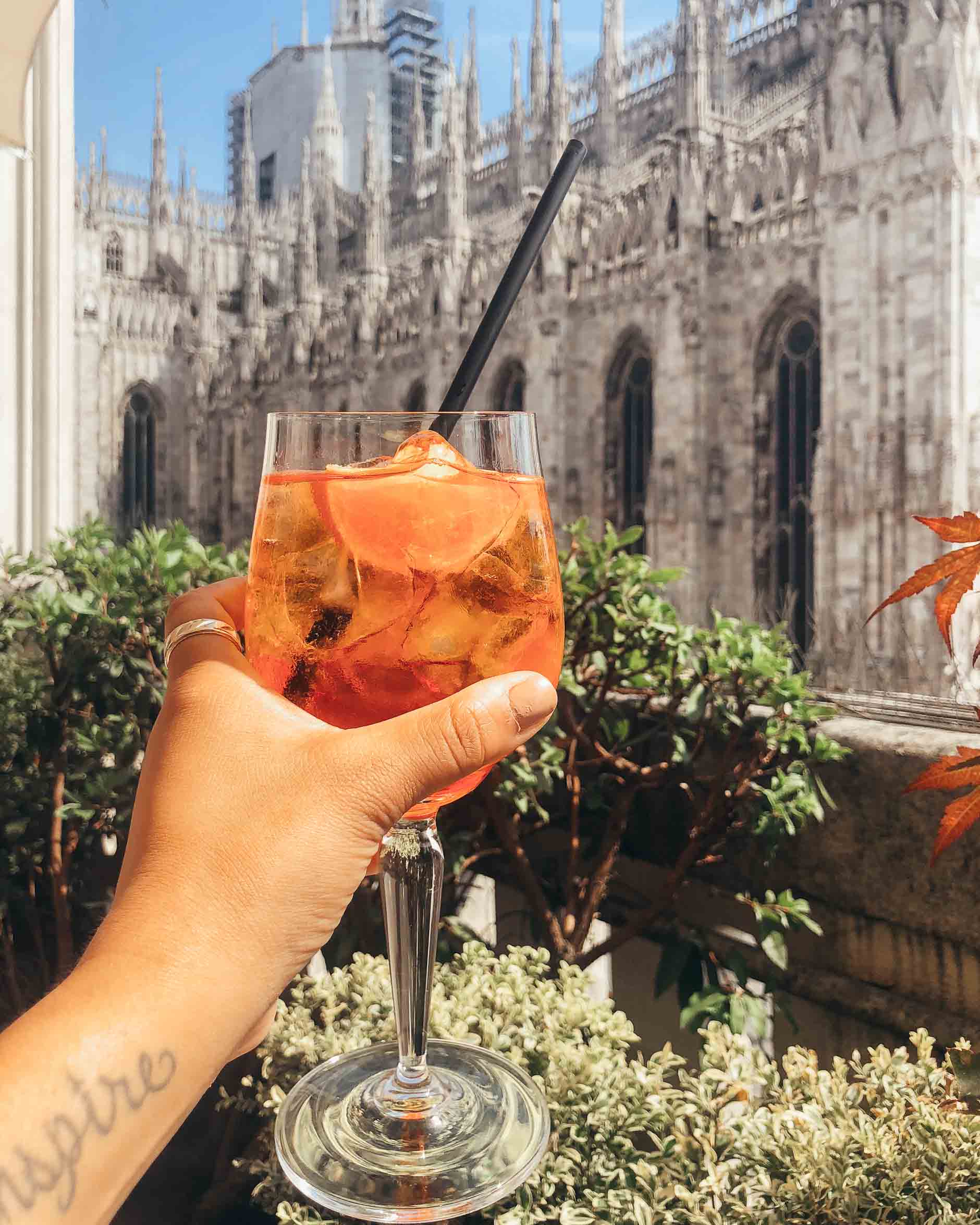 El Brellin 
This was highly recommended, but when I went it was packed! I could have eaten inside, but I really wanted to sit outside and soak in the evening views. I didn't get to eat here unfortunately, but wanted to share this place as I heard great things from my hotel.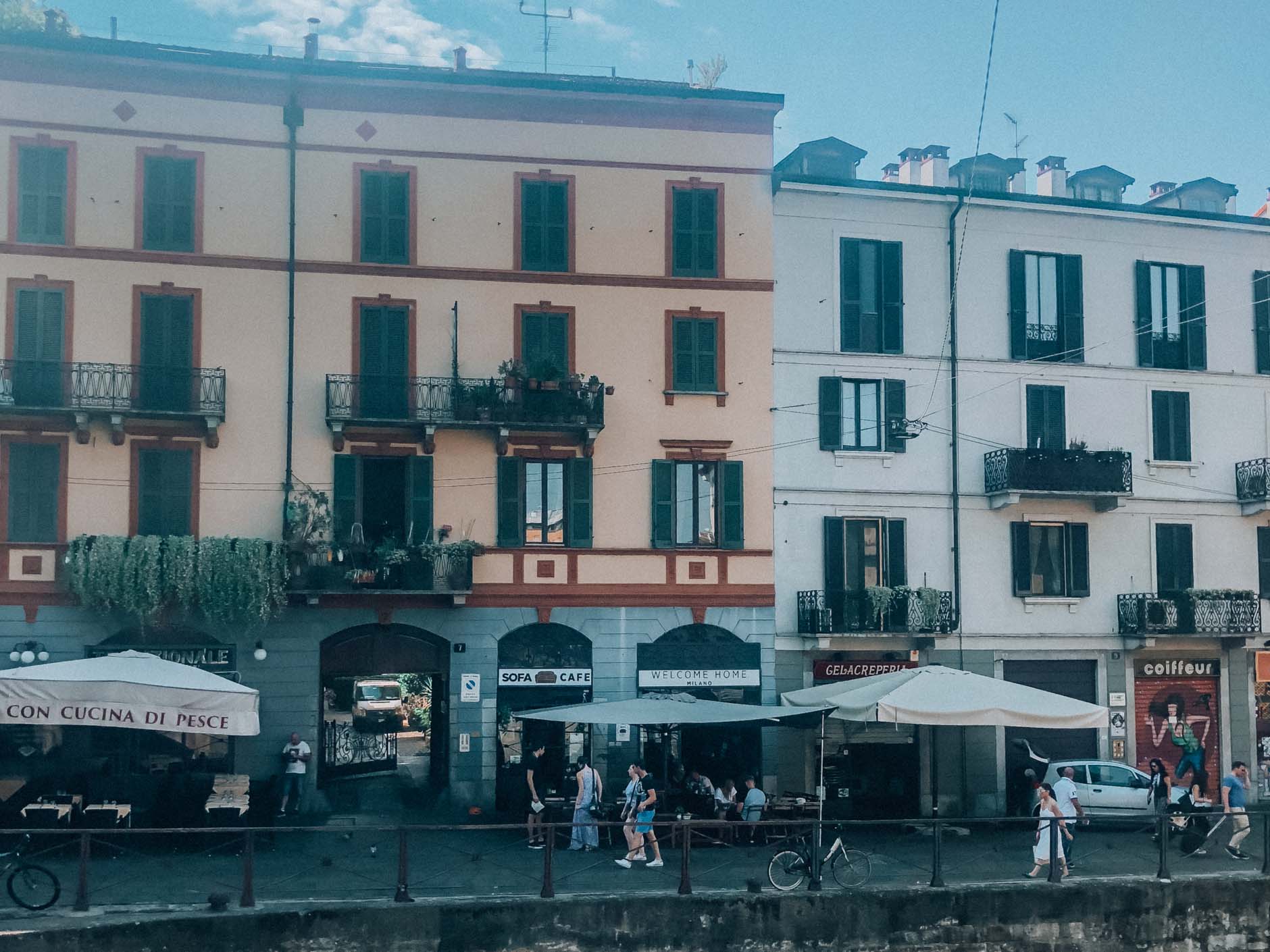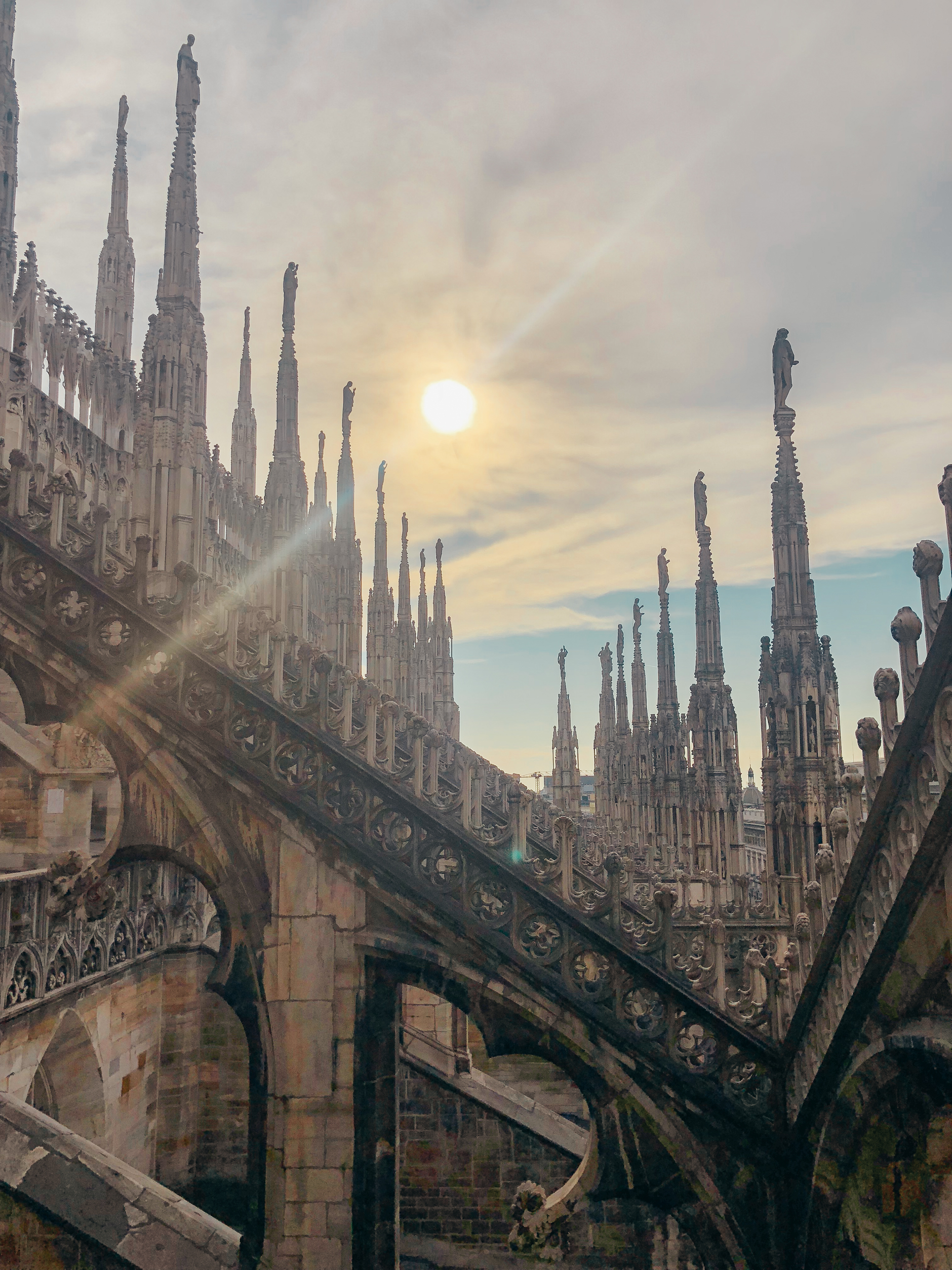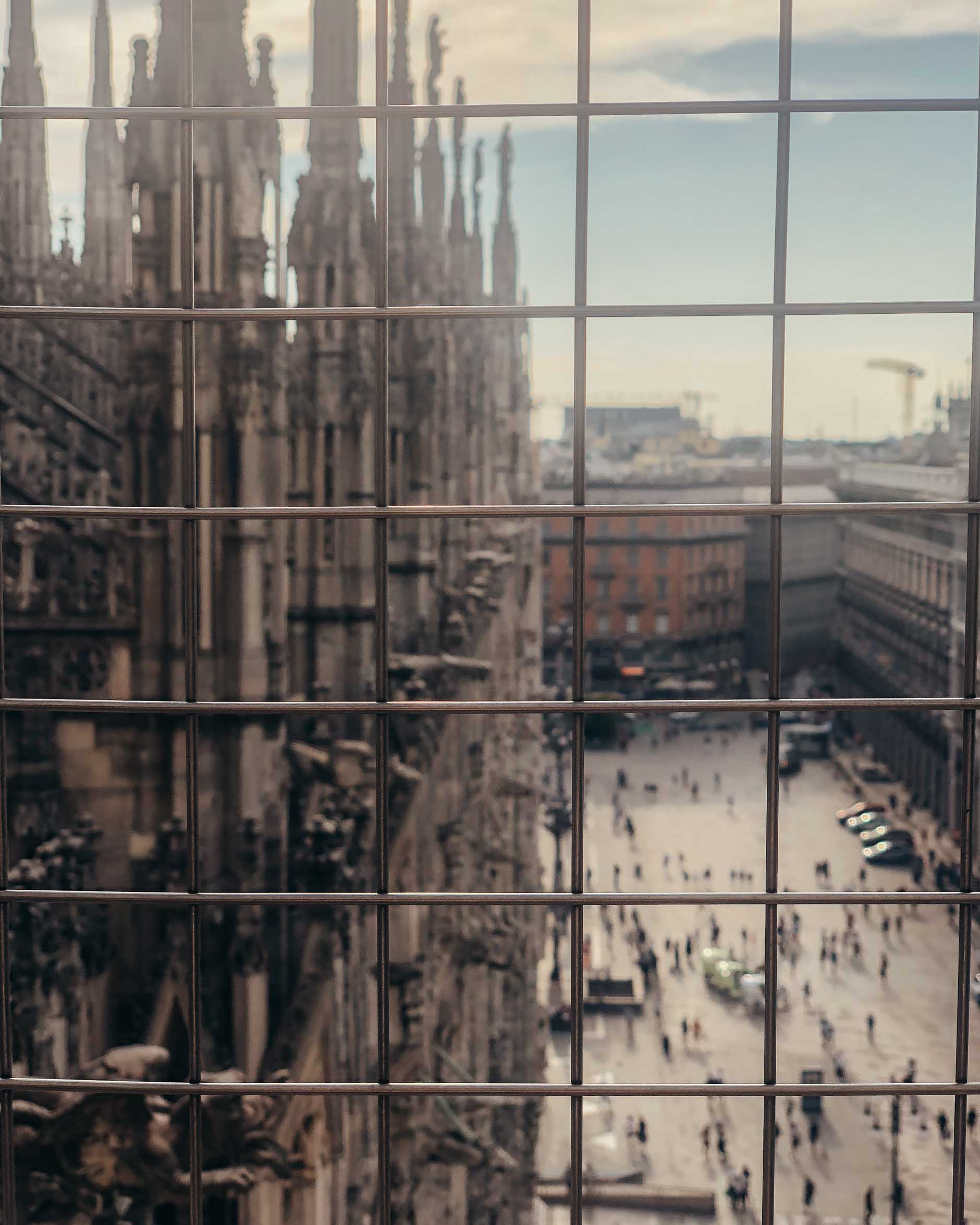 THINGS TO NOTE 
If you're flying out of Milan Malpensa airport, keep in mind that this is a little over an hour away from the Duomo area and a taxi costs 100 euro. You can take a train to the airport instead and it's way cheaper.
Milan serves as the perfect home base in Italy if you choose to take several day trips. You can literally purchase your train tickets the night before or even the morning of if you want to be a bit more spontaneous.
If you're planning on purchasing tickets to go inside or to the top of the Duomo, the ticket office is located to the side of it. This will save you some time so you know exactly where to go!
Milan is a very big city. It's more industrial and commercial. Just keep this in mind when planning out your trip.
An easy way to get around the city is by tram. You will see these everywhere.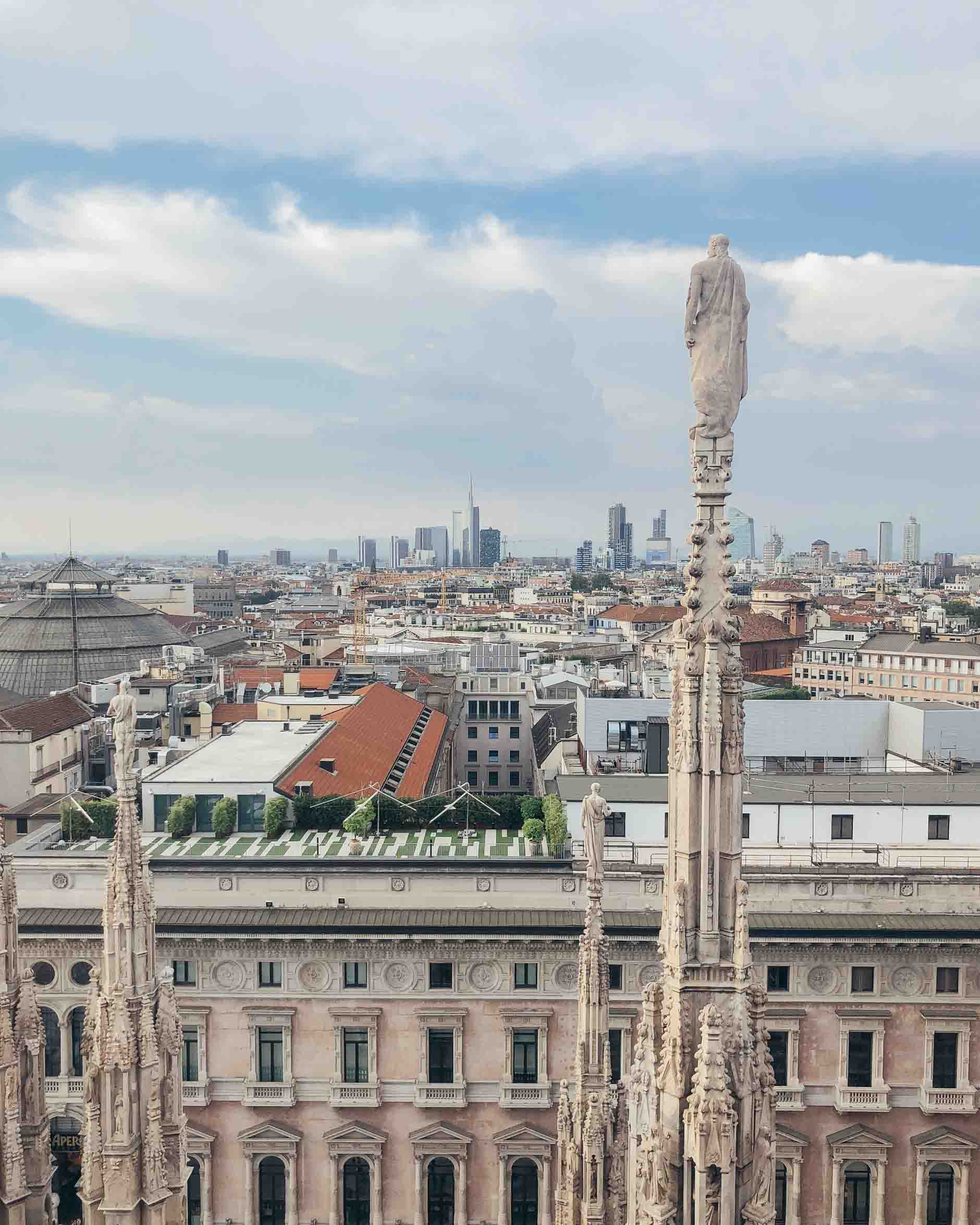 I admit I didn't experience a whole lot in Milan, but hopefully this gave you a little taste of what you can expect when visiting. Even though I spent 5 nights here, I only explored the city for two days. If I ever go back, I will definitely try to experience more of the city and do different things. I never made it to the Brera district and heard that's a great area to check out.
My first day trip was to Verona, so I will be sharing that next! After that I just have two more day trips to post about and then this whole Italy series will be done. It's taken me a really long time to get all of this content together between choosing photos, editing, writing, etc. but I hope that you've enjoyed them so far. See you in the next city!❤️