Today I had a baby shower to attend and I knew that I wanted to wear something "chic".  I hit up a couple of stores but didn't really find anything I liked until I stopped by Forever 21.  It's one of my last minute "go to" stores.   The quality isn't always the greatest, but if you're like me and don't usually wear the same thing more than once or twice, then it's the perfect place with the latest trends and affordable prices.
I fell in love with this high waisted black pencil skirt.  It fits like a glove & can be worn in different ways. I needed a new one anyway 🙂 I spotted this blouse and fell in love again. I knew it would go perfectly and the color really pops.  It's a simple outfit that also makes a statement.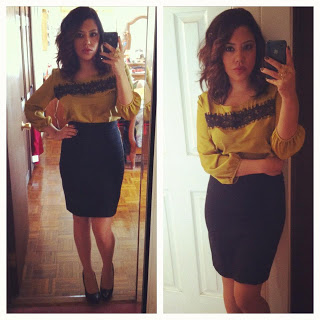 I paired the outfit with a simple black pair of heels that I actually got at Mandee.  They go with almost anything!  The clutch style purse is also from Forever 21.
I love accessories, but sometimes they need to be toned down a little depending on the outfit.  So I decided to only wear these 2 gold rings.  The butterfly is one of my favorites.  No necklace was needed and I didn't want to take away from the black lacy embellishment on the blouse.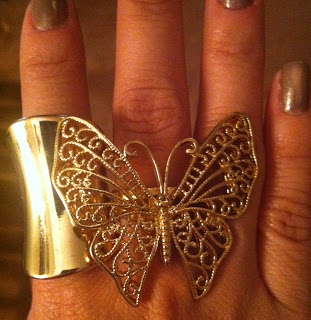 I'm also wearing "Sophisto" lipstick from MAC. It's like a raspberry shimmer.  One of my favorite shades!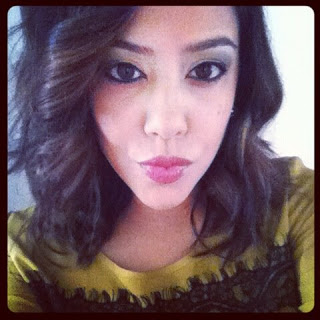 So there you have it, a chic & sophisticated ensemble than can be worn almost anywhere & perfect if you're on a budget 🙂
xx Naty