I got a special request yesterday on my blog to create some sets for plus size women.  I'm really happy that I was asked to do this because it's actually something that I wanted to do soon.  I hope that you like these looks!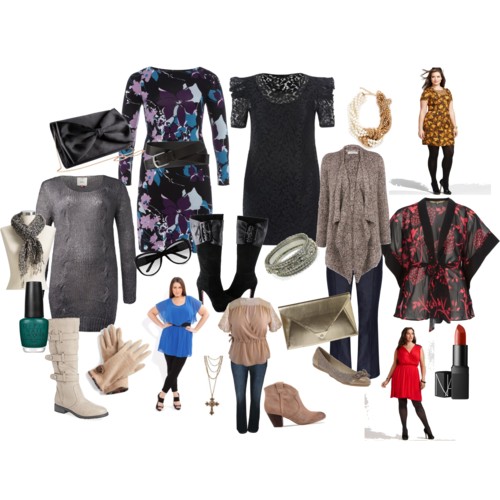 First I'll start off with what the models.  I thought these were great outfits for the holiday season.  The model in blue is wearing a long belted tunic from City Chic over a pair of leggings. The model in red has on a wrap dress fom Bloomingdales over black tights.  The model in mustard is wearing a Prairie New York Charlotte dress from Bloomingdales over black tights as well.  I really love this mustard dress.  All of these are great colors for this season.
The grey sweater dress is from newlook.com and it would look great with a printed scarf and knee high boots.  The scarf is from examiner.com but you can find one like this almost anywhere.  These boots are from Avenue.  It's a great neutral color that will go with anything. To make this outfit stand out more try a bright shade of nail polish like this one from OPI. It goes great with this.
I thought this purple floral dress was really pretty.  It's from debenhams.com.  To break up the print & bring in your waist, you could wear a belt similar to this one from Old Navy.  It would go really cute with these black knee high boots from Wholesaleclothing4u.com and you could put on a pair of tights.  These boots or pumps would also go great with this black lace dress.  I love the sleeves.  It's from yoursclothing.co.uk.  Both dresses look nice with this bow bag from H&M.
These indigo jeans & long tan cardigan are from denehams.  Cardigans are great for winter.  I think it goes well with these flats from JCPenny & an envelope clutch like this one from Jane Norman.
This black & red kimono top, also from denehams, would also go great with jeans or black pants.  Try wearing a red lip like this one from Nars.
The tan wrap blouse is really pretty and you can make it a casual trendy outfit with jeans like this from denehams and ankle boots like these from shoestruck.  I added in this long cross necklace from debshops.  It adds a nice touch.
The other accessories I included in this set are these sunglass from Marc Jacobs, gloves from Modcloth, silver bangles from debshops and this gold/pearl necklace from fashionoffigure.com.
This other set is just of models wearing some outfits that I thought were really cute.  The dress in the middle is perfect for this time of year, especially with NYE around the corner.  It's Prairie New York from Bloomingdales.  I think she looks amazing.
The model in blue is wearing a belted poncho from Michael Kors.  This goes great with jeans & leggings.
The long sleeve black dress is from IGIGI.com & it looks really cute with that thick belt.
The one shoulder dress is from fashiontofigure.com.  It's simple but can be dressed up with accessories.
This next look is very simple but I love it.  The model is just wearing a black jewel neck shell with a pair of jeans.  It's from bloomingdales. You could probably throw on a blazer with this too.
The last look is cute & casual.  It's a color blocked top from DKNY. She's wearing it over leggings with ankle booties & a cute winter hat.
I really hope that you find some inspiration with these looks so that you can create some new outfits and if you do, I would love to see! 🙂 Try something new & be confident with what you choose to wear.  I'm sure it will be fab <3