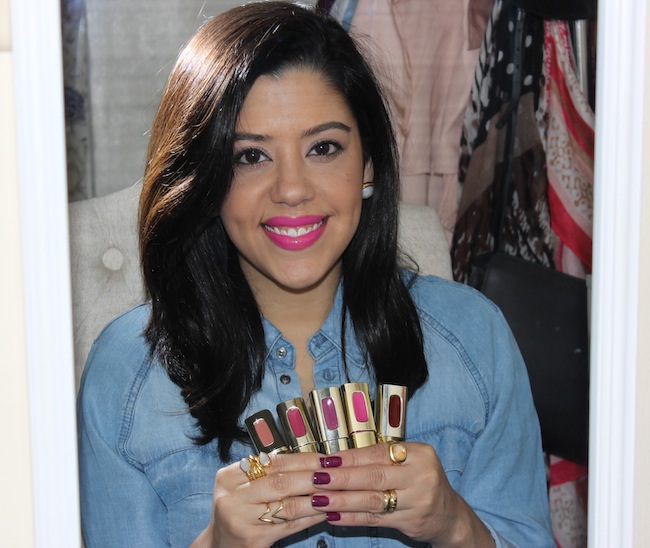 It's all about the lips today! As you probably already know, I am pretty obsessed with lipstick and love trying out new colors.  My top three shades rotate between pink, nude and red as these are the ones that I wear most frequently.  I've never been one to do too much with my eye makeup, so I've always made up for that with my lip colors.  It's truthfully been awhile since I've worn lipgloss.  I remember I went through a phase when I was younger when I would only wear gloss and as I got older I switched over to lipstick.  I am not opposed to gloss though and am always looking for new products to try out.  L'Oreal sent me these 5 shades from their Colour Riche Extraordinaire collection a few months ago to consider for review.  I have been wanting to test them out and finally decided to do it and turn it into a spring lip color post!  I love sharing new products with you guys and getting your feedback.  Let's get to it!
Nude Ballet #601: Nude 
When it comes to lip shades for spring, I think of bright and bold, but I also think of something neutral as well to go with my every day looks.  I recently ran out of my nude lipstick, so this has been such a great replacement.  Not sure if you noticed or not, but I have actually been wearing this one a lot in my recent posts.  I've also mixed it with some of my matte lipsticks to give it some shine.  I love mixing different colors together.
Dancing Rose #104: Rosy Pink
I've always been a fan of pink lipstick and love trying out different shades because there seriously are so many!  This one pops, but it works great as an every day shade too.  There is just something about pink lips that I love so much.  It's such a nice way to incorporate a pop of color into your look.
Purple Prelude #403: Lavender Purple
I usually think of purple lips for the fall, but they definitely work for the spring time too.  Initially, I thought that this would go on as a deeper purple, but I actually like that it's lighter because it makes it work better for the daytime too.  If you don't want to go with the typical pinks, then purple is a fab replacement.
Pink Tremolo #105: Bright Pink 
This was in my top 2 out of these 5 shades.  It reminds me a little bit of Anarchy from Urban Decay.  This pink is bright and pops so much, making it such a great shade for spring & summer. I wore this color so much last year and plan to continue that for this year too.
Scarlet Concerto #306: Deep Red
You know I love my reds!  I typically use a matte lipstick for this color.  I am not really used to this shade of red, although I do like it.  I have to say though that when it comes to red, I prefer lipstick over gloss, however this is a great way to add some shine as the mattes tend to be very drying.  For me, red is a year round color.
These are all super shiny, very pigmented, and they go on very smooth and soft.  They're easy to apply and were moisturizing for my lips too.  I think these are especially great for doing lip touch ups on the go.  One of my main concerns with lipgloss is that they will feel too sticky, but I didn't have that issue with these.  My top 2 favorites out of these 5 are the Nude Ballet & The Pink Tremolo. While I didn't wear the red for a long period of time, it did bleed a little bit.  Red is a very tricky color to wear as a gloss, as it can easily smear and feather.
Which color is your favorite?  Have you tried these out yet?
Thanks for checking out today's beauty post!