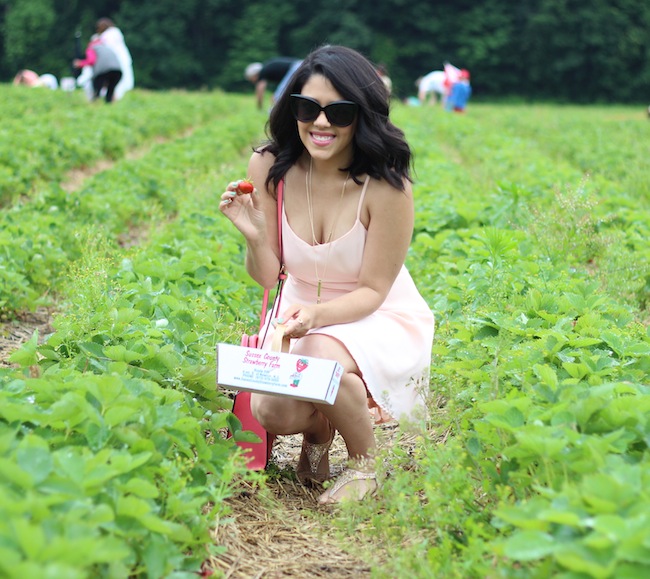 As part of a new direction for my lifestyle/travel posts, I want to go to different places and try new things so that I can share them on here with all of you.  There is so much to do during the summer, so I really want to take advantage this year.  I have been wanting to go strawberry picking for such a long time and finally last weekend I got to do it.  It was about an hour drive to Sussex County Strawberry Farm.  I found out about the place just by googling strawberry farms in my area.  As soon as my mom and I got there it started to down pour.  Of course just my luck as I was not dressed appropriately for the rain. But then, when am I ever dressed appropriately for the rain? [hehe] We had to wait it out in the car for a bit until it died out.  Thankfully it stopped long enough for us to pick some strawberries and enjoy ourselves for a little bit before it started up again.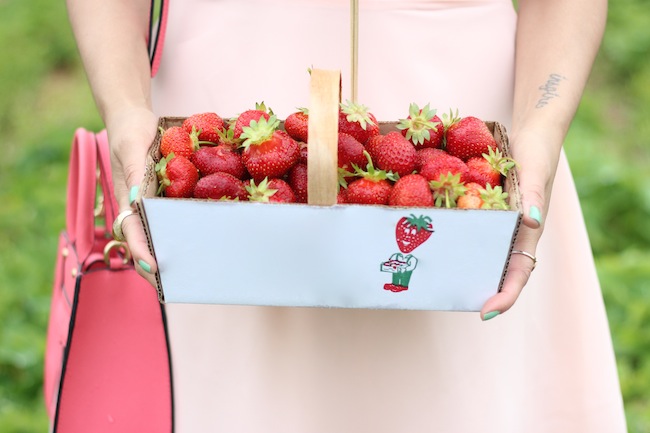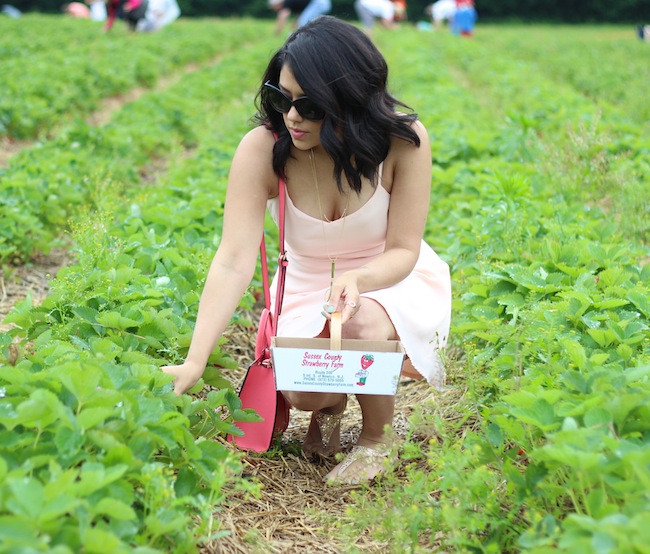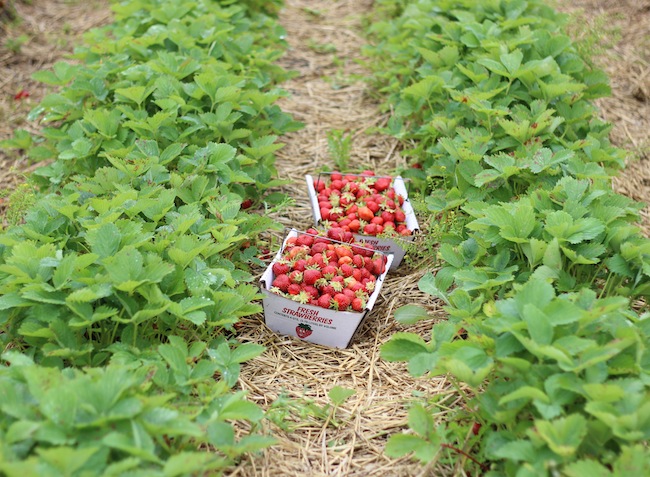 They had different size baskets with different prices.  The one we got was $7.50, which is seriously such a great price!  I typically spend $4 for strawberries at the market and don't get half as many as we picked.  The strawberry field was huge.  I had never done this before so I wasn't sure what to expect.  It was just rows upon rows and some people were filling up several baskets.  It  didn't really take too much time to pick them all, but it did take a little while to find the best ones.  My mom and I were competing to see who would find the biggest strawberries.  Their website said the best time to pick them is early in the morning or later in the afternoon.  We ended up getting there around noon, but I think we got some great ones. 🙂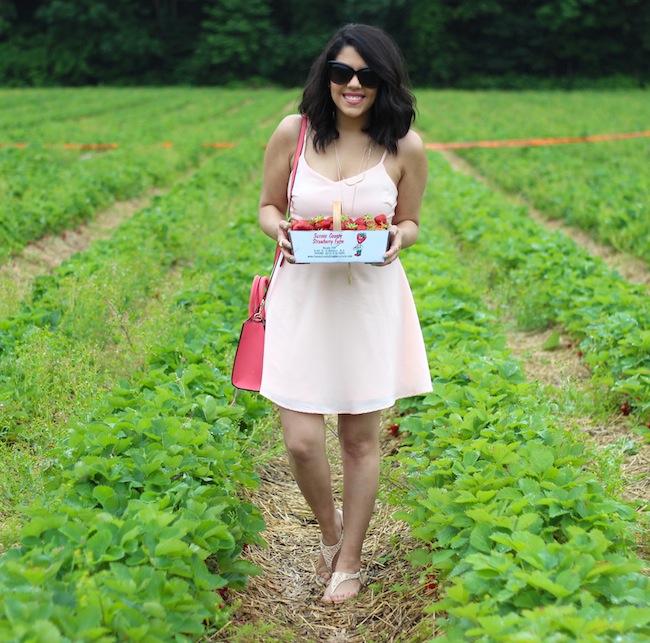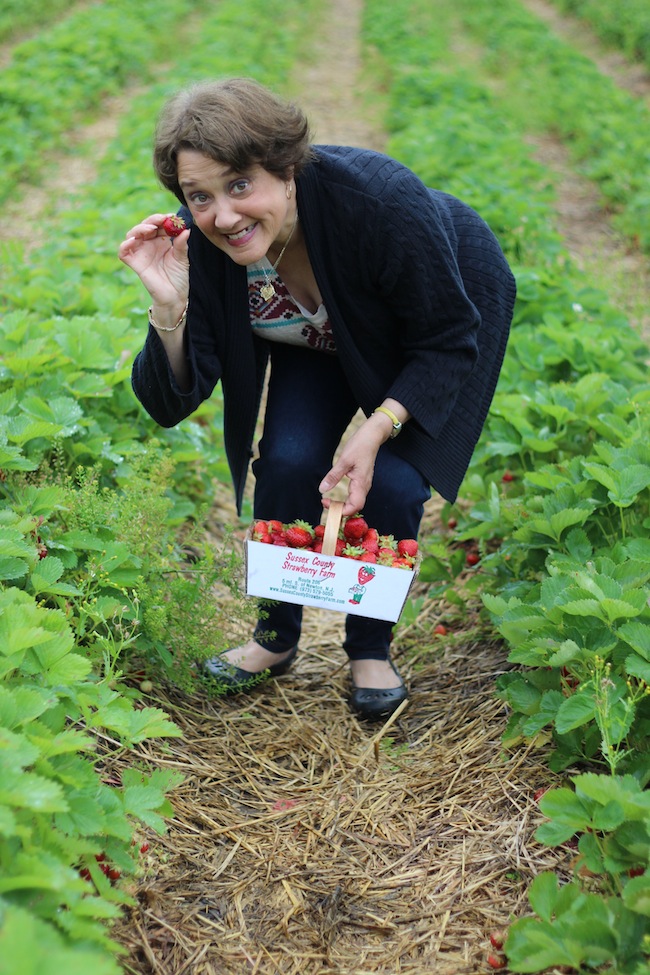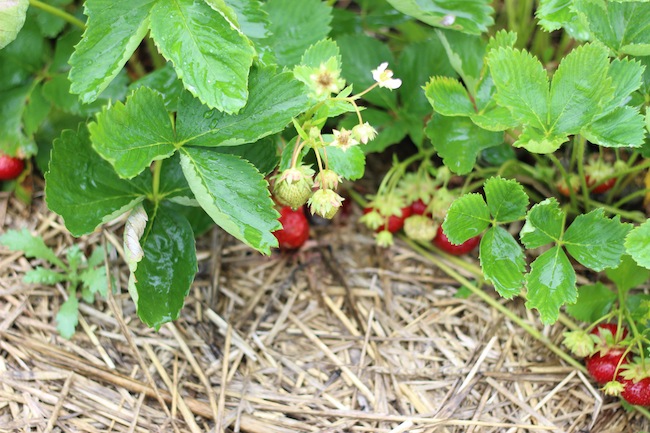 Surprisingly I did not get super dirty.  If you ever go I just recommend bringing along some napkins with you.  The strawberries stain your hands a little bit.  I ended up wearing this dress from Forever21 with these gold flat sandals that I got last year.  We were doing a few things afterwards so I just wanted to be dressed for the whole day.  It would have been better to wear this if the weather had been nicer, but it all worked out and we made the best of it.  Next up I want to go back there and do apple picking in the fall.  I've only done that once or twice, but it's been such a long time.  I love doing things outdoors.  It's so therapeutic and calming for me.  I'm so happy I was able to do this with my mom.
And in case you were wondering, the strawberries were delicious!  They are all gone now.  I wish I would have made strawberry shortcake.  I guess I will save that for next year.  Hope you enjoyed today's post!  Are there any things like this that you are looking forward to doing this summer?  Any recommendations of things for me to check out?
Have a "berry" good day! <3