Hello my LOVES!  I hope that you all had a great weekend.  Yesterday I went to an online boutique opening event in NY for Our Closet with fellow blogger & freelance photographer NYTrendyMoms. She was able to take my outfit photos as well as photos at the event ( thanks love!) So this post will be divided into 2 parts: outfit & event 🙂
Blazer: Forever21
Tank: Moms Closet
Shorts: Forever21
Shoes: Mandee
Clutch: Asos
I fell in love with this striped blazer and it was the last one there too!  I wanted to pair it with these high waisted shorts that I recently got. They're satin so the only issue was them getting wrinkled easily.  My first thought was to pair this blazer with a neon top.  Unfortunately I didn't have the exact one that I was thinking of, so I searched my mom's closet and found this coral one haha I think it did the trick.  I like throwing in some color when it's not always expected.
(I love these candids!)
I decided to match the top with a coral lip: MAC Costa Chic.  I went with gold accessories, simple black pumps and my white envelope clutch with gold hardware. I was super exhausted this weekend and literally had no desire to put something together but I'm happy with the way this outfit turned out!
Now on to the event…
 Our Closet  is an online boutique with great affordable prices.  They have a lot of cute dresses for parties and special events as well as a few tops, skirts, and accessories.  My favorite dress was the Oreo Chiffon!  When the owner Melissa reached out to invite me I definitely wanted to go and check it out.  I think as a blogger, it's so important to branch out and meet other people in the industry and it's such a great way to network and promote yourself too.  Melissa was so sweet to give me a little gift for coming, this really pretty color blocked necklace! Thank you!
You know I love peplum!
The owner Melissa.. we matched in stripes!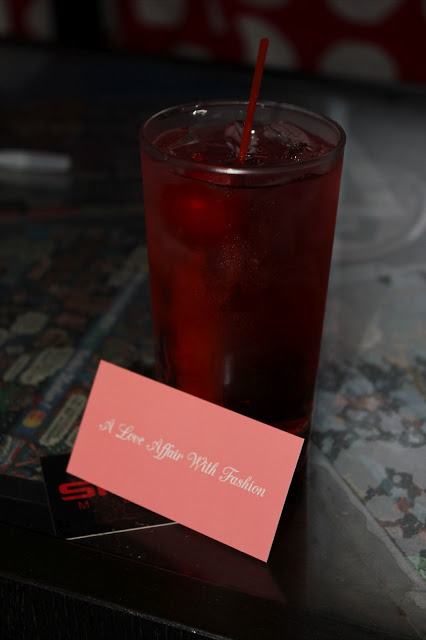 Of course I brought my cards!
Make sure to check out Our Closet and their FaceBook page too… you might see something you like!
ONE LAST THING… I was talking with NYTrendyMoms yesterday about setting up a blogger meet and greet somewhere in NYC.  I don't know details yet but if any of you are in the NJ/NY area and would like to meet up for drinks and to network, email me at aloveaffairwithfashion@gmail.com
KISSES! xx